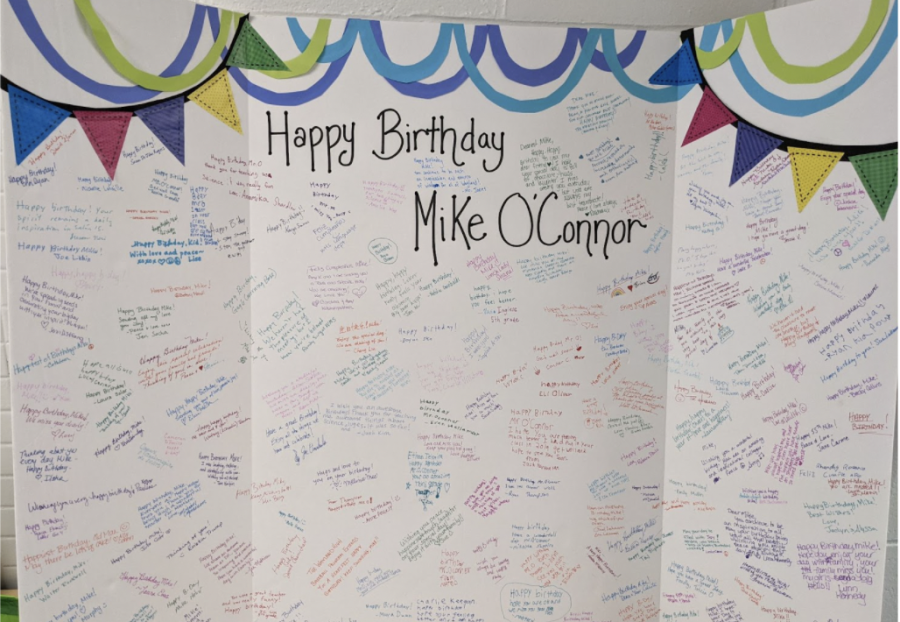 Courtesy of Brian Jones
Beloved third-grade teacher Michael O'Connor was diagnosed with brain cancer in 2017. Recently, teachers at the Loker Elementary School organized a district-wide surprise in honor of his 55th birthday, collecting birthday cards from students across the Wayland schools. Along with his great academic and social impact on his students, his courage and persistence through his challenging battle with cancer have inspired many.
Loker School Principal Brian Jones and staff wanted to show support for O'Connor and his family. His birthday provided the perfect opportunity.
"Mr. O'Donnell [a Loker School teacher] and I were talking and he had this idea of trying to get lots of people to sign this special birthday card," Jones said. "It was Mr. O'Connor's 55th birthday, so we thought it would be really fun."
Jones put the idea into action, reaching out to the other four principals in the district. Jones delivered the birthday card to each school for one day, and teachers from each school along with Loker students could sign it and leave notes. The middle school and high school administrators wanted to get students involved as well, so students were encouraged to make individual birthday cards to deliver to O'Connor.
"What inspired [the birthday card collection] is that Mr. O'Connor is an amazing teacher and means so much to so many people that we want to give back to him," Jones said.
About a year and a half ago, a GoFundMe page was made to support him and his family, raising over $100,000. The thoughts and sentiments were always greatly appreciated.
"I think the best way they want to be supported is to just know that we're thinking about them and wishing them the best," Jones said.
O'Connor's influence through his teaching has stayed with his students for many years. Many of his former students jumped at the opportunity to support O'Connor through the birthday card collection.
"I learned so many valuable lessons from Mr. O'Connor," middle school student Lily Thirman said. "When I look back on elementary school, I always remember how much fun I had in his class."
O'Connor's students praise his teaching style because he has found many creative ways of connecting with each student where they feel positive about themselves. Through years and years of teaching and expertise, he knows how to find their strengths and make them succeed academically and socially.
Wayland staff and colleagues of O'Connor also spoke of his energetic and encouraging spirit. Continually inspiring and motivating his colleagues was simply his nature.
"Mr. O'Connor always had the most sound advice that was grounded in years and years of experience and expertise," Loker fifth-grade teacher Jennifer Sole-Robertson said. "He was a voice for many teachers and a strong advocate across the district for many teachers and grade levels. Mr. O'Connor's advice, guidance and advocacy are what made him a role model for myself and so many other teachers."
O'Connor has made lifelong impacts on students from elementary, middle and high school in Wayland. His devotion and passion for teaching made his students' elementary school experiences so special.
"He has this expression about 'planting seeds,'" Jones said. "[He plants] seeds, and then kids grow. I think we all agree that he has planted a lot of seeds in working with students, and he has seen them grow."