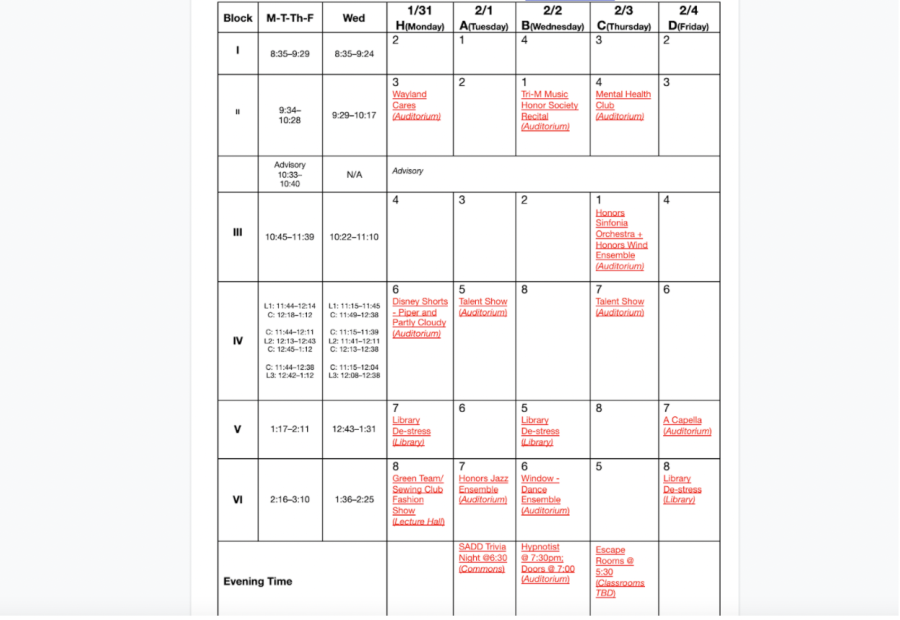 Screenshot from email received by students
Winter Week, an annual Wayland High School tradition meant to provide a break from the stress of the end of the semester, will take place the week of Monday, Jan. 31. However, due to the recent surge in COVID-19 cases, there will be a significant number of limitations and regulations to ensure the safety of students, staff and performers.
Throughout the week, students will have the option to participate in the schoolwide psychs, as well as attend performances or presentations during the school day and in the evening. From a performance by Window Dance Ensemble, to the talent show and a presentation by the Mental Health Club, numerous groups are planning to perform and hold events during Winter Week.
"Students should look forward to all of the performances that are going to involve student performers," Student Council Secretary Lily Yu said. "Our school has so much amazing talent and dedication despite our small size, and I think Winter Week is a time when our fine arts shine."
In addition to the returning Winter Week traditions, such as the hypnotist and a capella performances, there will also be new activities students can look forward to. A specific new event to look out for is the Green Team and Sewing Club's collaborative fashion show, which will take place during eighth period on Monday, Jan. 31.
"The goal of the fashion show is to bring awareness to the fast fashion industry and show how detrimental it is to our environment," Green Team President Madeeha Syeda. "[The goal is also] to bring a more positive light towards sustainable fashion, and get people to be more open to investing in sustainable fashion instead of fast fashion brands."
However, due to the recent increase in COVID-19 cases, there will be many limitations on the winter week activities. The auditorium and lecture hall, where many events plan to take place, have a limited seating capacity of 150 seats and 50 seats, which will be reserved by teachers who sign their classes up to attend the event beforehand.
"Students will not be able to walk in to events except for free periods in the library," Student Council Advisor John Keene said in an email to students. "This is due to space restrictions and [COVID-19] protocols which are beyond the control of our school administration."
To compensate for the limited seating, the events will be broadcasted on WayCam, where students and classes will be able to watch anytime.
"We were thankful to be allowed any live performances at all," Student Council Advisor Mary York said. "With WayCam to the rescue, we will be able to share performances with any classroom that wanted to sign up [to attend the activities] in-person but could not."
It is ultimately up to each teacher whether or not their class attends a Winter Week event, either in-person or virtually, as many events will be occurring during class time. But, York assures students that they will get a chance to experience part of the exciting Winter Week traditions the student council has worked extremely hard to create.
"[Students] will not be able to attend or view all events as classes are still running, and teachers are trying to balance curriculum with fun, but they will definitely get to do something new during Winter Week," York said. "[Students] should also be thinking about what they would like to do next year. Start working on that talent show act now."