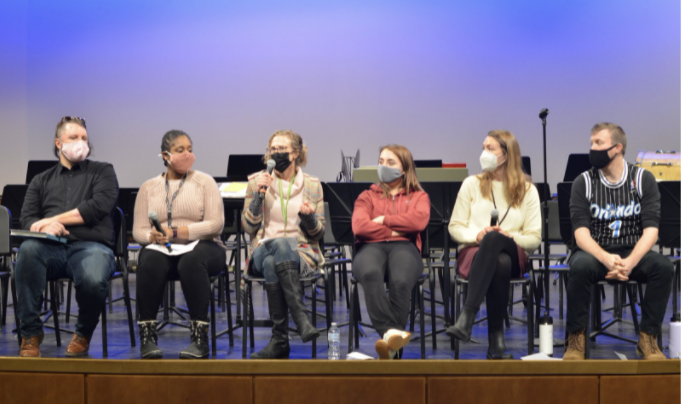 Katya Luzarraga
For the Mental Health Club's Winter Week event, club advisor Kelsey Pitcairn and leaders Darini Nagalingam, Jun Waye and Piper Cinti organized a panel for Tuesday, Feb. 3. During the panel, eight people shared their own experiences with mental health, as well as mental health resources and coping mechanisms. They also answered questions that were submitted by students.
Usually, midterm exams precede Winter Week, and students need a way to unwind from the demanding exams that they've taken. During this time, the top priority for many teachers is that students' mental health is acknowledged, which is why the Mental Health Club panel was introduced to Winter Week 2022.
"In years past, we've had midterms right before Winter Week, and it was a stressful time," senior and Mental Health Club Leader Darini Nagalingam said. "Mental health takes a backseat during [midterms] for many students, including me, and the Mental Health Club panel could help a little bit with that."
This new addition to Winter Week was meant to destigmatize mental health within Wayland High School, and to let students that are struggling know that they are not alone. During the panel, various speakers shared their stories about their struggles with anxiety, depression, eating disorders, post traumatic stress disorder and other mental illnesses and disorders.
"So many people in our community have struggled, or continue to struggle, with mental health, and a lot of that has been exacerbated by various conditions during the pandemic," Mental Health Club Advisor Kelsey Pitcairn said. "I just want there to be a level of comfort with being open about our mental health."
Mental Health Club leaders reminded WHS students and staff that mental health illnesses and disorders are more common than many would think, and that they should not hesitate or feel embarrassed to reach out for help if they are struggling.
"I think [having this conversation] just normalizes that we're all going through this stuff, and it doesn't make you weird or uncommon," Nagalingam said. "People should open up and get the help they need without judgment."
After the stories were shared, clinical counselor Latoya Downes-Steinbrink, Wayland Cares Director Jason Vershoosky, officer Shane Bowles and detective Tyler Castagno spoke about resources for students who are struggling with their mental health. Some resources include the guidance counselors at WHS, counseling services through the Wayland Youth and Family Services, a group counseling service at WHS called "snack and relax," the MetroWest Health Foundation and Reach Beyond Domestic Violence.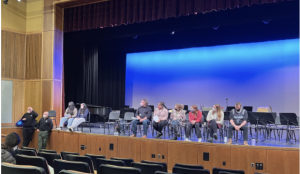 "[Wayland Cares] offers both individual and group counseling, and everything is completely private and confidential," Castagno said during the panel. "If for any reason you're struggling with anything as far as parents who don't necessarily believe in supporting mental health, or don't feel that it's important for you to reach out, we are there for you. Please feel free to reach directly out to us and we can help you navigate that situation."
Several students who attended the panel believe hearing the stories of their teachers and classmate was powerful and inspiring. They said the panel helped them feel less alone in the stigmatized and stereotyped world of mental health and showed them that mental illnesses and disorders aren't limited to just one age group or category of people.
"I really enjoyed seeing teachers talk about their struggles, as well as students, because as students we think it's just us that struggle with these things, and we kind of forget that the adults around us have their own stories and their own struggles," sophomore Hedaia Elelimy said.
Additionally, the panel reminded students of the importance of opening up about their struggles and getting help when needed. For many, this reminder was especially helpful since they themselves or a friend could relate to some of the struggles mentioned.
"[The most important thing the panel taught me was] that it's okay to open up about your [mental health] experiences, even when no one believes you," sophomore Mariam Gayed said. "[The panel taught me that] you just need to keep trying to get [your story] out there because your mental health is important, and nobody should be allowed to tell you otherwise."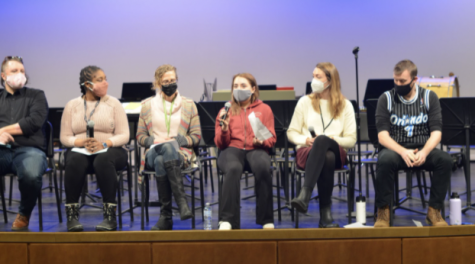 The Mental Health Club leaders hoped that the panel was able to provide insight into the reality of mental health disorders and illnesses in our world. They highlighted the importance of having these open conversations about mental health in order to normalize students getting help when needed.
The Mental Health Club meets after school on Tuesdays in room B118. Students can also email club leaders for more information.
"I hope that this panel is a starting point, not an ending point," Pitcairn said. "I think [Wayland High School is] kind of a pressure cooker of a school, and a really important part of what we're doing is letting people know that it's okay to not be okay."
This event was just one of many that was held during Winter Week 2022. Check out all things Winter Week 2022 here.