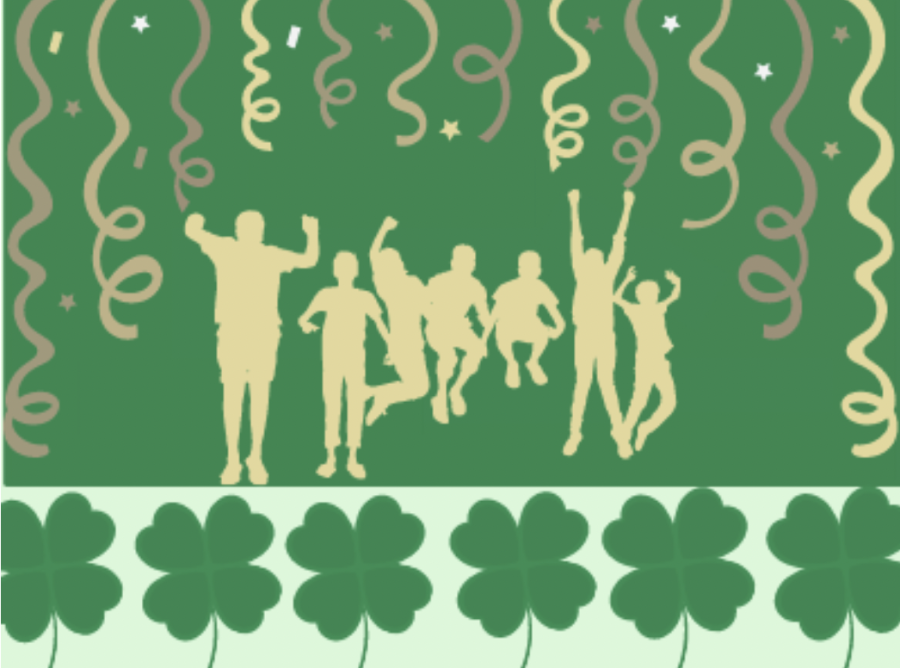 Nadya Chase
After two years spent in the COVID-19 pandemic, several students were excited to celebrate with their classmates at the returning annual St. Patrick's Day party. However, about three hours before the event was set to take place on March 19, students who planned on attending received a message that the party was canceled due to reports of concerning behaviors, such as underage drinking.
Two parents took the issue to the "Wayland Community Forum" Facebook page, and one post received over 200 comments from students, parents and other community members. Within the comments of this parent's post, a false rumor spread that the Wayland High School administration and the Wayland Police Department were responsible for calling and urging the venue to cancel the event. The parent who made the original post did not respond to an interview request.
"I was upset [when the party was canceled] because I didn't feel like [canceling the party] was within the teachers' authority," an anonymous student who attended the party said. "I think that if it were a school related event, then they would have the right to cancel it, but it was a completely private event."
When other students heard of the rumor, many agreed that the WHS administration had infringed on students' rights since the party was being held outside of school. Based on the rumor, several students believed that it was unfair for administrators to assume that students were engaging in dangerous behavior without proof.
"[Administration] shouldn't be able to cancel outside of school events," another anonymous student said. "If things got really out of hand, the police are responsible for stopping and responding to underage drinking outside of school."
However, the rumor that WHS administration and the Wayland police had urged the venue to cancel the event was not true, and neither group had anything to do with the attempted cancellation of the party.
"I would like to assure families and students that the [Wayland] High School administration did not contact the venue [or] try to persuade the venue to cancel the event," WHS Principal Allyson Mizoguchi said. "We know our role and responsibilities, [and] at the same time, we take our responsibilities very seriously. We recognize the very unique role we have in the lives of students and families, and we certainly respect the boundaries."
In reality, before the event, the venue had received a number of calls from anonymous sources, one of them claiming to be a member of WHS administration. The venue did not respond to an interview request, so the number of calls and information the calls contained is unknown.
Under the assumption that administration had called the venue, many upset students and parents reached out to various WHS administrators and made posts online regarding the issue. Mizoguchi responded directly to anyone who reached out to her about the cancellation of the party, but the posts made online were out of her control and harmful to the WHS administration as a whole.
"The public posts on the [Wayland Community] Forum and the conversations that have happened subsequent to the party have been harmful to the reputation of our administration and harmful in the work that we do with kids," Mizguchi said. "We really want to be connected with all of our [students], we want to make sure that [students] know we support and care about [them] and that we're not interested in overstepping our role. At the same time, we want to provide a safe place here and be a resource to [students], and if there's been some trust broken because of the false narrative that was out there, then we have some work to do."
The WHS administration found out about the party the day before it occurred and heard some concerning rumors regarding the event, such as a rumor that there would be no adult chaperones present at the party. However, the only action WHS administrators took was reaching out to the WHS Safety Officer, Sean Bowles, to alert him of the event. Bowles had already heard about the party, and had reached out to the Natick Police Department priorly to give them a heads up.
"[Reaching out to Officer Bowles is] consistent with what we have done in the past and what I believe is our responsibility," Mizoguchi said. "If there's something concerning that crosses our radar screen, we don't want to sit on that information, and if it's credible [and] concerning enough, then we will talk with our youth officer and see if there's something more we should be doing or not."
Although this issue was not a result of administration taking direct action to cancel a non-school sanctioned event, Mizoguchi believes this misunderstanding can be an opportunity to clarify the role WHS administration has in off campus events.
"We're not actively seeking information [about off campus events] so that we can come in, interrupt any planning and cancel events," Mizoguchi said. "I think [WHS administrators] are very aware of what the line is and what our role is, but at the same time, we have a professional and a moral responsibility to work with our youth officer if we do hear of some sort of very concerning event."
To make this event a learning opportunity, Mizoguchi plans to send a clear message to students and parents about the role of high school administrators. Additionally, Mizoguchi plans to possibly host an event in the spring about these roles and responsibilities, as well as addressing any worrying behaviors occurring at off campus events.
"I think our concerns are warranted, there's a lot happening in the lives of our teenagers, especially as we emerge from COVID-19," Mizoguchi said. "It's a wonderful thing that our students can connect with one another and be social beings again, and it's also pretty clear that there's a lot of concerning behaviors that we feel responsible for."
Overall, members of WHS administration were most concerned about their relationship with students coming out of this event. Mizoguchi, along with her coworkers, plan to work on mending these relationships and clarifying their roles, while also making it clear to students that WHS administration cares for Wayland students' safety and wellbeing.
"It's not like our job ends at 3:10 p.m., and we stop thinking about kids and then start thinking about them again at 8:35 a.m. in the morning," Mizoguchi said. "We're invested in [students'] safety, we're invested in [students'] health and we worry and care about [students] outside of school hours. We also recognize that we don't have a role necessarily in [students'] lives after school hours. Sometimes we do, and sometimes we don't, and we want to walk that line very carefully."