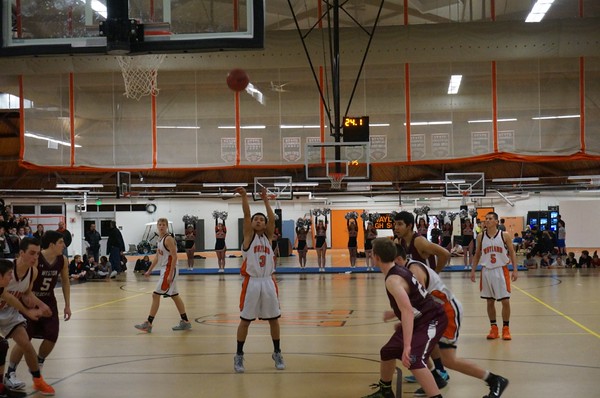 Angela Park
Boys' Basketball
The boys' basketball team finished last year's season with 10 wins and eight losses. The team was placed third in their league. According to Coach Dennis Doherty, one of the best wins of the season was the game against Acton-Boxborough. One of the goals of this season is to qualify for the state tournament.
Players to watch: Jonathan Eng (point guard, senior), Michael Holmes (forward, senior) and Wesley Jones (shooting guard, senior)
Girls' Basketball
The girl's basketball team had a good season last year, closing with a 14-6 record, ranking them second in the DCL small. The team had their best season in over six years. Also, the team made the playoffs for the first time in six years last season. Head coach Amanda Cosenza says that the team's goal this year is to make playoffs again, win the DCL small title and have fun.
Players to watch: Bronwyn Davies (forward, senior), Darby Leid (point guard, sophomore), and Ellery Kiefer (forward, junior)
Wrestling
Last season, the wrestling team had another successful year, finishing with a 25-1 regular season record. The team also took home the DCL title, won sectionals and placed third in the Division 3 state tournament; they were only eight points out of first place. Head coach Sean Chase says the team's goal is to win the state championship this season.
Players to watch: Michael Connell (senior), Ben Jones (senior), Quinn Peebles (senior), Tommy Cope (senior)
Indoor Track
Last season, the track team's girl's 4x400m and 4x200m qualified for the state meet. Additionally, former senior Robert Jones set the school record in the 55m dash. Head coach Peter Galalis says the team's goal is to get as many athletes to PR as possible and to qualify for the state meet.
Players to watch: Zach Last (two mile, senior), Erica Sheffres (600m, senior), and the girls' 4x200m relay team.
Alpine Skiing
After the team won the Omega League last year, Head coach George Conlin thinks that this years team should be strong. However, he thinks that it will be difficult to qualify more than three skiers for states.
Players to watch: Ben Slater (senior), Andy Regan (senior), Hunter Leonard (junior), and Hannah Roberge (sophomore)
Nordic Skiing
As soon as the snow starts to fall, nordic skiing season begins. The team hopes to have fun and win as many meets as possible.
Players to watch: Tori Varnau (senior), Mandy Judah (senior), and Michael Keller (senior)
Boys' Swimming
The boys' swim team hopes to improve on a very successful 2015 season this year. Last season, they finished fourth in the DCL and placed second at Division 2 states. This season, the team hopes to win the state title behind the leadership of head coach Mike Foley.
Swimmers to watch: Sean Devlin (sophomore), Jamie Carver (senior), and Kanming Xu (sophomore)
Girls' Swimming
The girls' swim team had a great year in 2015; they lost only one DCL meet, finished finished second in the DCL and states and won sectionals. They team lost many key swimmers who graduated last year, but the team will do the best they can and have as much fun as possible.
Swimmers to watch: Lori Cliff (senior), Emery Dutton (sophomore), and Emma Blahut (junior)
Boys' Hockey
Coming off a 14-6-1 season and losing in the Division 2 North semi-finals, the boys' hockey team has high aspirations. They are hoping to win both the DCL and state titles. Team captains Joey Christakis, Bobby Jones and Jake Brady will provide leadership for a team that lost a lot of experience from last year.
Players to watch: Jake Brady (senior), Joey Christakis (senior), and Bobby Jones (senior)
Girls' Hockey
The Weston-Wayland girls' hockey team will look to have another successful season behind the leadership of coaches Wink van Ogtrop and Megan McDonald. The team's captains are Lucy Harper (senior, Weston) and Lisa Spagnuolo (junior, Wayland). They hope to grow together as a team, improve everyday in practice, and keep their intensity level high.
Players to watch: Lucy Harper (senior, Weston), Lisa Spagnuolo (junior, Wayland), and Lilly Poulin (sophomore, Wayland)