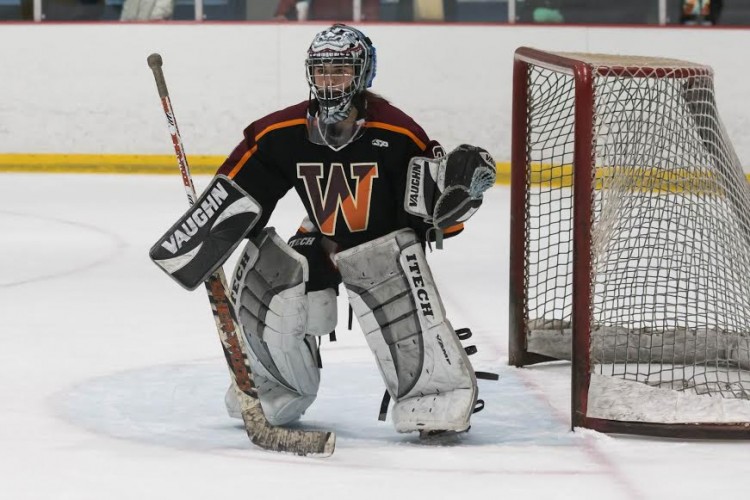 Achievements:
Lin is a hockey, soccer and lacrosse goalie for WHS. She started on the lacrosse team as a freshman. During the season, she beat Lincoln-Sudbury for the first time in 13 years, by one goal. In hockey, she is the starting goalie as a sophomore. In her game against Haverhill, she had an 88% save percentage. Lin played soccer goalie as well on JV last fall. She led the team to beat Weston on W-Day in a tight game.
Sports idol:
Soccer player Kristine Lilly was the first pro athlete that Lin ever knew about and her first realization that sports could be a career. This inspired her to work hard toward that goal. She got a Boston Breakers shirt that had Lilly's name on it when she was a child, and she still has it today. She admires her skill, motivation and love for soccer. She watches her and wants to work to get to her level.
Favorite memory:
Her favorite sports memory is when the lacrosse team beat Lincoln-Sudbury. The bus didn't arrive, so the team had to carpool to the game. Wayland hadn't beaten them for 13 years. The team came together and won at the buzzer. According to Lin, it was a huge game, and the feeling the whole team had after winning was amazing.
Quote:
"I love the way sports bring so many people together. There are definitely people on my teams whom I wouldn't have been friends with otherwise, but because we play a sport together and share a common interest, we're now best friends, and I don't know what I would do without them. Everyone on a team is in it together whether they win or lose, and it's an amazing connection that you won't find anywhere else."