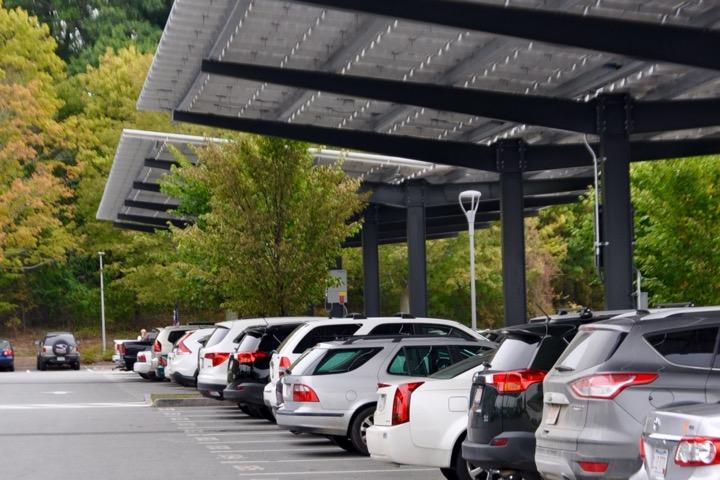 Masha Yakhkind
Several new solar panels were installed above the parking lots of Wayland High School, Wayland Middle School and the Wayland Town Building over the summer. At Wayland's annual town meeting in April, residents approved the project by a majority of 90 percent.
Ellen Tohn of the Wayland Energy Initiatives Advisory Committee has been pushing for this project's success for years.
"The goal of the Energy Initiatives Advisory Committee is to help the town identify smart and effective ways to reduce our carbon footprint and energy use. It is to see if we can do this in a way that benefits the town financially," Tohn said. "Making use of solar production for our municipal energy use was a key strategic goal, after our work to improve the energy efficiency of all town buildings."
The change not only affects Wayland's public schools, it affects the town government. According to Principal Allyson Mizoguchi, whatever energy costs the town defrays because of the solar panels will become town energy savings.
The projects at the high school, middle school and town building should generate enough solar power to displace 25 percent of Wayland's municipal energy use. According to Tohn, the Wayland Energy Initiatives Advisory Committee anticipates that the solar panels will defray more than $100,000 a year in electric utility costs.
According to Mizoguchi, the time frame for construction was originally supposed to be throughout this school year, but in order to cause minimal disruption, the project was pushed forward to begin last June, right after school finished.
"I was very pleased that the installation was much less disruptive than we thought they were going to be. Much of the installation happened over the summer, and the trenching took place in a way that was the least disruptive possible. I was very happy about that," Mizoguchi said.
Not only do the solar panels look modern, they also protect the cars parked under them during the seasons. The panels are angled to protect cars from being damaged during winter.
So far, WHS students have been responding with positive feedback to the installation of the panels.
"Personally, I like them because it provides clean energy, which is always a good sign for a cleaner future," senior Max Adelman said. "Also, it provides protection from rain and snow, so we don't have to worry about clearing the snow from our cars during the winter."