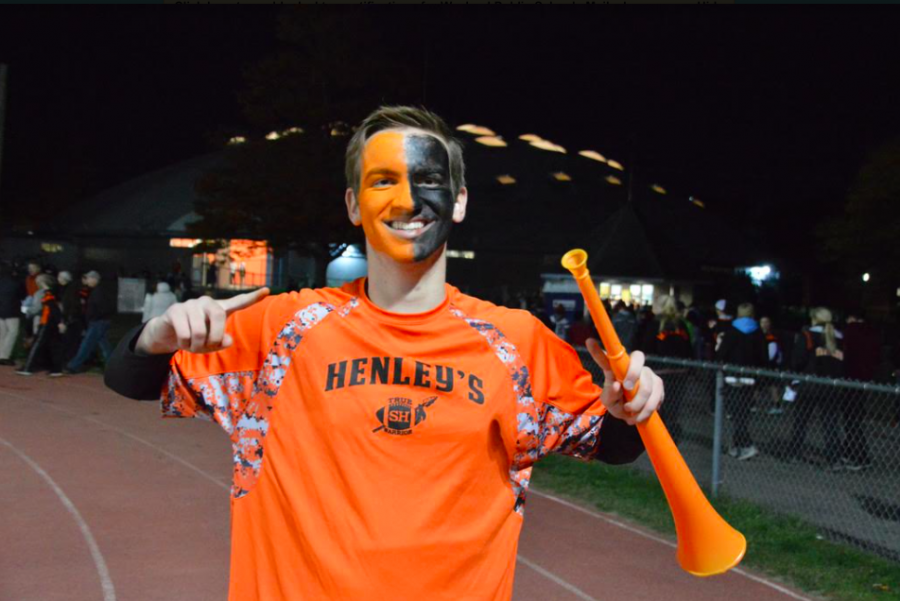 Senior Peter Tsipis has been a fan at WHS for the past five years. Many students consider Tsipis a "superfan", which is a fan who shows a great deal of enthusiasm. His passion began in eighth grade when he attended his first sporting event with his older brother Alex Tsipis, who graduated from WHS in 2013. He was a previous WHS superfan. The Tsipis legacy was continued by Peter when his brother graduated the following year.
"I like getting loud and I really like sports. Cheering at sporting events is kind of a combination of those things," Tsipis said. "It's fun, I enjoy it."
Tsipis typically shows up to games decked out in orange and black, with his stadium horn, cowbell, and streamers. He also covers his face in orange and black face paint.
Tsipis goes to all of the home football games, and he tries to attend some away games as well. He also attends all of the home boys' basketball and boys' hockey games.
"It's just really fun, I have a lot of passion and school spirit. I'm a big sports guy," Tsipis said.
Last winter, Tsipis got banned from attending boys' basketball games for making signs with the names of opposing players, followed by "a fun heckle."
"[I got banned] for a reason that I still think is kind of silly," Tsipis said. "I do it for my school."
Since this incident, Tsipis has been trying to be on his best behavior. He's noticed that the student section has not been as loud as it was in the past.
Although Tsipis is extravagant with his support at high school sporting events, he tones it down for professional games because he thinks it has a more serious atmosphere. Tsipis does attend many collegiate sporting events, especially Northeastern University hockey games. His brother goes to Northeastern University, so he goes to the games with him.
"I usually go to the student section at Northeastern hockey games, and just go nuts," Tsipis said.
Tsipis participates in curling, which many people consider a unique and unknown sport. Tsipis has not yet had fans at his matches.
"I have not experienced fans at a curling match because not many people know what curling is and it's not all that thrilling to watch," Tsipis said.
Many athletes at WHS enjoy having Tsipis on the sideline of their game.
"Peter Tsipis is an incredible fan," senior and boys' soccer captain Cam Gordon said. "He's super fun to be around in the stands, and he makes everybody around him happier. It's just good to feel like there's someone in your corner."
"He's probably the best fan [at Wayland High School]," junior and girls' basketball captain Darby Leid said. "He gets me pumped up."
The end of high school will not dictate the end of Tsipis's attendance at games.
"I just plan on riding this out once I go on to college; I can just be as nuts as I want," Tsipis said.