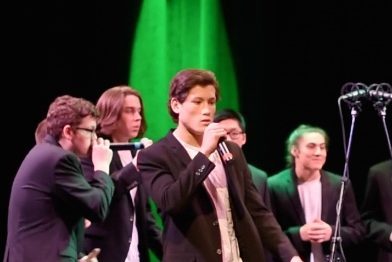 Courtesy of Sidney Toga
The stage lights go on, blinding the young man as the song starts. His fellow singers' voices rise together in unison, blending into a gentle, mellow background. Swaying to the music, they form a loose semicircle around him. He takes a deep breath and steps forward into the spotlight, opening his mouth as the first words of the song float through the air, drifting on the velvety current of his voice.
The young man performing is freshman Sidney Toga, a tenor and member of the Wayland High School T-Tones. Toga is a frequent soloist in his a capella group.
Toga, inspired by his brother, WHS alumni Ethan Toga, started singing when he was in elementary school and has been singing for around six years.
"[I started] around second grade, maybe third grade," Toga said. "I just started jingling around and then I figured out I liked it, so I kept going."
Aside from WHS a capella, Toga also participates in the WHS Honors Concert Choir. In addition, he was selected for Massachusetts Music Educators Association's Senior Districts Festival this year. Toga also participated in the Junior District festival in past years.
For Toga, singing is just a fun way of expressing himself through music; a creative outlet that is better than just words.
"[Singing is] just fun," Toga said. "I enjoy doing it, and it's just a fun thing to do for me."
While Toga greatly enjoys singing, he doesn't think he will pursue it as a career in the future. However, he will take singing with him through college and probably for the rest of his life.
"I probably will end up singing [with another] a capella [group] in college," Toga said, "but I don't plan on making a career out of it. Most likely it'll just turn into a hobby for me."
Toga, a young, aspiring musician, has many inspirations, but has a couple artists who he particularly enjoys and looks up to.
"I don't know, there's a lot of people all over the place," Toga said. "I see certain artists singing and I'll be like 'oh, I wanna be like them,' or 'oh, it would be cool to have that lifestyle,' but there are a lot of them. But I do [particularly] like Justin Timberlake. He's cool. He has a really nice life, he's pretty good at singing, so I've looked up to him for a couple years now."
Ever since he started singing, Toga has continued to love making music and sharing it with others. The positive feedback he received throughout his career serves as a strong incentive which continues to drive his passion for music.
"When I started singing, people were like 'oh, you're good at this, you should keep going,'" Toga said. "So it's mostly when people tell me I'm good that makes me feel good about myself, and I want that more, so I keep on singing."