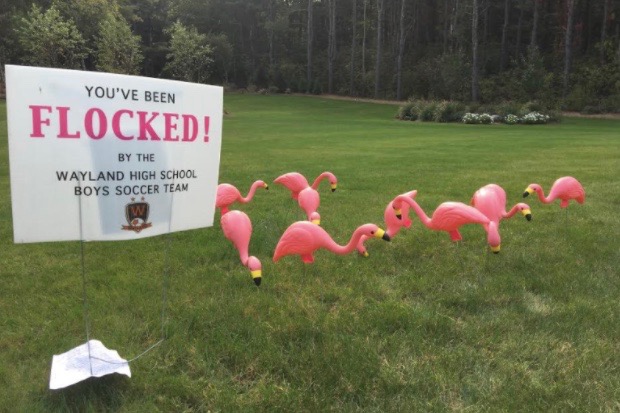 Courtesy of the 2017 boys varsity soccer team
Each season, the Wayland boys' varsity soccer team holds a unique fundraiser called "flocking." The boys stick plastic flamingos into the yards of families all over Wayland. When families wake up the next morning and discover they've been flocked, they have 24 hours to donate money in order to have the flamingos removed and moved to the next family.
"Flocking is our team fundraiser that was put in place in order to raise money for other utilities such as balls, equipment, and sometimes buses," senior captain Zack Dresens said.
Flocking isn't your average fundraiser. It adds an element of surprise, and it's a lot of fun for Wayland families.
"I think that this is one of the best fundraisers that Wayland High School does," freshman Charlotte Salitsky said. "With the other fundraisers Wayland teams have done, a lot of people don't want to crowd their freezers with cookie dough, or buy raffle tickets for things they have slim chance of winning. I think that flocking is a fun one to get everyone involved."
Every year, the boys have a goal to make between $3,000 and $4,000 before the flocking season comes to a close.
"We started flocking the second week of September, and we usually try to finish up by early October so our whole season isn't consumed by just flocking," Dresens said.
The next step in flocking relies on the families involved. They have the power to choose the next victim of the flamingo fiasco.
The boys' team has come across their share of unhappy families. We asked a member of the soccer team, junior Jake Tyska, what the team would do if someone didn't want the pink flamingos on their property. They know it isn't possible to please everybody, which is why you aren't obligated to donate if you get flocked.
"The next day we go out and try to remove the flamingos as quickly as possible," Tyska said.
The Salitsky family was one of the first families to get flocked. They were surprised and excited when they saw the flamingos in the morning. Overall, the family was very happy to be involved, and gladly gave a donation to support the boys' varsity soccer team.
"I was confused since I'm a freshman and it was the first time I have ever been flocked, but it was super fun being a part of it," freshman Charlotte Salitsky said.