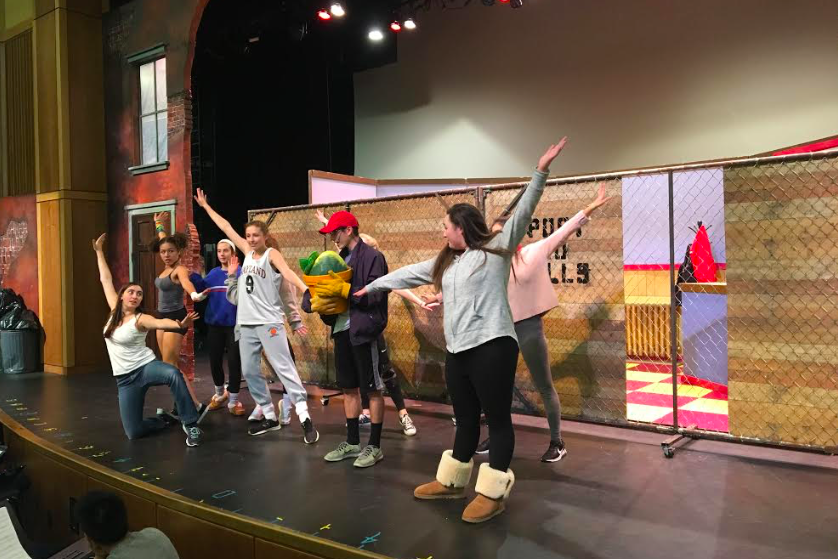 Aidan O'Hara
The Wayland High School Theater Ensemble (WHSTE) is buzzing with excitement in preparation for its upcoming performance of "Little Shop of Horrors." The annual fall musical will be performed Nov. 16 through Nov. 18.
The show is directed by theater teacher Aidan O'Hara and stars senior Logan Dawson as Seymour and sophomore Samantha Potter as Audrey.
Preparing for the fall musical is no small task. WHSTE members have worked every aspect of the show, adjusting their performance to its top potential.
"I think when you do a show you're really looking for what's called a unified theatrical event," O'Hara said. "You look at it through the acting lens, so you need to prepare the performers to find their characters, learn their songs and [their] choreography. But then there's a whole design and technical side. You also have to work with students to get the lighting design ready, the scenic design, sound design [and] prop design… it's an incredibly large team effort."
WHSTE actors put a lot of work into creating their character. Actors and actresses often spend hours practicing lines and making sure every component of the show is just right before they go on stage to perform.
"We have practice three hours a day every single day," Potter said. "It's a lot of lines, but it's a lot of fun."
The preparations for the play do come with some blunders and struggles.
"It's very frustrating for me either when I get a line wrong or I can't remember a note… or I can't remember a stage direction," Potter said.
Understandably, some WHSTE members have very tight schedules and need to plan their time carefully in order to prepare for the show. The actors find a balance between their school work, social lives, and practicing for the show.
"If you just use small bits of time like your frees, or your lunches, or certain times when you have common times with your fellow castmates, then you can make it work," Dawson said.
All the hard work that WHSTE puts into the preparation of the fall musical does not go to waste. O'Hara embraces all the help available to him, due to the long list of work to be done in order to be prepared for the show. WHS has many WHSTE participants who put in the work needed every day to get the show ready for opening night and the performances to follow.
"There's a great sense of commitment and talent throughout the group. I think we have over 50 kids involved with the pit learning the instrumentation. It's going really well and we're all putting an incredible amount of hours in towards that same large goal," O'Hara said.
WHSTE members and O'Hara are prepared to showcase their hard work that they have put in to the production of the fall musical. With the fall musical comes excitement in the days and weeks leading up to the show. Like their fellow WHSTE members, Dawson, Potter and O'Hara are excited for their performance. The cast members are ready to see their hard work pay off.
"Performing is a lot of fun, I'm excited to perform and to be in costume," Potter said. "It's fun to create a character."
"I'm excited to know the material so well that I can really dive into the characters and create a complex and entertaining show as best as [I] can," Dawson said.