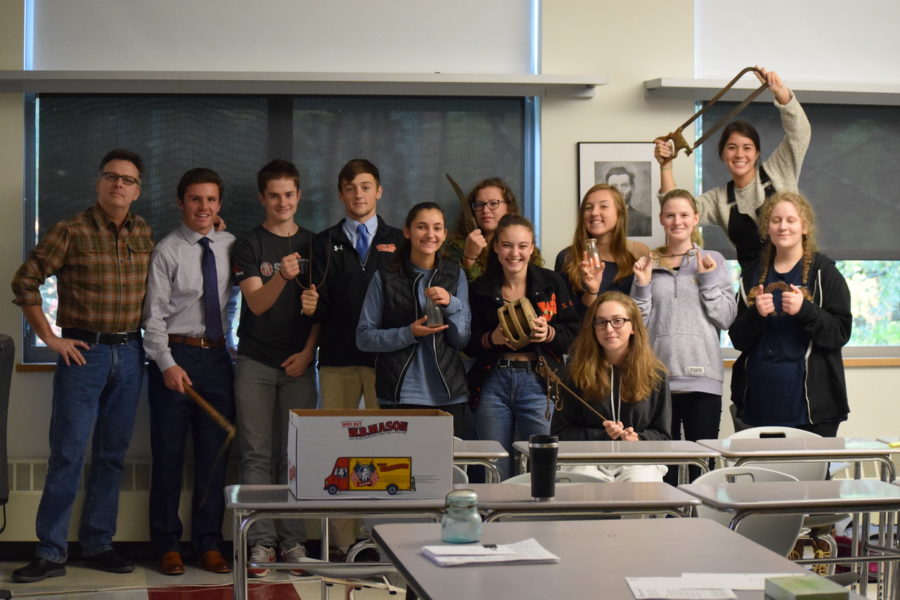 On any day, history teacher and department head Kevin Delaney could herd his fifteen students to the Boosters bus and whisk them off to 19th century Wayland. No, he's not a time traveler– just Wayland High School's Attic Archaeology teacher. Delaney has been passionate about telling historical stories for the past decade and a half and wants nothing more than to share them with students.
The Attic Archaeology course is a combination of storytelling, discovering lost history and finding out about the lives of the backbone of our society–people.
"Our brains are hardwired to learn by stories, and history is just a deposit of stories," Delaney said. "[Attic Archaeology] is about the stories around us, and what they mean. It's about discovering, and telling stories that aren't really known."
This quarter, the students took on the task of telling ghost stories.
"We examined what makes a good story, visited graveyards and settings in Wayland that would make good ghost stories, then wrote ours," senior Shaelee Comettant said.
Attic Archaeology is a field study class. Students take field trips to local archaeology spots to dig up secrets and hidden history, where they uncover the unknown of Eastern Massachusetts' past. In prior years, students have done research projects on places like candle shops, graveyards and abandoned homes.
"We do a lot of case studies," Delaney said. "Right now, we're doing these authentic Wayland ghost stories. Students have to set [the story] in an actual Wayland setting, whether it be the Old Grist Mill or a train crash that happened. We go to these places, and pick up little snippets and puzzle pieces to try to put them together to make a picture."
Attic Archaeology is purposely scheduled in the afternoon, so students can go on field trips either during lunch block or at the end of the day. The field trips are to places like aqueducts, the Yankee Craftsman, the Mill Pond, Old Grist Mill, Pleasantview Farm, Old North Farm and many others. Students never miss school for a field trip.
Delaney describes Attic Archaeology as a field study course where students have a say in what they learn about. Some of the topics students have learned about are death in the 1900's, memory photographs and pre-20th century epidemics. Another interesting aspect of the course is that there is no homework. However, this course is only open to juniors and seniors and only runs during the first semester.
Comettant and classmates senior Peter Wolff and junior Lindsay Adelman have explored an abandoned airport, the first school in Mills, and an abandoned home. There they found old car parts, rusting bicycles, and appliances from over three decades ago. Thrust upon with the task of figuring out the origins of these items, these three students got to work.
Students did a similar project when Delaney plopped a box of tools from the 19th century in front of them. Armed with computers, students researched the history of these tools.
"It's unexpected," Comettant said. "We didn't know what we were going to find. It was cool to have to dig for and find the information, not just have it fed to us."
"[Attic Archaeology] is experiential, open-ended, creative, and if you could figure out how to turn story into an adjective, it'd be that," Delaney said.