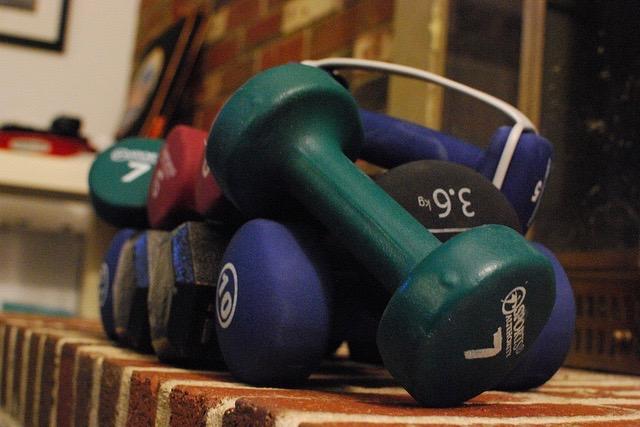 flickr user: slgckgc
When the competitive season for sports ends, the real work has just begun for many Wayland High School varsity athletes. Seniors Kyle Camphausen and Darby Leid, junior Gabby Fargnoli and sophomore Jenna Cook talk about their offseasons.
Athletes have many options for maintaining their fitness in the offseason. Both Cook and Fargnoli do winter training for crew in their offseasons.
"I'm doing winter training for crew," Fargnoli said. "That just means lifting, circuits and cardio with the team."
Leid, who will be playing basketball for Union College next fall, trains in the spring and fall for basketball season. Alongside her focus on training for Wayland High School basketball, she'll also be preparing for her upcoming seasons at Union.
"I play club basketball, so I have a ton of games, tournaments, and practices," Leid said. "I have to do a ton of clinics to work on skills and conditioning."
Leid isn't the only one participating in club sports during the offseason. Camphausen, who will be playing lacrosse for Wesleyan College next fall, plays club lacrosse in his fall and winter offseasons. He trains in a unique way alongside one of his teammates.
"Connor Keating and I, one of my buddies, have this lacrosse-specific workout plan that we do in the fall and in the winter," Camphausen said.
Following a workout plan during the offseasons for lacrosse is beneficial because it forces athletes to stay fit, so they're in shape better than ever once the spring comes around.
According to Wayland High School athletes, participating in club sports isn't enough. Staying fit during the offseason involves much more work. It takes individual motivation to stay invested.
"I always try to get out on the turf as much as I can," Camphausen said. "Every week, like twice a week, trying to shoot around, pass around. I just always want to keep my stick in my hands and never get too rusty."
The physical aspect of training during the offseason is not the only important part of staying invested. Athletes also attempt to stay mentally focused.
"I kind of just focus on my goals for what I want this season to be like," Leid said. "[I also] try to remember what went well and what didn't go well the year before and focus on how to change it this year."
In order to be on their top performance during the season, athletes need to make sure that they are giving their bodies the correct fuel to make the most out of their workouts. In addition, they need to make a habit of keeping their muscles and bones healthy by avoiding injuries.
"[I eat] lots of vegetables and protein," Cook said. "[I'm] taking care of myself and getting enough sleep,"
Besides healthy eating, injury prevention is essential for these student-athletes' well-being.
"I have an issue with [injuries]; I get injured all the time," Camphausen said. "I stretch out before and after working out and I'll always wear braces if I'm injured. I just try to eat healthy, always work out and stay loose,"
According to Leid, she goes to a physical therapist during her offseasons to stay healthy and strong for basketball season.
Like many other WHS athletes, Cook, Fargnoli, Camphausen, and Leid use the time they are not participating in a sport at the school to get in shape for their season.