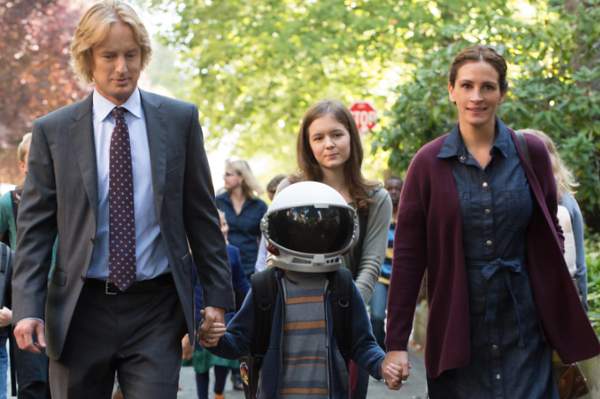 Auggie Pullman was born with a facial deformity that prevented him from going to a mainstream school. His mom had homeschooled him until now. Auggie is about to start fifth grade at Beecher Prep. Being the new kid is hard enough, but Auggie's differences make it even harder. When his family, friends, and community start to accept him, Auggie wonders, "why fit in, when I was born to stand out?"
 Wonder, a book I read in fifth grade, came to the big screen this Thanksgiving, and it was everything I hoped it would be.  Under the direction of Stephen Chbosky, who directed "Rent" and "The Perks of Being a Wallflower," the movie was expertly directed. Apart from minor details, the movie stayed fairly true to the book, which I always appreciate in book-to-movie adaptations. Even though several child actors starred in the movie, they all had the talent and professionalism of their adult colleagues. The adult actors beautifully companioned the children. Julia Roberts and Owen Wilson shined as superb parents; Daveed Diggs was a kind and inspiring teacher. However, actors cannot truly shine unless they are backed up by a strong character. K.J. Palacio, author and screenwriter of "Wonder," created strong, deep, complex characters that are mistaken for real humans. The characters are superbly crafted, each one has flaws that made me love them even more.
The movie gains complexity as it is told through different points of view, including through protagonist Auggie, his sister Via, her friend Miranda and Auggie's new friend Jack.
My favorite character was Auggie's sister, Via. Via was the strong, underrated character that we all love. She maturely handles Auggie's situation, and never complains when she has to manage for herself. Even though she is just fourteen, she acts like the dream oldest child. She was the strongest character in the movie and was an inspiration and role model to older siblings everywhere.  
However, the shining part of this film was the character development. The kids developed emotions and feelings that they weren't capable of in the beginning. Stars Jacob Tremblay, Millie Davis, and Noah Jupe shined in roles that fit them perfectly.
Filled with life lessons, proverbs, and precepts, Wonder is a must-see for kids, teens, and adults, alike.
Rating: 8/10
Opinion articles written by staff members represent their personal views. The opinions expressed do not necessarily represent WSPN as a publication.