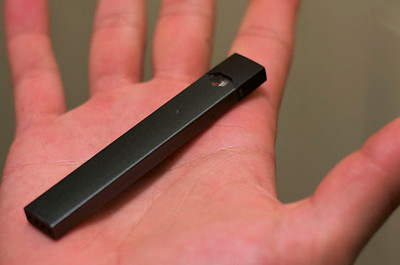 Wikimedia Commons
*The following name has been changed to maintain the student's anonymity.
The e-cigarette craze has hit high school and college students all across the country–including students at WHS. E-cigarettes have been around since 2003. Invented by a pharmacist, these devices were originally created to help adult smokers quit regular cigarettes, and they were seen as a safer alternative.
Sophomore Leah Becker* has been using e-cigarettes since the end of freshman year. One of the most popular types of e-cigarettes is Pax Labs' Juul.
"What I use is a Juul," Becker said. "It's the most discreet and sleek of all [e-cigarettes], and the flavors are really nice."
The Juul closely resembles a USB flash drive with its sleek figure and gray metallic exterior. The minimum age to purchase a Juul is 21, which makes it illegal for any student to buy. Despite that law, it is fairly easy to obtain a Juul online or from a friend who is of legal age.
"I see kids using [Juuls] in the bathrooms all the time," Becker said. "Sometimes, I walk into a bathroom and I can smell [the vapor] in the air. It's pretty obvious."
According to Becker, students these days aren't interested in regular cigarettes because these devices "taste better" and "hit harder."
"I don't know anyone who smokes real cigarettes," Becker said. "I think the main reason why vaping has really spread so quickly is because they're fun. You can do all sorts of tricks and they actually taste good."
If a student is caught with a device on the school campus or at a school-sponsored event, the general penalty is a five-day suspension. However, the length of the suspension can vary based on extenuating circumstances. In some cases, a diversion program can be implemented to shorten the suspension.
"Sometimes we will institute some kind of a diversion program," WHS principal Allyson Mizoguchi said. "What that means is that the student is involved in some kind of counseling, drug evaluation, some follow-up counseling with the family, perhaps, and community service hours. In exchange for that diversion process, we may tweak the length of that suspension. Hooking in that diversion program sometimes means a student can come back to school sooner but with some conditions around support for their drug and alcohol use."
Beyond penalties for using Juuls, students caught distributing, selling or in widespread possession of any drugs or alcohol may be subject to a suspension longer than five days.
"More than five days is usually pretty severe," Mizoguchi said. "We have to be careful also as a school. Once you get to ten days of suspension, there [are] other rules and regulations that kick in that are an obligation to school, so we want to be philosophically and legally very careful about those suspensions."
Being under the influence outside of school can also result in consequences for student-athletes and club members, including reduced games and restricted participation in clubs.
"At the end of the MIAA, there is a policy around chemical violations, and we need to then enact MIAA policy around that and reduce the number of games that a student can participate in based on an occurrence that is confirmed by the principal," Mizoguchi said. "[We] try to be equitable as far as what goes for the athlete. [This] also goes for the fine arts participant or the mock trial participant."
According to Becker, students who vape in school are rarely caught.
"When people Juul in school, no one really notices," Becker said. "People use them in bathrooms and are really discreet about it, and teachers don't really recognize the smell, so they never really catch us."
Along with the consequences faced in school for using e-cigarettes, there are also severe negative impacts on user's health. Researchers at Harvard found that 39 of 51 e-cigarette brands contain diacetyl, a chemical that can cause bronchiolitis obliterans, which is more commonly known as "popcorn lung."
Juuls do not have diacetyl in them; however, they do contain copious amounts of nicotine, which can lead to addiction.
"There are lots of people I know who are genuinely addicted to Juuling," Becker said. "[It's] probably because of the nicotine in it. I don't really mind if they truly are addicted as long as they're not putting themselves or others in danger.
According to Rachel Hanks, a health teacher at WHS, the Wayland health curriculum is designed to help educate students about the harms of using e-cigarettes and to reduce the number of students doing drugs in general. She understands that many high school students drink and do drugs and that it can be very hard to stop students from using completely. Instead, Hanks wants to make sure that if students are using, they are doing so in moderation and safely.
"If you are choosing [to use], we would like to make sure you are safe and you're making healthier choices so you're not putting yourself at high risk for doing really dumb stuff," Hanks said. "We would like you to keep it casual so that you're not getting really drunk or really stoned or using coke, crack or opioids, but you could just have a beer or two, as opposed to a few shots."
Hanks believes that the most important part of the Wellness curriculum is keeping students safe, regardless of whether they use illegal substances or not.
"When I speak to freshmen, when I speak to seniors, my goal really isn't any different where I'm trying to say 'look, I'm a parent, I'm a teacher, and here's my fine line,'" Hanks said. "I would prefer you not do that, but if you were going to do that, I would want you to be safe about it."