WHS a cappella groups prepare to release album
Over the past few months, the WHS a cappella groups, the T-tones, Muses and Madrigals, have been working to create a 12-song album. Each of the three groups has recorded four songs. Some of the songs include "Girl put your records on," "On My Way Home," "All Night," a mashup of "Ride" and "Him and I," and "Skyfall."
Typically, group members spend two to three hours after school recording their parts which vary from solos to background pieces.  The a cappella directors record each group member and are in charge of setting up the recording equipment and editing the songs. To edit the album, the directors use a program called Logic, which is similar to GarageBand. Different parts of the songs are stacked on top of each other, and volumes are adjusted as needed. If necessary, pitch software is used to correct parts of the song.
"There is a lot more work [that goes] into making an album than you might think," freshman Madrigals member Simon Goode said. "You have to get everyone in the same place, which is really difficult, and there are all these different parts that have to come together, which takes a long time."
The a cappella groups use the music lab, also known as the chorus room, to record. The directors have been taught by music engineer Chee-Ping Ho how to operate the recording lab equipment. Chorus teacher and a cappella advisor Rachel Carroll has helped coordinate the album.
"[Carroll] has been super helpful in setup and making sure that the hallway outside of the room is relatively quiet so that it doesn't disrupt recording," senior T-tones director Zach Knapp said. "Overall, she has been great in making sure that we're caught up in where we need to be in our recording."
The groups recently finished recording each member's individual part in the music lab. The directors are currently editing the album on Logic. Because the groups are singing covers of songs, they must pay to license each song to avoid copyright issues. The directors are in charge of sorting out the licensing on each song. Ho is helping edit songs. The final step in the process will be to put the album on CDs.
The groups are hoping to release the album in mid-May and people will be able to purchase the album CDs. The directors are also exploring ways to put the album on music streaming sites like Spotify.
"It's a pretty rigorous process because you have to make sure everything is perfect," freshman Muses member Lizzie Strehle said.
The album is expected to be completed within the next few weeks.
About the Contributor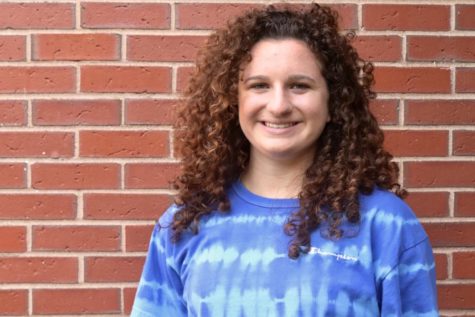 Caterina Tomassini, Managing Editor
Caterina Tomassini, class of 2021, is a fourth year journalism student and is the managing editor this year. Outside of journalism, Tomassini plays club...