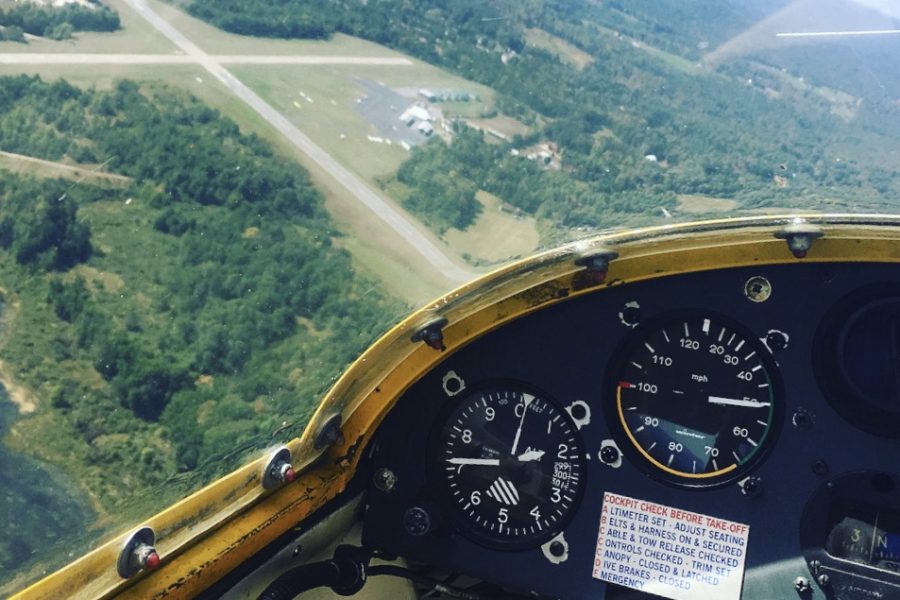 Courtesy of Logan Homyak
The first half of senior year looks the same for most students: grinding out college applications and then relaxing when it's all over. Senior Logan Homyak, however, is planning to take a different path.
When Homyak was just 15 years old, he joined a program that would kickstart his dream of becoming a pilot.
"I joined a program my freshman year of high school," Homyak said. "[The program] offered five free flights, powered and unpowered. The first month of my freshman year, I flew a plane with another person as my first time, so that was a while ago. With [the] program, I've done more flights over the years, and I've also visited Air Force bases, and I've done pilot training camps in different states."
Homyak's love of planes started when he was just in fourth grade when his dad took him and his siblings on a trip to an airbase in Cape Cod.
"When we were [in Cape Cod], we toured the facilities [and] aircrafts," Homyak said. "That was kind of a realization for me, like 'That would be really cool to do,' so that's really what kicked off the whole aviation thing."
While Homyak knew he wanted to be a pilot his freshman year, the thought of being a military aviator didn't cross his mind until the summer before his junior year when he attended a mini boot camp for flying.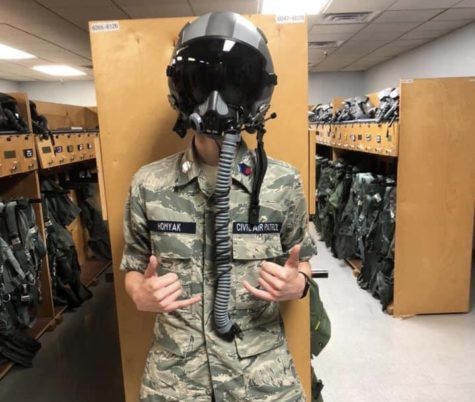 "My freshman year, I knew I wanted to be a pilot, but I didn't know I wanted to be a military aviator until the summer before my junior year," Homyak said. "That summer, I attended a camp called Encampment."
Encampment teaches kids core values and leadership skills. At the camp, kids can learn about aviation, space and the technology necessary to be able to become a pilot, or in Homyak's case, a military aviator.
"There, I flew a civilian aircraft and got the chance to fly in a military one as well called a Blackhawk. I found that I really found the military [aircraft] more enjoyable."
Another reason that Homyak has decided he would like to pursue a career in the Air Force is because of the perks he could receive as a military personnel.
"Some benefits that you get while being a military aviator are that, first of all, you get the best training in the world by being in the Air Force," Homyak said. "I can also get full and free healthcare, life insurance and a bunch of other free insurances."
It was not the healthcare that was the biggest draw for Homyak though; he most valued other things like the opportunities and experiences being in the military would give him.
"I think more importantly, being a military aviator will allow me to meet incredible new people while traveling the world, [give me] important leadership and life skills, and it will allow for an easier transition to a commercial job after service," Homyak said.
Though he still has yet to finish his senior year, Homyak has high ambitions and has planned out the path to reach his goals.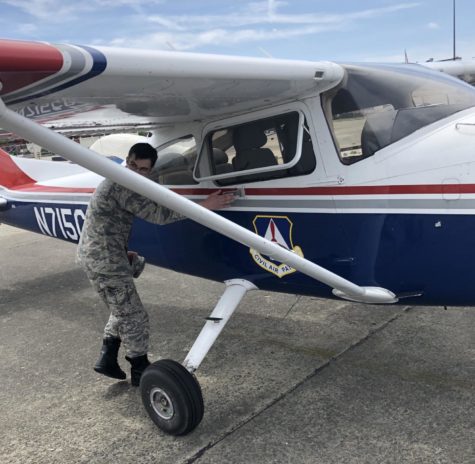 "To [become a military aviator], obviously I need to graduate high school, and then [I need to] either go through a service academy or through college," Homyak said. "I will most likely go to college and do Air Force ROTC (Reserve Officer Training Corps), which is how you train to be in the military. After I graduate college, hopefully I'll attend pilot training down in Mississippi and do service for 10 years."
Military aviators have all sorts of positions in the military, which is part of the reason why Homyak is interested in becoming one.
"If you fly a fighter jet, [military aviators are] going to be doing more interceptions and combat, things like that," Homyak said. "If you fly more of a cargo-based aircraft, you'll be doing more search and rescue, bringing troops across the country [and flying] relief missions from natural disasters. If you fly helicopters, it's more or less the same but slower and more localized."
Homyak loves flying planes because of the freedom he feels and the exhilaration of soaring through the air at high speeds.
"What I like about [flying] is that once you're out of the airport and you finish talking to the tower, you feel like you're free-flying up there," Homyak said. "It's not like driving a car where there's a road for you to turn in specific places. Up in the air, once you're out of the airspace where you have to keep radio contact, you're basically doing your thing. You can feel the motion, and that motion is just exhilarating."