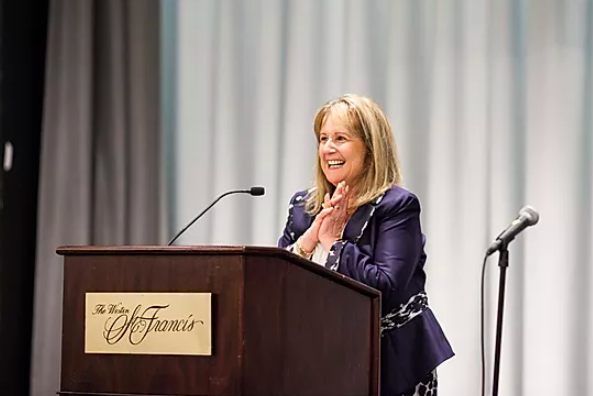 Courtesy of the Rikleen Institute for Strategic Leadership
Lauren Rikleen delivered a Women's Empowerment presentation to WHS students to kick off Winter Week 2020. President of the Rikleen Institute for Strategic Leadership, Rikleen is an author, mediator, former law partner and a leader in both community and professional groups.
"[Women's rights] has always been something I've been passionate about and I have always found ways to deal with that passion in different organizations and working for political candidates in my work and in college and law school, so it's something that goes way back to when I was young," Rikleen said.
Rikleen touched on various civil rights movements in American history as well as in the present day. She stressed the importance of these movements, and what they can teach us about the modern issues women still face.
"History gives us the blueprints of what we have to do, in terms of the opposition that [women] face, in terms of the difficulties that they had, the way people responded, the strategies they had put in place [and] all the grassroots work," Rikleen said.
A specific modern movement that Rikleen highlighted in her presentation was the youth movement for environmentalism, specifically focusing on environmental activist Greta Thunberg's impact.
"I would summarize my messages by stressing the importance of being passionate about the causes that you choose," Rikleen said. "I think that's my key message and look for allies, people that will help you and support you because it's hard to go in alone."
Rikleen hopes that her message not only reaches WHS students but also motivates and mobilizes them to impact change.
"I would hope that students feel inspired to get involved, that students understand that history isn't something that's boring and in the past, but rather all these social movements that happened in history are happening today," Rikleen said. "History can teach us how to mount a more effective campaign."
For students who have felt a sense of inspiration and motivation, Rikleen suggests they reach out to local organizations that will help channel their passion into action.
"Well, one good way is to find area organizations that you can work with that already have infrastructure and already have something in place that can help you put your energy," Rikleen said.
Following anti-abortion legislation circulating in the United States last spring, juniors Maya Baranovsky and Zoe Sodickson started the Women's Empowerment Club at WHS. Women's Empowerment Club, with the help of the history Department Head Kevin Delaney, and Principal Allyson Mizoguchi, organized Rikleen's presentation this week.
"I think that ever since then, I was motivated to try to make a difference, either in my community or just take small steps to try and better our society in that sense," Baranovsky said.
While the club is fairly new to Wayland High School, the group has already made significant accomplishments in addition to its Winter Week events.
"It doesn't meet super often, but when it does, it's usually for the purpose of creating donation drives, which we've already done this year," Baranovsky said. "I think some of our goals for the future after our Winter Week events is to do some volunteering and things like that."
In terms of the Women's Empowerment presentation and follow up panel, Baranovsky and Sodickson have hopes of their message impacting their peers.
"I understand that some students don't feel as much of a passion for this topic as [Zoe and I] do, and I totally respect that," Baranovsky said. "I hope that people realize that these issues still exist and there is still a fight to change them and that everyone has a voice, if they want to make a difference they totally can."