Accepted students are forced to follow their gut in the college selection process
The recent COVID-19 outbreak has made it difficult for seniors to decide on which school they would like to attend next year. Accepted students in the past have typically visited schools to make this decision easier, but that is no longer a possibility for the class of 2020.
Senior Alyssa Dennis is one of the many seniors who have not committed to a college yet, in which they are now in the final rounds regarding the long decision process.
"Unfortunately, I was unable to visit all of the campuses [of the schools] that I was accepted to," said senior Alyssa Dennis. "Now I am faced with choosing a college which I may only see virtually."
In light of this unprecedented issue, most students were forced into an awkward situation. The idea of weighing your options primarily off of your memory seemed inconceivable just months ago. Now, many students are blindfolded while deciding where they will spend the next chapter of their lives.
"I had to make my decision based on my prior understanding and knowledge from different schools I toured almost over a year ago," said senior Mallory Leonard.
Others, however, used the internet to their advantage by going on virtual tours and scouring for more information about different schools. Common methods such as watching Youtube videos and reaching out to other prospective students were prevalent.
"I have taken some online virtual tours as well as spoken to many current students at some of the colleges I am considering," said Dennis. "Being able to communicate with students attending the colleges that I am deciding between has made a big impact on where I am considering going in the fall."
The numerous cancellations and lack of information made it difficult for many students to decide on where they wanted to go, but others had a different perspective on this unique experience. Leonard, who has decided to attend Purdue University next fall, found a silver-lining through this new experience.
"It almost made it easier for me to choose which school I wanted to go to because I knew I was going to have all the information I was going to get," said senior Mallory Leonard. "It really sped up my whole decision process."
The problem doesn't only apply to students who are undecided on where they want to go, as those who have already committed to a school are being affected as well.
Sarina Patel, a senior who committed to the University of Pittsburgh before the outbreak, is already seeing resonating effects from the safety precautions being taken against COVID-19.
"I had plans to go to an admitted students day in late April," said Patel. "I would've met some of my future classmates and my roommate, but unfortunately that was also cancelled."
Amid her frustrations, Patel understands how inconvenient the timing of the COVID-19 epidemic has been especially for those unsure of where they would like to go. She believes that experiencing a school's campus is crucial in order to make your decision.
"Honestly, [my decision] all came down to actually visiting the campus," said Patel. "It was especially essential to me, and I am really thankful that I was able to see [the campus] before the outbreak because I don't think I would've been able to decide without visiting."
About the Writer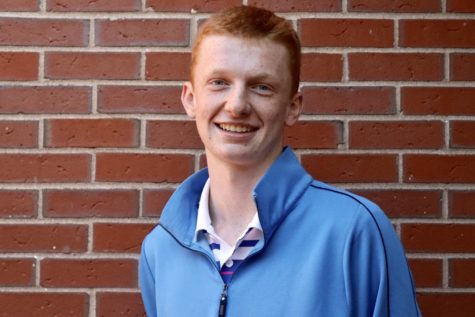 Jimmy Paugh, Business & Marketing Manager
Jimmy Paugh, Class of 2021, is the Business and Marketing Manager for WSPN. He is a captain of the varsity golf team and the varsity hockey team. Outside...