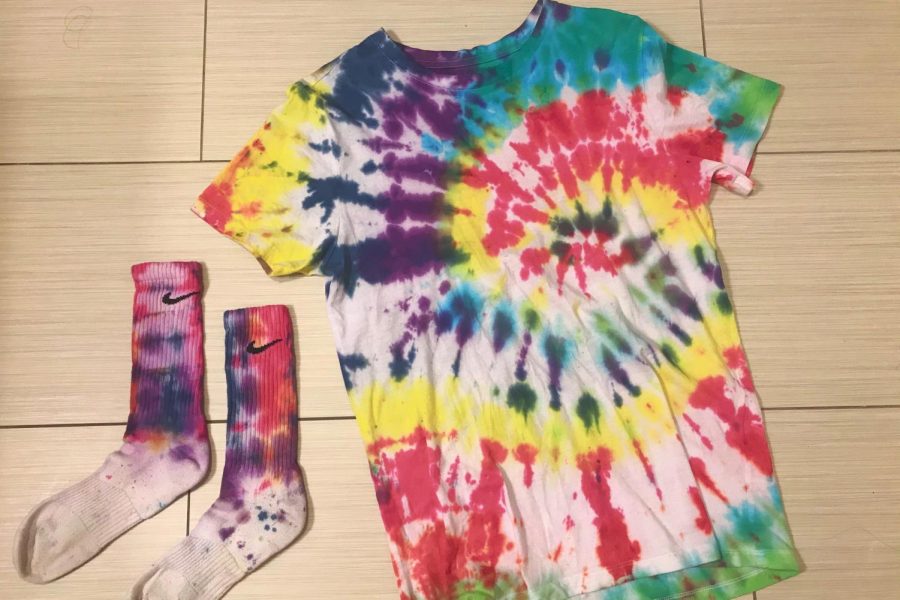 Katherine Kim
Although the world has been physically and socially isolated during the COVID-19 pandemic, the community has continued to stay connected to each other via social media. Due to the urge to overcome boredom, certain trends have blown up and taken over different social media platforms within minutes. Since most of the trends are DIY, they are easy to follow and are sure to be worth your time. If you are trying to find new ways to spend your time, take a look at these seven trends with which people are currently obsessed!
Tie-dye
First, we kick off with the all-time-favorite that comes back every summer. If you are used to buying tie-dyed shirts, take this time as a chance to be creative and come up with your own styles. Do you already own a bunch of tie-dyed t-shirts? Try dying socks, sweatshirts and even sweatpants! As seen recently from numerous social media stars, tie-dye will continue to be one of the biggest fashion trends for this summer. With hundreds of patterns and colors to choose from, tie-dye can never be boring! You can find the instructions here.
Bleached jeans
Who knew you could turn a pair of old jeans into stylish bottoms? Bleached denim is another trend that's rising in the fashion world. All you need is your choice of jeans and liquid bleach. You can lighten a dark pair of jeans, or bleach one side of a pair of jeans and add a new style to your closet! If you want to have extra fun, add patterns such as stars or stripes to spice them up. You can check out the instructions here.
Whipped coffee
If you're missing your morning coffee runs to Starbucks or Dunkin' Donuts, try making your own beverage with this special recipe! Whipped coffee is a popular quarantine food trend that gained its' fame through TikTok. It looks like an upside-down cappuccino except the coffee is a creamy foam. Making whipped coffee is more simple than it looks. All you have to do is whisk coffee, sugar and hot water together by hand or using a hand mixer until it's thick and frothy. Once the mixture is ready, put it in a glass filled with milk and ice, and enjoy! The recipe can be found here.
Soufflé pancakes
Also known as fluffy pancakes, these lofty pancakes are soft, jiggly and a great choice for breakfast. Similar to whipped coffee, start by whisking the egg whites until it has a foamy texture, and combine it with flour to create the batter. Then, carefully place the batter on the frying pan and cook it on low heat. Once the pancakes are made, pile them up vertically and top them with berries, powdered sugar and whipped cream for a better taste. Similar, but quite different from the original pancakes, soufflé pancakes will brighten up your morning! For a detailed recipe, click here.
Fried ice cream
There are so many ways to eat ice cream, but have you tried this way? Fried ice cream is a breaded scoop of ice cream that is quickly deep-fried, so that the cold ice cream is covered by a warm, crispy shell. It might sound hard to make, but the directions are easy to follow. All you have to do is freeze one scoop of ice cream until it's hard, place it in between two slices of bread and gently press on it with a mug so it's cut into a pouch-like shape. Finally, deep-fry it for a few minutes until it's crispy and golden. Warm and crunchy on the outside, and cold and soft on the inside, a bite of fried ice cream can bring you so much joy!
Hair dye
Even before quarantine, hair dye has been a trend that spread among teenagers over the past few months, including students at WHS. As a way to give yourself an exciting change, many people have chosen to temporarily dye their hair in lively colors, whereas some have chosen to add golden highlights for the summer. Although you might be hesitant to dye your own hair instead of getting it done at a salon, it could be a great chance to experiment with your looks and get refreshed. Pink, purple, blue, green, you choose!
Bangs
Bangs are another unique hairstyle that's trending in 2020. Numerous people have posted videos of self-cutting bangs on their social media. If you would like to reinvent your looks, try giving yourself bangs! From blunt bangs to wispy bangs, there are a lot of styles to choose from. If you would like to get bangs but don't have the courage for it, try the clip-on bangs! They are easily attachable and removable, giving you the freedom to switch between styles.