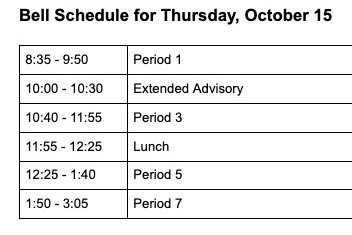 Taylor McGuire
On Thursday, Oct. 15, students and faculty will follow a special bell schedule with shorter classes and an extended advisory.
The daily, 5-minute advisory will not meet on Thursday, but there will be Extended Advisory from 10:00 a.m. – 10:30 a.m.
Instead of meeting with the daily advisory, students' Period 1 classes will go from 8:35 a.m. – 9:50 a.m., beginning when a normal advisory usually would.
A typical Thursday schedule will be meeting, meaning that only periods 1, 3, 5 and 7 will meet.
Furthermore, instead of having 15-minute screen breaks, students will only be given 10 minutes between their classes.
The unique schedule is outlined below: