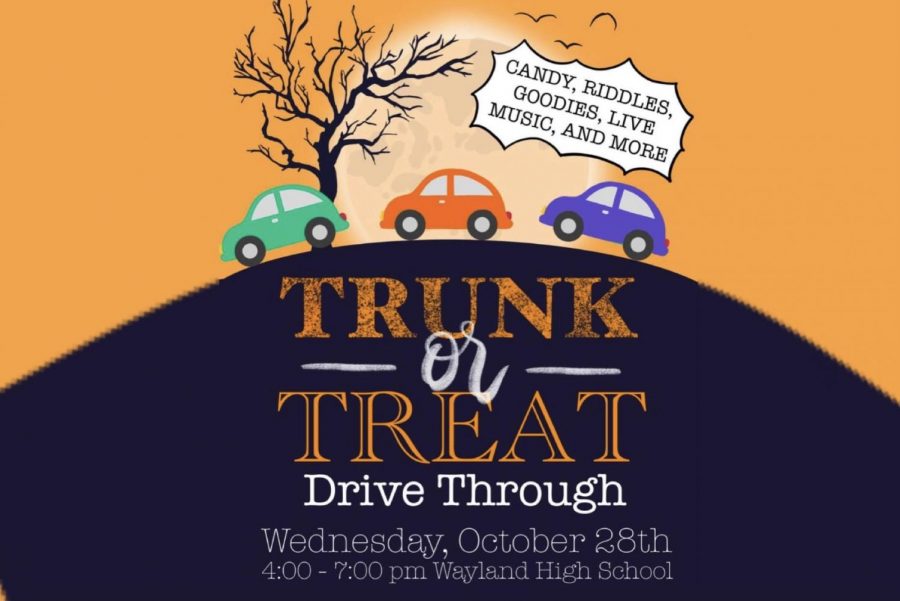 Courtesy of Tri-M Music Honors Society
In hopes of celebrating Halloween safely amidst COVID-19, WHS Tri-M Music Honor Society (Tri-M) is holding its traditional Trunk-or-Treat as a drive-through event on Wed. Oct. 28, from 4 to 7 p.m. in the WHS parking lot.
In previous years, Trunk-or-Treat has been an event held in the WHS commons where the attendants can receive treats and explore various stations including face painting and arts and crafts while enjoying Tri-M members' live music that's played around them. Because of COVID-19, the members had to come together as a team and brainstorm a safe way to hold the event while continuing the tradition.
"This year, we are trying to keep as many elements as we can from last year, but in a drive-through, COVID-19 friendly manner," Tri-M co-president senior Mingle Li said. "Cars will go through the shorter drop-off loop, and there will be stations where we will drop off candy, coloring books, and trinkets in the trunks of cars–hence, trunk-or-treat."
Although this year's event has its limits activity-wise, Tri-M members managed to incorporate creative in-car activities such as riddle sheets and a costume scavenger hunt. The attendants can enjoy each station without getting out of their cars.
"[The attendants] will receive the [riddle] sheet, and eventually at one of the stations, we will have a poster with the answers for them to check," Tri-M webmaster junior Lilli Tobe said. "There will also be a costume scavenger hunt, like a bingo sheet, except they will search for costumes that our Tri-M members will be dressed up in. When they see the costume, they can check off that box."
While busy with the in-car activities, the attendants will be able to listen to Tri-M members play their instruments live.
"I think this will be an exciting event for kids to be inspired by Tri-M members' music and have fun by receiving treats and participating in fun activities," Tobe said. "We are doing everything we can and following all restrictions to ensure the safety of everyone."
While it is not mandatory to donate to attend, the event is funded by a suggested donation of $5 per child that will be used to provide opportunities for running similar community events in the future.
"We're paying for the event with Tri-M funds from previous years," Tri-M treasurer junior Hannah Han said. "These donations are very much appreciated and will be used to host even better Tri-M events."
Although a lot of Trunk-or-Treat's attendants are elementary school students or below, the event has no age limit, and everyone and anyone with Halloween spirit are welcome to attend while children wear their costumes.
"I'm looking forward to providing a little bit of joy to [those] who won't be able to get the same Halloween experience as previous years," Li said. "That's what I hope people get from this event–happiness and candy."