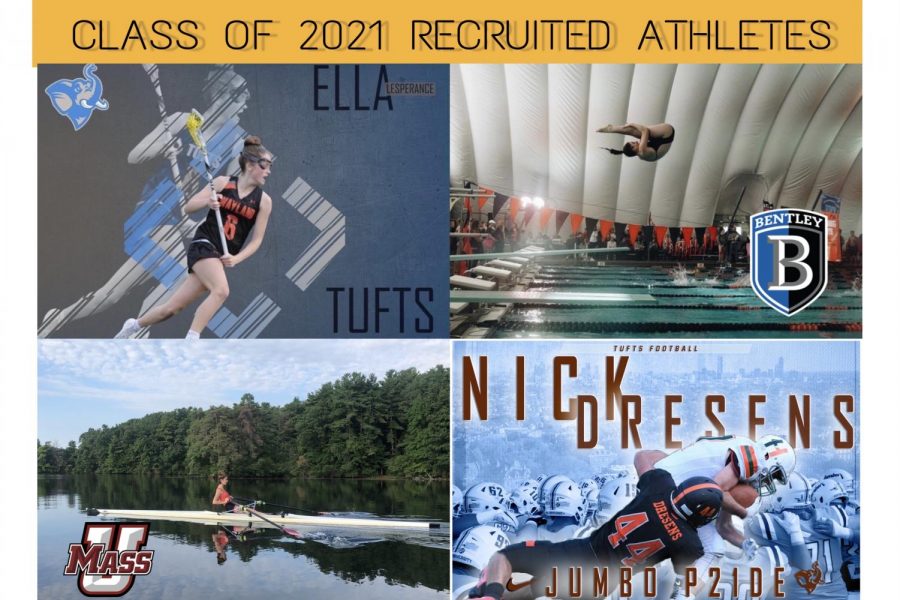 Meredith Prince
As regular admission deadlines edge around the corner, many seniors are scrambling to finish their college essays and applications. Several athletes of the class of 2021, however, can catch their breath, as they announce their commitment to continue their sport in college. Although the recruitment process this year posed various difficulties with COVID-19 protocols and potential season cancellations, these senior athletes were able to accomplish their dream of playing the sport they love for four. Seniors Hilla Almog, Nick Dresens, Darcy Foreman and Ella L'Esperance are among the students of the class of 2021 who will be pursuing their careers in athletics to the next level.
Foreman will be rowing Division I at the University of Massachusetts Amherst in Amherst, Massachusetts.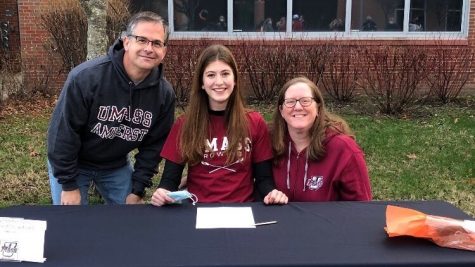 "I realized how much I enjoyed rowing at a high level and how much I loved the culture of the team and the sport, and everything about it," Foreman said. "I knew that I wanted more than just four years of rowing."
Similar to Foreman, Dresens developed his passion for his sport, football, and realized he wanted to continue his career past high school. Dresens will be playing Division III football at Tufts University in Middlesex County, Massachusetts.
"I really love playing football, when I started playing in 6th grade, and I didn't like the thought of not being able to play anymore after senior year," Dresens said. "So, I decided to make the push to play in college and play for four more years."
While several high-school athletes knew they wanted to continue their sport in college, these athletes probably did not expect the unprecedented recruitment process caused by the outbreak of COVID-19. Due to the risks of traveling, many student-athletes were not able to visit their desired schools, attend recruiting events or meet with players and coaches in person. Although the recruiting process was much different than years past, these athletes were able to have effective communication with college coaches through emails and phone calls. Almog initially communicated with coaches over email and was able to tour her college campus.
Almog will be diving Division II at Bentley University in Waltham, Massachusetts.
"I emailed a bunch of schools that I really really liked, and I just started talking to the coaches," Almog said. "Then, I went on tours, and then it really came down to how much I liked the coaches and how much I liked the school and what the school could offer me. Usually what you do is you get to practice with the team, but because of COVID-19, I couldn't really meet the coaches or practice with the team, which really sucked."
With the COVID-19 pandemic rising in numbers across the United States in mid-March, quarantine struck and caused the cancellation of spring sports seasons worldwide. For many upcoming senior athletes, the lack of this season played a crucial factor in the recruiting process, causing a halt in communications and access to college scouts just months before college deadlines were to hit.
"The biggest difference because of COVID-19 was not having a spring season, because usually your junior spring is the big race season," Foreman said. "It's the season that the coaches look at the most, they'll go to nationals and watch you row, and that's the most important season of your high school rowing career if you want to row in college."
Despite the uncertainties and doubts that many senior athletes had with college scouts judging their progress from March of 2020 and before, many athletes had to rely on their performance and practice during their early high school sports careers. For Dresens, the Wayland football community not only allowed for great game film to send out to coaches, but he also thanks the program for the support and resources that helped improve his athletic accomplishments.
"One of the biggest things [the Wayland football program] helped prepare me for is the workout routine," Dresens said. "We have really great strength and conditioning programs here in Wayland, and I've been told by people that are playing in college now who played Wayland football that it really helped prepare them."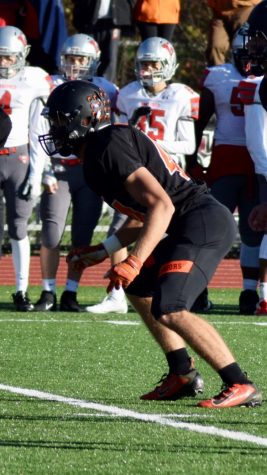 Along with the resources and training that high school sports provide, the building of friendships with teammates are just another factor many senior athletes attribute their success to. For L'Esperance, her lacrosse team was no exception where she thanks much of her accomplishments as an athlete to her supportive teammates.
L'Esperance will also be attending Tufts University playing Division III lacrosse.
"I think pretty much anyone I have ever played a sport with has helped me," L'Esperance said. "I would say my Wayland experience was really really awesome and definitely made me want to play in the college sports world, which is an awesome experience. So, I think I just owe so much to my teammates honestly, and my coaches. It's been an amazing four years playing Wayland sports, so I am happy I can just continue playing."
Not only do these athletes feel that the members in their sports community have fostered their development throughout their careers, they also highlight the support from the school community as a whole in helping them through this process.
"The whole school community has been helping me through this process, especially with COVID-19. When I was feeling I was so alone, having such a fantastic community around me letting me know I am not alone and had support was really great," Foreman said.
While these athletes reflect on the support they have received throughout their athletic career, many of them are also looking to the future within their new sports community.
"The coaches and girls [at Tufts] were just so amazing and the school was pretty awesome, so I just found myself falling in love with the school," L'Esperance said. "I was offered pretty early on and the coach [said] 'We really want you,' and I [thought], 'I really want to be there.' So it was a great transition to committing, so that was pretty cool."
Similar to L'Esperance, Foreman was drawn to her college sports program due to her love for its community and the like-minded people she would be surrounded with. Foreman believes that joining an athletics team allows a student to create passionate connections within the first weeks of college.
"I am the most excited about the community that is going to be built when my class is on the team," Foreman said. "I haven't been able to meet any of the girls on the team yet, but I have heard from the coaches that they are all just awesome people. Being able to get to the school and having an immediate family when I get there is so exciting."
When deciding to pursue their athletic careers past the high-school level, these athletes had to narrow down their options to one college to continue their sport. These athletes faced some difficulty with choosing the best path to further their athletics, and many elements factored into their ultimate decision. For Almog, the familiarity of Bentley University's diving program assisted in her decision to attend the school.
"I had a few other colleges in mind, but they were smaller rural schools," Almog said. "I was talking to Skidmore, Union and Colgate, but they were farther away and I wanted to stay closer. I also already knew what Bentley was like because I had some practices there and I already knew the coaches there so I already loved it all. I also want to go into business so it was perfect."
While the uncertainty of their future seasons still lingers due to COVID-19, these athletes are simply excited to be able to continue the sport that they are passionate about, even if it is under new conditions. Dresens remains hopeful about his college football season and is excited for what's to come.
"Football is just so fun to play for me, so I am really looking forward to another four years of it," Dresens said. "It's going to be awesome."