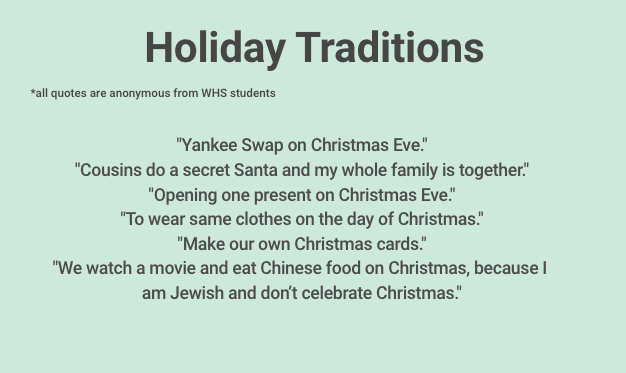 Jessica Feist
Here you can view what Wayland High School students' favorite holiday foods and desserts are for the 2020 holiday season.
In a normal year, most people gather together with family and friends in big groups for the holidays. Due to COVID-19, many students said that they are having holiday meals with their immediate family, in a survey of 20 students.
With or without the pandemic, WHS students and their families still plan to make the holidays special by participating in their traditions and eating festive foods.
!function(e,i,n,s){var t="InfogramEmbeds",d=e.getElementsByTagName("script")[0];if(window[t]&&window[t].initialized)window[t].process&&window[t].process();else if(!e.getElementById(n)){var o=e.createElement("script");o.async=1,o.id=n,o.src="https://e.infogram.com/js/dist/embed-loader-min.js",d.parentNode.insertBefore(o,d)}}(document,0,"infogram-async");
Favorite Holiday Foods
Infogram