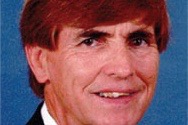 Courtesy of Wayland High School Athletic Hall of Fame
Working at the same place for 45 years could seem uneventful for some, but with the passion for Wayland that Joe Porrell carried with him, he was able to impact all students and colleagues he met throughout his career at WHS. Porrell, a teacher, coach and mentor at WHS, recently passed away on Nov. 20, 2020, and today he is remembe as a role model to many.
Porrell graduated from WHS, went on to study at Springfield College, and came back to teach at Wayland. He had such an exceptional experience at Wayland that he decided to return to his hometown and give the same to others.
"I think he wanted to have a positive impact on young people," boys varsity basketball head coach Dennis Doherty said. "Coach Porrell could have done anything he wanted. He was a bright guy, extremely hard-working, very determined, but I think he wanted to positively impact the lives of his students."
Porrell's passion was basketball, but when he attended Springfield College, he wasn't allowed to try out due to his height. He switched to wrestling and became an NCAA All American wrestler and a two-time New England Collegiate wrestling champion.
"[His] story sticks with me, about when someone tells you you can't do something, don't get down about it, figure something out and move on from it," wellness department head Scott Parseghian said.
Porrell was the boys varsity basketball coach from 1975 to 1993. In that time, he was very successful bringing Wayland home seven dual county league titles and two state championships.
"Coach Porrell was my gym teacher and my varsity basketball coach, so I played for [him] during my junior and senior seasons, and we had a ton of success, due a large part to Coach Porrell," Doherty said. "[He] just led such a strong program."
His competitive nature and passion created an enjoyable environment for all of his athletes during practices. Porrell's players felt that even if they were stressed about a coming event, their coach's attitude put them at ease.
"Coach Porrell was a very competitive guy, but he also believed in enjoying every day and having fun, so he had a way of keeping things in perspective," Doherty said. "No matter how important an upcoming game was, he always made sure that we had a lot of fun playing basketball."
Not only did Porrell make sure his athletes were performing, but he also made sure to show off his skills from his former career of wrestling to the students on the wrestling team. From a college mat to a high school gym, he proved once again how competitive he was.
"Every once in a while, he'd step foot in the wrestling room, and he had a signature move called 'the flipper'," Parseghian said. "He'd come in, demonstrate it on a kid, and just walk out. Just put them on their back with this move, then walk out and go on to coach basketball."
Porrell brought the same upbeat energy to class as he did when coaching his athletes. When teaching wellness in school, he would radiate his enthusiasm to every student there, making them more motivated to participate in class activities.
"It didn't matter if it was volleyball or badminton, he thought it was game seven of the NBA championship, and he'd hype it up in class and make it a lot of fun for everybody," Parseghian said.
In his time as the longest-tenured teacher at WHS, he influenced many of his colleagues and students. His dedication and determination affected others and motivated them to be the best they could be.
"One of the main messages that I took with me from Coach Porrell was to set lofty goals, not to settle," Doherty said. "Not just in basketball, but in life.
Even now, after he has passed, his memory remains strong. His legacy and impact at Wayland will be carried on through the stories of those who knew and loved him.
"To hear about him and have questions about him every so often, you know he made an impact on a lot of people," athletic director Heath Rollins said.