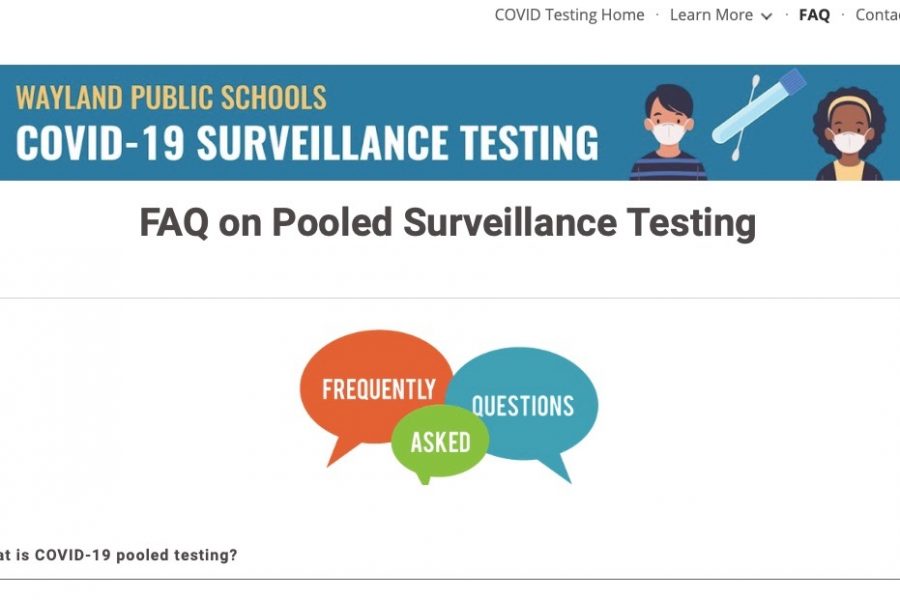 Wayland Testing informational site
As an added safety precaution for COVID-19, The Wayland Public Schools plan to launch a voluntary COVID-19 testing program for K-12 students and faculty. This program is not in place of other safety measures such as mask wearing and hand washing, but it is being implemented for added safety.
The testing will be pooled testing, a method of testing that tests a group of students all at a time. Pooled testing is efficient and makes the cost lower than if the schools were to do individual testing.
If a pooled result is negative, then everyone in that batch tested negative. If a pooled result comes back positive, different vendors do one of two methods: some vendors can use the original tests to single out and find who tested positive, and some vendors need to take a new test of that pool to see who is positive. The Wayland Public Schools are still deciding on a vendor.
Students and staff who participate in the program will be tested once a week. Price is not definite yet, but the school system has estimated that for 10 weeks of testing, the cost per student will be around $175-$200.
While this is voluntary, everyone is encouraged to take part in it, and the schools are currently fundraising to give students and staff who can't afford it the ability to be tested.
After surveying parents, The Wayland Public Schools concluded that roughly 30% of families would need financial aid, meaning the fundraising goal is $300,000. If this goal is not reached, the School Committee has decided that they will prioritize testing for the most at-risk populations in this order: (1) Wayland High School students and staff, (2) Wayland Middle School students and staff, (3) all elementary school staff, (4) all elementary students (5th grade down), (5) The Children's Way staff.
There will be two Zoom sessions where the administration will discuss testing in more detail and answer any questions that arise. The first session will be held on Thursday, Jan. 7 at 7:00 p.m. using this link, and the second session will be held on Tuesday, Jan. 12 at 7:00 p.m. using this link.
The students who wish to participate must enroll by Thursday, Jan. 14 at 5:00 p.m. To enroll, donate or learn more, readers can visit this link.