Night of 1,000,000 Student Journalists
John Vitti, a writer from the Boston Globe, ran an event to create an opportunity for student journalists to gather virtually all over the country to interview famous guests, called The Night of 1,000,000 Student Journalists. The event took place on Dec. 13 from 6-8 p.m. The guest speakers spanned from sportswriters at the Boston Globe to Tik Tok stars.
Student journalists from 38 schools attended and were able to ask questions to any of the guests, including Dan Shaughnessy, Payton Morrmeirer, Faith E. Pinho, Keeana Kee, Danial Franzese, Jenny March and Edward-Issac Dovere.
Although Vitti had planned to have many breakout rooms where the journalists could ask their questions to the guests in small groups, he altered the event when he ran into technical difficulties. The group of student journalists and guests joined together in one large meeting, and Vitti later apologized for the event not going as planned in his email.
"I was so worried about the 'recording' and sharing and hosting [the event] that I obviously didn't pay enough attention to the 'room assigning,'" Vitti said. "I described the night to my wife as if my friends [and I] were going to rent a school bus to go to the beach, getting all packed and excited—and then realizing that I didn't have a Class D License, didn't know how to drive a bus and figured we weren't getting out of the driveway, so instead we all picnicked at the neighborhood park."
Along with the student journalists, Vitti was thrilled to talk to guests and ask them questions, which luckily worked out. The guests shared stories about their careers and backgrounds before becoming successful with their jobs.
Sportswriter, Dan Shaughnessy, has written for the Boston globe since 1981. Shaughnessy shared how exciting it is that he can make a living from a profession he loves. He talked about how his career has changed since newspapers are mostly now fully online.
"Publishing an article about a high school football player used to bring a large amount of publicity to the player and colleges would immediately contact him," Shaughnessy said. "Now, with print being completely online, it has little impact."
The next guest was Tik Tok star Payton Moormeier, who shared his success story as only a 17-year-old. Moormeirer is a singer, songwriter, guitarist and viral creator. The social media platform Tik Tok has helped him to reach his goals as a young creator. Moormeirer talked about new things to come soon in the future.
"Even with the pandemic, I am hoping to be doing live performances soon," Moormeier said.
The following speaker was Faith E. Pinho, a writer for the Los Angeles Times. She discussed the most rewarding moments of being a journalist, which is when you take a step back and realize how much you have accomplished. Pinho looked back at some of her best moments for being a writer. After being asked by one of the students what her favorite moments from her career have been, she shared her memory of meeting Elizabeth Warren on the job.
"Meeting her was definitely a 'wow' moment in my career," Pinho said.
Succeeding was Daniel Franzese, an actor and podcast host. He played Damian in the movie "Mean Girls," and also was a guest judge on "RuPaul's Drag Race." Franzese shared his struggle of growing up as part of the LGBTQ community and a podcast he is currently working on, called "Unbearable."
"Currently, in the podcast, we are talking about Christianity and homophobia and how they are commonly tied together," Franzese said.
The event concluded with Keeana Kee, model, singer and songwriter, who shared her struggles with being part of the LGBTQ community. Kee said that she acknowledges the struggles many people face when living as part of the LGBTQ and wants student journalists to be themselves.
Vitti hopes to host a similar event in January again for student journalists and make up for the technical difficulties that occurred in the event.
"Well, this gives me something to work on for January—a special comeback," Vitti said.
About the Writer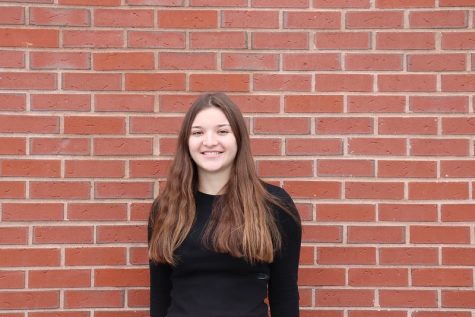 Sophia Oppenheim, Staff Reporter

Sophia Oppenheim, Class of 2023, is a first year reporter for WSPN. She is part of the high school's field hockey team and girls swim team. Outside of...