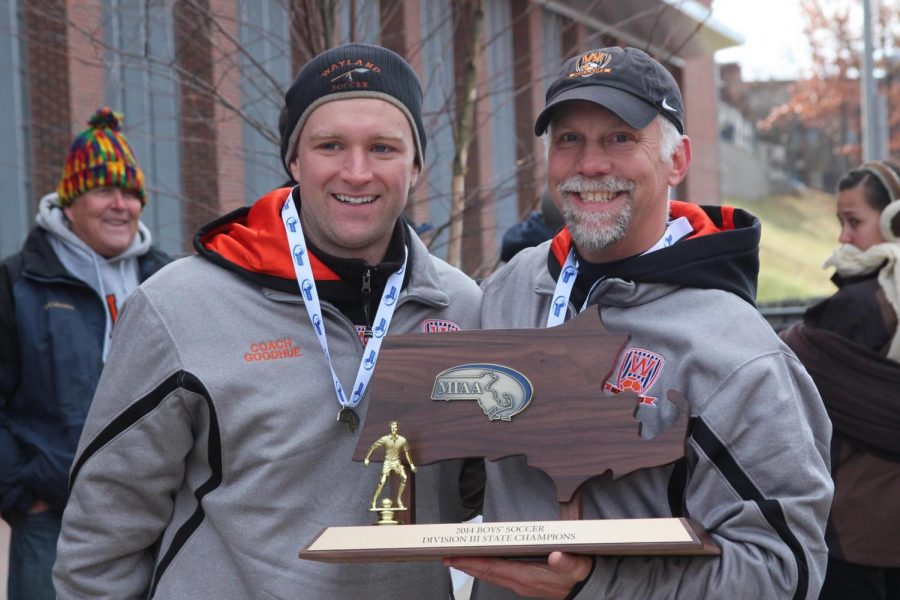 Courtesy of David Gavron
With a large banner hung on the ceiling of the field house, many students are aware of the four state championship titles that the Wayland boys soccer team has acquired. However, much more goes into winning titles than a strong team and a dedicated coach. History teacher and head coach of the Wayland boys varsity soccer team David Gavron has been one of the driving forces behind three of these titles, but he credits much of the team's success to the culture and history of the program as well as the coaches who work alongside him. Likewise, Gavron believes that such titles don't mean anything in the program if the coaches are not focused on cultivating a phenomenal experience and environment for their program.
Gavron carries an extensive history with soccer, first playing throughout his school career, but soon realizing that he wasn't ready to give up the sport just yet. Gavron's first coaching experience was at his high school alma mater, Masconomet Regional High School in Topsfield, Massachusetts.
"When I was finishing up high school, I started to think about coaching and finding a way to give back, especially to my own high school program that had been such a significant part of my high school career," Gavron said. "I really enjoy working with people, young people in particular, so I started by volunteering at my old high school. When I went away to college, I played in college, then once college was done, there was some 'old man soccer' still to be played, but I really felt that the way I could stay involved was through coaching."
While many students know Gavron as the head coach of the WHS boys varsity team, he began his career coaching both freshmen, JV and varsity girls' teams at his old high school, as well as the JV boys team at WHS. He first joined the Wayland boys soccer staff alongside head coach Bill Snow and assisted him on varsity.
Gavron officially took over the program as the head coach in 2008. However, Gavron recognized that part of keeping a program alive means connecting with its past, so he has consistently invited former players to assist him on his staff. When he first took over, he brought a former player, Charles Goodhue from the class of 2002, and a captain on the 2001 state championship team, to facilitate the growth of the program.
"To me, it was really important that we keep a connection with the past of our program, and it was wonderful that Charles has been willing to stay with me ever since," Gavron said.
Gavron credits his team from 2011 for taking the program to the next level and truly changing the culture of Wayland boys soccer. Several of the players from that team, such as Doug Lyons and Daniel Beckenstein, both class of 2012, have also returned to the program to assist Gavron, reiterating his goal of connecting with the past. Another member of the team that Gavron believes helped change the culture of the program was Nico Pascual-Leone, who went on to win a national championship at Amherst, and has subsequently been put into the WHS Boosters Hall of Fame.
"There were tremendous guys that played on that [2011] team, and we ended up making our way to the Division 2 North finals, where we faced Concord-Carlisle," Gavron said. "We ended up losing the game, but the three years that those guys were part of the varsity team, they really changed our culture. They really brought us to the next level."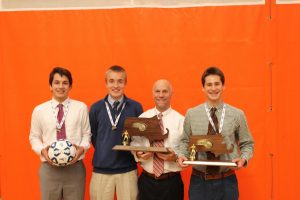 The program clinched its first title under Gavron in 2014, 13 years after their first ever state title under Snow. When reflecting on that state championship game, Gavron thanks Goodhue, who was the only member of the program who had ever experienced a state championship game. Likewise, Gavron credits the 2014 team for their exemplary resilience.
"Really what ends up happening when I look back on that team is that they had incredible resiliency," Gavron said. "Regardless of the score of the game, they continued to fight their way back. When I look back at some of the games for that particular state championship season, I recall the different challenges that the boys faced, whether it was winning in double overtime to get us to the state final, and then going to the state final where we hadn't been in 13 years."
In both 2016 and 2018, the boys team faced the same opponent in both state championships: Nipmunc Regional High School. Coming out successful in both state finals, Gavron reflects on the intensity and grit that his team demonstrated, but also credits some of their success to luck.
"A lot of what has to happen is you also have to have some luck," Gavron said. "There were plenty of opportunities or situations where luck went our way. There's been plenty of times it hasn't gone our way as well, so I think it really balances out."
While luck plays a factor in such championships, Gavron believes that a team must leave ego and selfishness behind in order to have such success.
"You have to make sure you get out of the way of the players and the assistant coaches who know what they're doing," Gavron said. "In any tournament run, there's never a place for ego, or for someone who is putting themselves ahead of the team."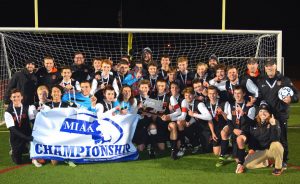 Gavron holds the experiences he has shared with the boys program close to his heart, but not as close as he holds the memories of coaching his own children. He reflects on his coaching experiences with senior Abby Gavron and 8th grader Jack Gavron, assisting them in their sports such as baseball and soccer.
"I continue to tell the boys that our families are our number one priority, and even as a coach, getting to coach my own children is way more rewarding than any of the state titles that I have," Gavron said. "I don't say that lightly, I truly cherish the opportunity to coach [them]."
One of the most important messages Gavron has learned in his coaching career came from the JV girls team that he coached at Masconomet. He recalls the team being phenomenal and able to dictate what they wanted to do in any game. One game in particular taught him a life lasting message about what you say, and how you say it.
"I remember we played a weak opponent one game, and we scored a bunch of goals, it was a shutout," Gavron said. "But I wasn't happy because we seemed to just be going through the motions. I talked to the team after, and I was mad about the result. I can still remember Katie, one of the captains, just turning to me, with everybody there, and just laying into me about how they had just played as hard as they could, and pretty much [saying], 'How dare you rip into us at this point.'"
When reflecting on this game, Gavron continues to carry the message he learned to his teams today.
"It doesn't help that for me to lay into a team after they've won or lost, because they're emotionally still involved in the game," Gavron said. "If you're playing in a game, and you're emotionally and physically involved in it, the last thing you want to do is hear from a coach in the end. This was really important to me."
While Gavron has learned an incredible amount of lessons throughout his coaching career, he remains consistent in the three main messages he delivers to his players: to be consistently at their best, work hard with direction and have fun.
"Something I've noticed as a difference between girls and boys is when I tell girls [these goals], they ask why, where boys don't necessarily ask why," Gavron said. "It's their reflective nature that has really benefited me. Knowing why you're doing what you're doing, being consistently at your best, not taking plays off [and continuing] to work no matter what are [extremely important]."
Not only does Gavron emphasize these 3 main messages, but he also focuses on the importance of putting family and academics before the team itself.
"Part of what I focus on also with the boys at this stage in my career is that family comes first, academics come second and soccer comes third, because if those other priorities aren't there, there's not going to be any soccer," Gavron said.
Coaching can be extremely rewarding, especially when it involves success and state titles, but Gavron highlights the draining nature of being a coach.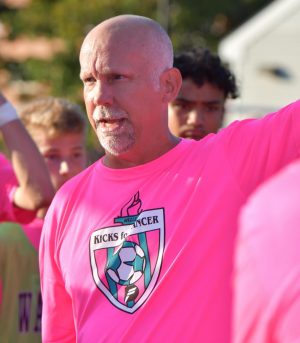 "Emotionally, coaching is draining, in terms of coaching a high school program, but it's rewarding," Gavron said. "I feel that at the end of the season, if I could be stuffed with enough food, [I could] go into hibernation [for] a little, because it's been such a mental, physical and emotional grind."
Although Gavron feels physically and emotionally drained at the end of his seasons, he believes that this is how a coach should feel when their season comes to a close, similar to how a teacher should feel at the end of a school year.
"If you're doing it right, then you should be exhausted when you're done," Gavron said. "If you're not, you should be reevaluating what you're doing. Just like in the classroom, where our students need us on many levels, it's the same thing [when] coaching, except it gets a little more intense because we end up spending more time with players than we do with students in the classroom."
As stated earlier, Gavron credits much of his success to his staff and assistant coaches who work alongside him. Without them, he believes, the program would not be as strong and successful as it is today.
"I joke that I surround myself with an incredible staff, and that way I don't have to do anything and be the pretty face of the program, but it really is true," Gavron said "If you can surround yourself with truly dedicated and qualified people, it makes my job a lot easier. Having great coaches to work with the boys gives them other people to talk to, other opinions and other opportunities to bounce their ideas off [of]. I'm really glad [to have] all of our coaches and that we get to work together."
While Gavron is grateful for the state championships his teams have won, he reiterates that it is not those titles that make the program so great. Instead, he believes the most important part of building a program is to provide support and an overall great experience.
"Just because you might have a title next to your name, it doesn't really mean anything in our program," Gavron said. "It's all about what we can do to make the boys experience better and make our program stronger."