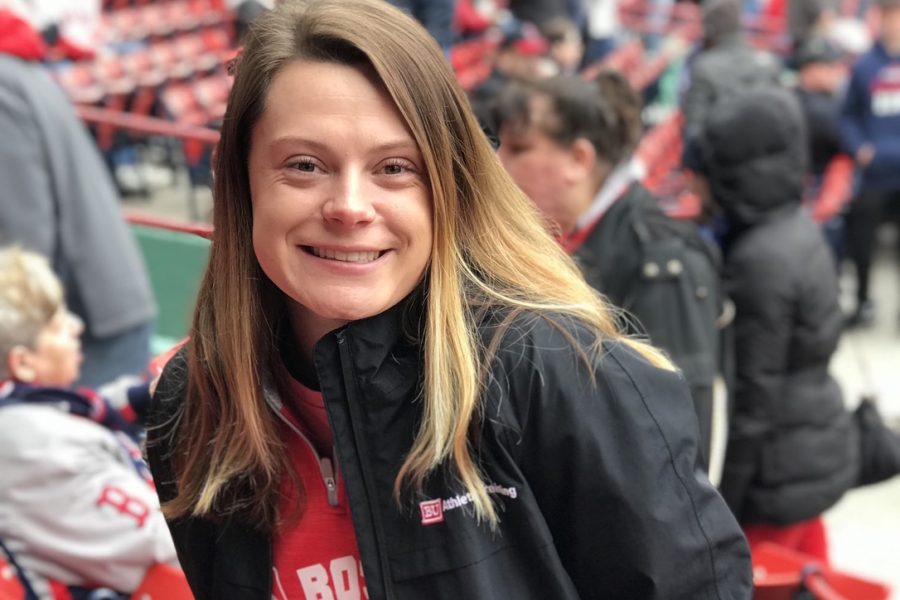 Courtesy of Katie Headley
Many different people contribute to the success of sports teams; athletes, coaches, parents and fans are all vital to a team's accomplishments. A commonly overlooked role to a team's success is the athletic trainer. Athletic trainer Katie Headley filled in at Wayland High School last March and has helped keep players able to compete safely.
Growing up as an athlete playing softball and field hockey, Headley never had access to an athletic trainer. It wasn't until she attended Boston University, that she learned what athletic training was all about and discovered her own interest for it.
"I learned that [Boston University] had a program [for athletic training], and so I kind of just fell right into it from there," Headley said.
Through this program, Headley was given the opportunity to work at other high schools in the area. However, her most recent work was at the ESPN Wide World of Sports at Disney World. During her time there, Headley worked as an athletic trainer for the many athletes of the different teams participating in the events.
"It was definitely a lot because it's like thirty fields going at once, and whenever someone needs you, you run to them and you help," Headley said. "So it was definitely fast-paced, but awesome."
Despite her vast experience in the workplace, Headley had never been the sole athletic trainer for a school before. That is until she discovered the athletic trainer position at Wayland High School.
"I got a call from the company I worked for, ATI, [and] they had mentioned that there was a possible position opening," Headley said. "They didn't say where, they just said that it was near Boston, that's where I lived, so I said 'sure I'll take it.'"
Although Headley was initially unaware of where the opening was, she was thrilled when she found out it was in Wayland.
"I did not know until I think three days before I started that it was here [in Wayland], which was exciting because I had worked here," Headley said. "I had done some per diem work for [Wayland] so I was really excited that it was here. I was kind of hoping it was."
Starting a new job is an abundant change, but for Headley, this change was definitely unprecedented. Headley started at Wayland High School only a week before the district shut down due to coronavirus precautions. Due to the pandemic, Headley was forced to adapt to the countless new restrictions that went along with her job.
"There are definitely restrictions on the number of people that can come into my room and the number of people just in general on any of the teams, and in the areas of competition," Headley said.
Although it's been tough to adjust to these regulations, Headley is looking forward to the future when things are hopefully less out of the ordinary.
"It definitely will be very interesting when things go back to normal to see how much busier things get and how many people do come to see me then," Headley said.
In addition to the pandemic, there are many other challenges that Headley faces within her job that are uncontrollable.
"The most challenging part I would say is when something does go wrong, is trying to coordinate and make sure that everyone gets the care that they need, as well as [their] parents understand what's going on and aren't too concerned," Headley said.
However, even with all of the challenges within her job, Headley has learned a lot from her experiences.
"This is my first year as an athletic trainer at a high school by myself, so definitely a lot of learning has happened, but it's been a really good experience," Headley said.
Above all, Headley cares about helping athletes to grow as individuals in their sport and wants to support them the best she can.
"I hope that everyone understands that I'm here just to help them compete," Headley said. "I'm not here to help take them out of competition, and I'm doing everything I can to make sure that they're healthy and at their best so that they can perform out on the field. I just hope that I leave that lasting impression on people."