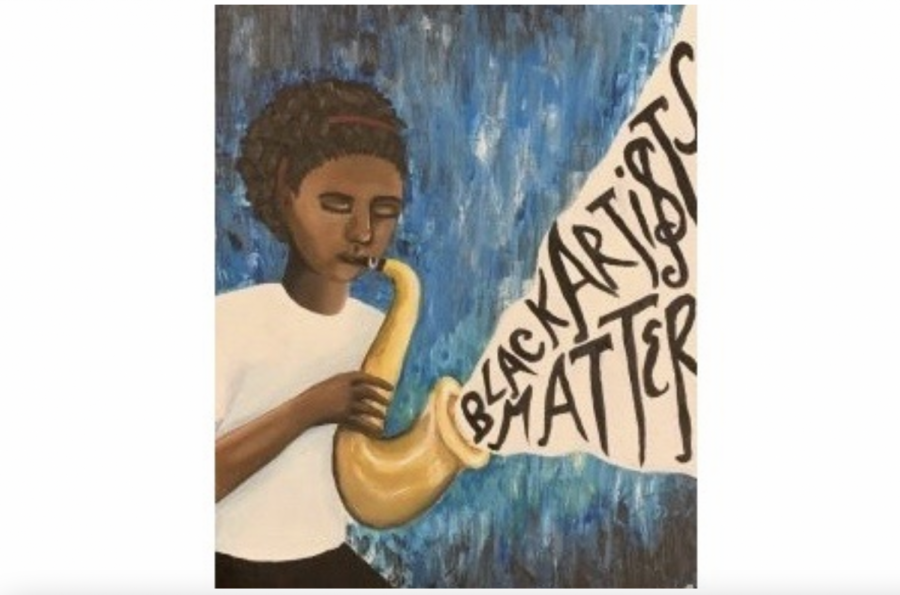 Courtesy of Tess Heilman
Even though a screen separates fine arts students from presenters, both band teacher Joseph Oneschuk and chorus teacher Rachel Carroll feel that their Zoom held masterclasses, which highlight accomplished BIPOC artists and performers, have been a successful and enriching addition to their curriculum. With the help of grants from CAPA and the Lauren Dunne Astley memorial fund, Oneschuk and Carroll have arranged numerous masterclasses throughout the school year.
The first Black Artists Matter masterclass was held on Thursday, Nov. 19. The class featured Ashleigh Gordon, a professional viola player, activist and cofounder of the program "Castle of Our Skins," which is a group of local Black artists involved in different areas of fine arts. Gordon discussed her musical upbringing, racial experiences and shared her knowledge of Black female composers and artistic influences during her masterclass.
"It was fascinating, hearing her talk about how she was one of two Black students in the orchestra at the New England conservatory when she was studying there and what [it] was like going through that," Oneschuk said.
Akrobatik, a rapper and recording artist, spoke at the second masterclass on Friday, Dec. 11. This Boston-based hip-hop artist produces music featured on HBO, ESPN and NBA video games, and albums ranked on CMJ's Hip-Hop Chart List and Spins Top Forty.
Gordon and Akrobatik offered different perspectives and stories on their experiences in the field. Akrobatik honed in on the pandemic's affect on music production and an artist's intent in his masterclass.
"The recording studios are closed, and a lot of the Hollywood and business hype that surrounds hip-hop and rap kind of took a back seat to artists really going after their craft and it really being about the music," Oneschuk said.
Carroll also hosted two masterclasses this year. These classes featured performer and conductor Jason Max Ferdinand and artist and animator Lynne Rosenberg.
"I have long been a fan of Dr. Jason Max Ferdinand and his work with the Aeolians at Oakwood University, a historically Black college," Carroll said. "He recently wrote a choral curriculum for addressing societal challenges through music. Lynne Rosenberg is a former student and I have been watching her work on All Arts and also PBS."
Sophomore honors concert choir member Grace Marto learned about the importance of roles during a chorus performance from Ferdinand.
"From Dr. Ferdinand, I learned what it means to be a conductor in a musical production in a chorus," Marto said. "It was pretty interesting to see it from that side because I've never seen it like that."
Ferdinand shared his knowledge about choral music and spoke about social justice during his masterclass.
"Dr. Ferdinand taught us to have 'CEO' as he called it: curiosity about people, empathy towards people and to grow in optimism so we can extrapolate all the lessons that we can to become better citizens," Carroll said. "He also talked about how we can bring hope to others through our music."
Rosenberg touched on the racist, stereotypical or token BIPOC characters–if any BIPOC characters are represented at all–in the media and movies.
"[Rosenberg] gave examples of racist casting descriptions and showed a short animation film about the disparity and inequality between white casting descriptions and BIPOC descriptions," Carroll said. "She then led the students in a discussion about all of this. At the end, she encouraged students to live a life of service to others because it's very enriching."
Carroll noticed that students took time to reflect on what they learned in the masterclasses.
"The students remarked that they were inspired by both speakers and that it gave them a different lens to view things through," Carroll said. "Many are re-examining the TV shows they watch and taking a good look at whose stories are being represented or told."
These masterclasses aren't exclusive to WHS. Oneschuk shared the masterclass invitations with different schools, and the idea has caught traction.
"I've sent invites to different colleagues of mine around the state, so now other schools are contacting Black artists to do masterclasses," Oneschuk said.
Whether on Zoom or in person, if allowed, both Oneschuk and Carroll plan to continue these masterclasses in the future. Carroll has arranged for another speaker this April.
"I really felt an importance to feature Black artists, especially in the turbulent time that we were in, and to celebrate Black artists, because Black artists do matter," Oneschuk said.