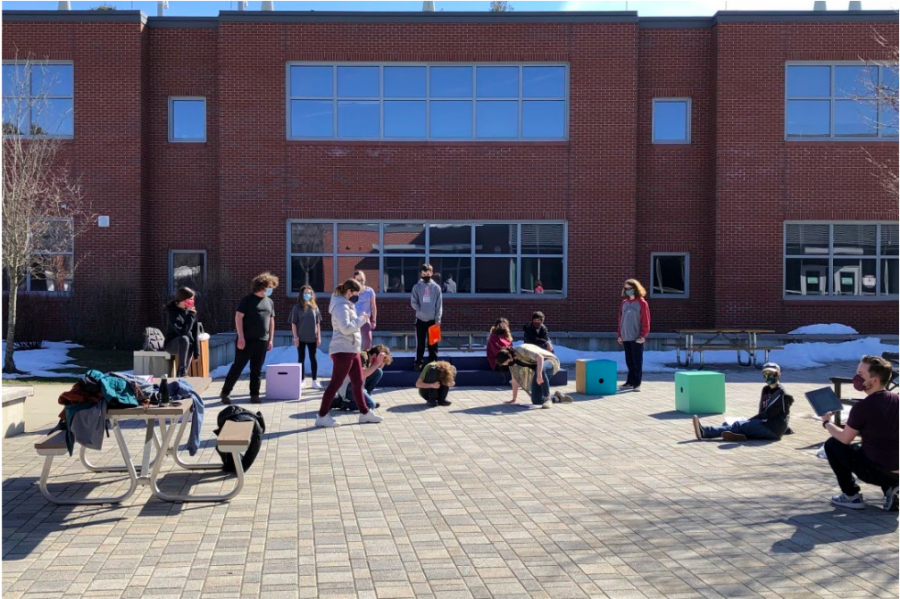 Courtesy of Aidan O'Hara
Auditions for "Spongebob: The Musical" took place in late January. However, after much research and reasoning, WHSTE decided to cancel the show. Instead of the usual musical, the group proposed a new project, "A Musical Revue."
"We were trying to design a theater season for the school year, and we knew it was going to be different and unusual," drama teacher Aidan O'Hara said. "The musical usually happens in the fall, and now we're doing a change in calendar, so I think it being in a non-traditional spot too [made] turnout [for auditions] a little bit lower than normal."
"A Musical Revue" is a collection of songs, scenes and monologues from Leonard Bernstein's "On the Town," "West Side Story" and "Wonderful Town."
"A Musical Revue" allows WHSTE to perform musical theater from many different shows, which would not be possible under normal conditions. The set-up will also allow students to rehearse on their own, if needed.
"The thing about 'A Musical Revue' is that it's easier to do in COVID-19 times because every act is on its own," sophomore Jane Gargano said. "It's not so much of an ensemble thing. You'll have opening and ending numbers, and perhaps some small group numbers, but you can really do it on your own and you can send in your own act, so that made it a good option for this type of situation."
Even though this was an unexpected change for a lot of the performers, many still decided to continue on. For some students, "A Musical Revue" is a better alternative than the traditional musical adapted to accommodate COVID-19 safety restrictions.
"We had about 16 students audition for Spongebob, and all of them were rolled over to the musical revue," O'Hara said. "So far everyone is sort of sticking with it, which is great. The project might appeal to some [more] people."
Many students are eager to try out something new, like "A Musical Revue," knowing that a staged production of "Spongebob: The Musical," will most likely happen in future years.
"I think it's definitely going to be something I haven't experienced before and I'm ready to try it out," sophomore Katie Schouten said. "I think Mr. O'Hara is keeping Spongebob in his back pocket for a later year."
Creativity is key in staging a production amidst the pandemic. To audition for "Spongebob: The Musical," students had to record a song and a spoken word monologue for a Spongebob character of their choice. Then, they submitted it as an assignment via Google Classroom. It was an innovative way for the students to safely take risks in their audition and submit the best versions of their work for the musical.
"It just had to be like a 30-45 second moment, but you only have one line so you had to fill it up with a lot of physicality and movement and really characterize it," Gargano said.
"A Musical Revue" is going to be performed in late spring. WHSTE is planning to hold it in the courtyard, where a limited audience can watch the performance in person. The show will also be streamed via a broadcast.
"We're definitely looking at the Thursday and Friday, May 20 and May 21, in the evening," O'Hara said. "We're hoping to produce it out in the courtyard, and build a stage and get a lighting rig and a sound design system. Just like a really fun, simple, classy evening with amazing music and dance. I think it'll be really exciting."
WHSTE is eager to return to normalcy and produce their musical next fall, live and in action. Meanwhile, WHSTE will stage "A Musical Revue" because the show must go on.
"The whole point of a musical is that it's really ensemble," Gargano said. "You're allowed to really step into a character, and it's just a whole community experience. The revue is a good option, but it has less of a storyline than a musical would, I think, and that's why [the musical] is better for future years."