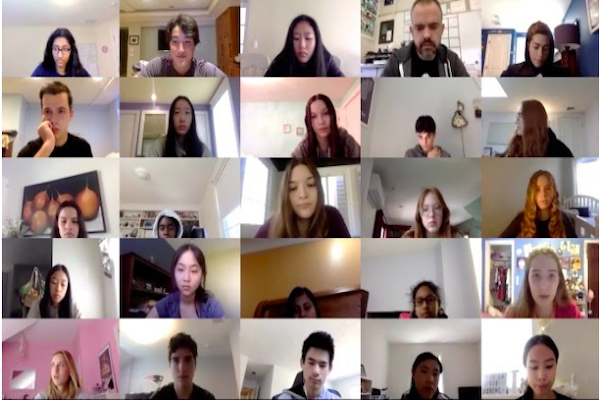 Curtesy of Declan Murphy
Sophomore Declan Murphy took on the role of a leader, teacher and philanthropist when he started his new tutoring program: WHAM (Wayland High school Academic Mentors), a free tutoring program where WHS students tutor Wayland Middle School students.
Murphy's program is a helpful tool to many students at WMS because of its accessibility. Tutors also benefit from the program by receiving community service hours for each session. Murphy's program created many positive opportunities for all students, and giving back to the community is one of the main goals of the program.
"I think it is important to have kids give back to the community," Murphy said. "[And for them] to realize that they are giving back to someone that they can empathize with, considering they [as high school students, were once] a middle school student who might have needed assistance."
Murphy's goal is to create a program accessible to all WMS students. Murphy formed his plans for this program months before the start with a conversation with his family.
"My sister and I were talking about it over dinner, and we realized that I wasn't learning as much this year," Murphy said. "I thought that middle schoolers [were] going to be completely unprepared going into high school, [and] would need a little bit more preparation."
Murphy started the process of the program by reaching out via email to multiple faculty members from both the middle and high schools. After coming in contact with both schools' principals, Murphy worked hard to initiate the program. After two months of emailing, Murphy found out the founding of WHAM was possible.
"It was a bit stressful because some of the connections between high schoolers and middle schoolers might not be allowed, but we were [able] to, with the help of Dr. Mizoguchi, Ms.Gavron and Mr. Gass," Murphy said.
Murphy sent out a Google Form to all WHS students to see if they would be interested in volunteering to be a tutor, and the program gained immediate attention with 70 WHS students willing to teach. The google form let volunteers choose what subject they would be willing to teach and what dates and times they were available, and middle school families were sent similar resources to sign students up. WHAM chose only a select number of high school students to be tutors since less than 30 middle school students requested a tutor.
"I reached out to Ms. Gavron, and she sent out a message to all of the students and parents, and I received a little less than 30 kids from the middle school who signed up," Murphy said. "I am still working to recruit more students from the middle school."
After finding out who all the participants in the program would be, Murphy matched a high school student with a middle school student and let the learning begin. Tutors reached out to their students and set up times and dates where they could meet for either an hour or half an hour. Students and tutors keep in contact solely through email, and a parental guardian and Murphy are included in each of these email interactions.
"When I first sent out the emails with the pairings, [and saw] everyone greeting each other [with] a burst of emails in response, it brought me joy," Murphy said.
Murphy asked Aiden O'Hara, WHS drama teacher, to be the advisor of WHAM. Murphy's mom also acted as a strong presence throughout the whole process of running his program. To continue expanding the amount of students in the program, Murphy is working to reach out to more faculty in different parts of the school.
"I will also be reaching out to Ms. Poulo who is the head of math at the middle school because she has also been really interested in the program." Murphy said. "I hope that she can help me get a few more students because math is the primary subject that we are teaching."
Murphy trusts that someone will continue his project following his graduation.
"I think it is a program that could even run after I have graduated," Murphy said. "I hope that WHS students will continue to tutor and that someone will take on the responsibility of leading this program."