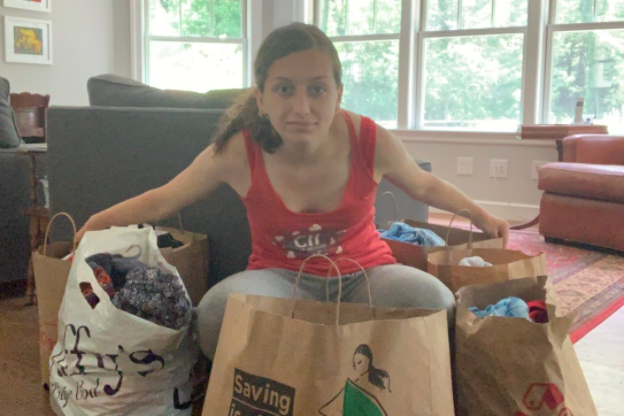 Curtesy of Grace Marto
While many students usually donate or throw out their old clothes, sophomore Grace Marto came up with the idea of "Clothes for Campers" in December 2020. At this time, Marto also applied for the Counselor-In-Training (CIT) program at her camp of five years: Camp Burgess and Hayward.
For her business, Marto asked friends for unwanted clothes. With "Clothes for Campers," Marto fulfilled her duty of raising money for the camp as a CIT, and she also got rid of any unneeded clothing.
"The money goes towards kids in underprivileged communities or situations who want to go to sleepaway camps but don't have the financial means to do so," Marto said.
After receiving clothes from friends, Marto follows a specific process to check the quality and price of the material. Since many of the items are thrifted, she has to carefully determine the value of the products and set a fair price for each piece.
"I check the clothes for any tears or blemishes and decide the price based on the quality and likely popularity of the item," Marto said. "All of the clothing for sale is in 'like-new' condition, unless it says otherwise. Some have never been worn, as will be indicated if so."
While gathering clothes, Marto tries to make her options inclusive to all by collecting and finding a variety of different clothing. She aims to collect clothes from all sections and in multiple sizes.
"Right now the majority of the clothing is from the women's section, but I do have a few items from the men's section and some that would fit fifth or sixth-graders," Marto said. "I'm very pleased to say that I have clothes that range from XS to XL, making the options all-inclusive."
Through the process of starting her business and carrying it out, Marto faced some difficulties as well. She needed a platform to promote her non-profit business and raise awareness. She launched her plan into action using Instagram but later created an account on Poshmark to gain more customers.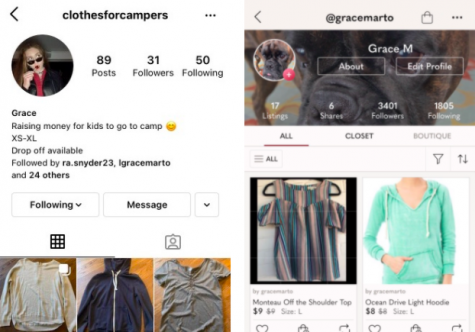 "My biggest challenge was probably figuring out how to sell clothes," Marto said. "It's really difficult to get the word out, especially during COVID-19. My first account was on Instagram, which I later learned is a really tricky platform to sell clothes from. [However], my aunt's friend recently gave me a ton of helpful advice on how to use [Poshmark] and how to get customers. I just made an account and hope to make even more progress."
So far, Marto considers her entrepreneurial journey to be a success as a result of convenient prices on the clothes that are in almost perfect condition.
"[Clothes for Campers has] been pretty successful," Marto said. "I think the driving factor is the low prices. These days, everyone loves thrifting, so the 'already been used' part doesn't really factor in. As of now, each item is always priced under 10 dollars."
Marto's customer service is an additional plus that customers receive when buying clothes from "Clothes for Campers," along with multiple forms of payment. She allows customers to view or try on the products before purchasing them to ensure they are happy with their purchase.
"It also helps that I'm able to drop off clothes at peoples' houses if they want to try them on, making the customer service aspect pretty inviting," Marto said. "I take cash or Venmo, making payment easy as well."
Marto is close to reaching her original goal of money made using "Clothes for Campers," which she set at the beginning of the whole process. She hopes to surpass the goal within the next month, as well as complete her responsibility as a CIT.
"My goal is to reach a minimum of $100," Marto said. "Right now, I'm at around $70. So, it looks promising. Maybe after this, I will consider selling some of my own clothes, too, now that I'm familiar with the process."
"Clothes for Campers" can be found on Instagram @clothesforcampers and Poshmark @gracemarto.