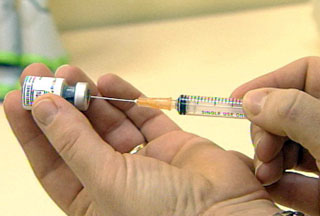 Courtesy of: Flickr user - wellunwell
With the COVID-19 vaccine being approved for use in everyone aged 12 and up, many are wondering what this will mean as they head into the 2021-2022 school year. Once the FDA grants full approval of the vaccine, many towns are looking into the possibility of mandating the COVID-19 vaccine for the 2021- 2022 school year, and some towns already have.
In May, the town of Needham announced that once the vaccine is approved for everyone, the town will mandate that students get the vaccine. In Wayland, however, it is a topic that has yet to be discussed.
"We have not [discussed the possible mandate], but it will be on our agenda next week," Wayland School Committee Chair Jeanne Downs said. "From the school committee, I know of one person who definitely feels like we should mandate it because she talked to me about putting it on the agenda, but I don't know about how the other people feel about it."
The school committee will have the final decision about the mandate but will be taking into consideration the opinion of the new superintendent, Omar Easy.
"[Omar Easy] will be [included in the discussions]," Downs said. "I think ultimately the school committee would vote on it, but I think we would definitely take the recommendation and the input from the superintendent."
In terms of how parents feel, the school committee has yet to receive any official letters but is aware that it is a contentious topic around town.
"I have not heard officially from anyone who has written to the school committee," Downs said. "I have heard people talk about it around town, and some people would really like it to be required, and some people really feel like it's not our place to require it."
While a majority of students at the high school are planning on getting vaccinated or have already been vaccinated, there are still students who are choosing to not get the vaccine. Sophomore Emily Campos-Belussi is one of those students who has chosen not to get vaccinated yet.
"I have not gotten vaccinated, mostly because my parents are scared of the side effects like infertility and the blood clots that can occur to younger people when they get the vaccine," Campos-Belussi said. "I just want to stay as healthy as possible, so I will be going with the flow. We don't know the long-term effects, so I think I am holding off as long as I can before I have to get it."
If the COVID-19 vaccine was to be mandated at WHS, Campos-Belussi would get vaccinated over the summer. However, if the vaccine does not get mandated, Campos-Belussi does not plan on getting vaccinated any time soon.
"If [no mandate if enforced], then I guess I would still wear a mask, and it would not be that important to get the vaccine," Campos-Belussi said. "I would keep doing what I am doing right now."
Although Campos-Belussi is choosing not to be vaccinated, she feels as though there is a lot of peer pressure at Wayland High School to get the vaccine.
"It just feels like a lot of people are getting their vaccine, and I don't want to be out of the group," Campos-Belussi said. "I want to fit in with everyone else getting their vaccine."

In a survey conducted by WSPN, 84% of respondents answered that they had gotten at least one of their shots, if not both of them. Sophomore Zach Grossman is one of the many students who is vaccinated and believes that the vaccine should be mandatory for school.
"I think that with the vaccine being mandated it assures that the school is safe and that covid [COVID-19] won't spread as much and it might encourage the mask mandate to end," Grossman said.
Although some people believe that the school committee does not have the right to mandate the vaccine, Grossman believes that the mandate would only be put in place to protect students and keep the school safe.
"[The administration] wants a safe environment so that everyone can feel comfortable, so I think they are trying to encourage people to get vaccinated," Grossman said. "I understand that everyone may not want to get it but hopefully, most people will."