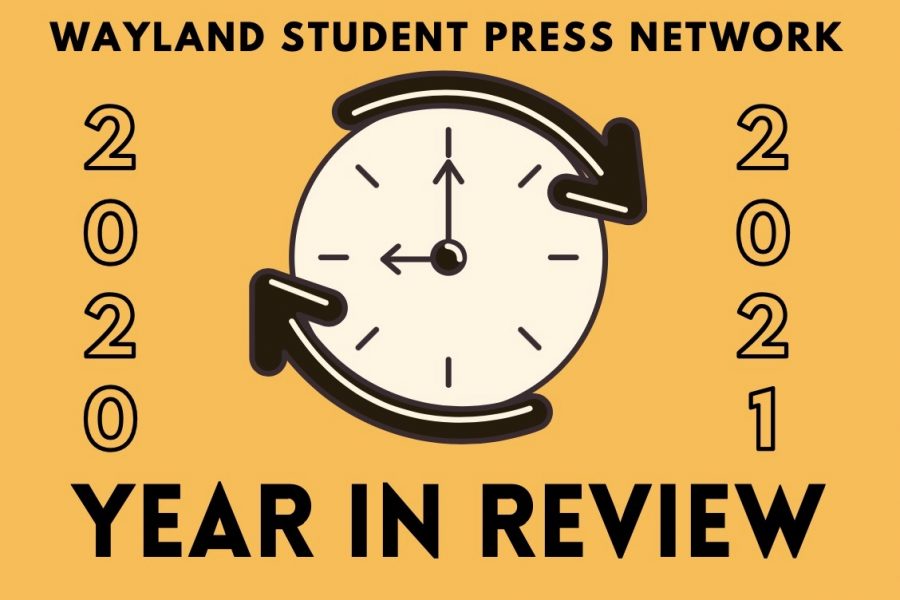 Taylor McGuire
Following such a hectic and abnormal year, it's easy to forget the things that have passed. The 2020-2021 school year is one that every Wayland High School student won't forget. With every day seeming to bring a new challenge to overcome, it's only natural that many simply want to be done with the school year and forget that it ever happened. However, in the mix of all the hardships and regulations, there were also the accomplishments and steps made towards normalcy. It's important to remember this year as a whole, the good and the bad, as it is one that will go down in history.
September:
September marked the beginning of an unusual year with WHS returning with a series of detailed plans starting with an all-remote model and then transitioning to a hybrid model in late October and finally adopting an all in-person model at the end of April break.
WHS students and alumni alike faced atypical situations with students coming out of a weird summer vacation, and some students struggled to find testing centers because of closures while alumni faced challenges both on campus and at home.
On the other hand, teachers were thrown headfirst into this past year with the task of teaching kids in an entirely different way.
Over quarantine, many Instagram accounts such as BIPOC Wayland came to light, each seeking to call out injustices and inequalities in what many believe to be the perfect town of Wayland.
October:
Wayland sports teams faced off against rival Weston, and both boys and girls soccer came through with wins. Sports editor Dante Coppola covered in a Warrior Weekly the biggest disappointments and surprises of NFL players following the first four months of the NFL season.
In the first-ever Weekly Breakdown, former broadcast editor Remmi Shaw, reporter Ellie Smith and broadcast editor Jackie Cahaly covered the hybrid model as well as early voting.
October 19, WHS officially returned to school following a hybrid model. In a stunning gallery, former multimedia editor Lauren Medeiros and social media editor Emily Staiti covered the first day back in a gallery titled "First Day of School: Hybrid Version".
Following the wake of the BIPOC Wayland Instagram account, the DearWayland Instagram account became the talk around town with the account revealing stories of sexual assault and harassment that occurred in the Wayland Public Schools. Features editor Joanna Barrow covered the story in an extensive four-part article feature.
Many of the popular standardized testing sites around Wayland started to close because of COVID-19. One example of this was when Natick canceled their October SAT because of student party.
In this same month, the first presidential debate happened. Following this, former opinion editor Atharva Weling wrote about why he perceived the debate to be a clownery of a presidential debate.
In the midst of all this doom and gloom, former A&E editor Alyssa Dickstein lightened the mood, adding another piece to her column "The Good News."
Finally, Barrow wrote a spotlight on junior Megan Chau and her passion for art. In the article, Chau asserts that anyone can appreciate art.
November:
Amongst many WHS student-athletes was first the hope for and then the unfamiliar transition to winter sports in the face of rising pandemic numbers. In another episode of Sports Junkies, Co-Editor-in-Chief Garrett Spooner and former reporter Max Brande went over week 10 of the NFL and made predictions for week 11 matchups.
In an article titled "Girl Up: Women committed to making a difference," Co-Editor-in-Chief Taylor McGuire covered a global campaign effort called Girl Up with the mission of addressing negative stigmas surrounding girls.
In news, WHS hired a new nurse in following the departure of former Nurse McLeod. Nurse Basbas who'd been working in Wayland for three years prior replaced McLeod. As was with most things, COVID-19 forced a change in what many students remembered as Spirit Day. The student council acknowledged that change would be inevitable but still tried to keep the WHS tradition as exciting and normal as possible.
In the midst of a heated election season, Brande urged everyone to cast their vote for the candidate of their choice. And, as COVID-19 cases continued to rise, former managing editor Caterina Tomassini reflected on students' responsibilities amidst a pandemic and the probability of students returning back to school per usual.
The November fashionistas were juniors Ryan MacDonald and Sofia Barris, and they answered questions about their favorite stores and article of clothing.
This month two spotlights were published. One was on sophomore Emily Grieco and her passion for skating while the other covered guidance counselor Jim Girard and his passion for coaching football.
December:
Starting center back Eric Zhang on the boys varsity soccer team was nominated Athlete of the month for his integral part in pushing the team into its November playoff match. Although, Zhang wasn't the only one getting recognition for his efforts on the field. Former Co-Editors-in-Chief Meredith Prince and Ellie Tyska covered seniors that were getting recruited to play sports in colleges despite the obstacle of COVID-19.
During the new spirit week designed to match WHS's hybrid model, WSPN covered the unique outfits of everyone in a gallery.
Also, with the holidays coming up, many WHS students decided to give back to the community during this gift-giving season.
In the seventh installment of Rounding the Bases, former sports broadcast editor Josh Schreiber and Spooner made predictions regarding the destinations of top MLB agents.
For news, WSPN conducted a survey on students' thoughts about Thanksgiving gatherings in the midst of a COVID-19 pandemic.
Copy editor Emily Roberge and former copy editor Julia Raymond wrote their opinion on the day of the football game between Vanderbilt University and the University of Missouri. On this day, Vanderbilt's kicking unit called in Sarah Fuller to play.
Jasmin Wong won Fashionista of the Month in Dec. In the article, Wong answered everything from what inspired her to become an artist to her future plans for her art.
Former features editor Katherine Kim wrote a spotlight on senior Jenna Brandaleone, who talked about sharing positive feelings through the simple act of kindness of donating hair.
January:
With almost all club sports imposing new COVID-19 restrictions, many athletes had a much different experience than what they would traditionally be used to. In an article from former reporter Kaitlyn Mabe, club athletes reflected on their past season with COVID-19 restrictions.
This month, two new podcasts debuted: Asians on Air and Deep Dive. In the first episode of Asians on Air, managing editor Jonathan Zhang and A&E editor Brasen Chi discussed what it's like having two homes in two different countries with junior Akash Bhukhanwala. Shaw interviewed seniors Zach Marto and Dylan Bonanno on their biking trip to Philadelphia over the summer of 2020.
Former reporter Kate Clifford and medeiros covered girls and boys varsity basketball wins respectively in a gallery with girls winning against Weston Wildcats and boys starting their season off with a win.
This month, students also shared their experiences and feelings about returning to school following break during the pandemic. It was also during this month that the violent capitol protests occurred and what many believed was going to be "the demise of democracy."
After experiencing a full quarter of hybrid learning, many students had mixed opinions on which of the three models (remote, hybrid or in-person) WHS should continue the rest of the year with.
In late Jan., a COVID-19 testing program began in Wayland Public Schools. Included in this plan was the start to a series of pool testings along with other safety measures.
With the new plan, however, were mixed opinions on whether it would actually help the Wayland Public Schools, or if it was just a wasted effort. Raymond expressed her opinion stating that the 10-week testing program would benefit Wayland.
Following the election of President Joe Biden as well as efforts to impeach former President Donald Trump, Weling detailed what he thought needed to happen in order for the nation to unite once more following a divided election while Roberge asserted that Trump's phone call with Georgia Secretary of State Brad Raffensperger "displayed utter delusion."
Despite not having midterms, winter week still happened this year. During the week, students viewed the Netflix documentary "The Social Dilemma," and events like the annual talent show occurred again.
Lastly, in a spotlight written by Raymond, Zach Campana talked about his newly acquired hobby of cooking, and his joy in seeing others feel happy from his cooking.
February:
In addition to gaining a new nurse at the beginning of the school year, WHS also took in a new athletic trainer, Katie Headly. Spooner created a highlight video covering girls varsity basketball win against Newton South.
In the sixteenth episode of Weekly Breakdown, Brown, Cahaly and Smith talked about quarter three and COVID-19 testing.
This month, there was much ambivalence on the ever-rising COVID-19 cases. WSPN sent out a survey where students could voice their opinions on school safety and what model the school should adopt for the remainder of the year.
When the pandemic hit, many small local restaurants ended up closing down. In an effort to give relief to these places, the Venmo Challenge was created. In fact, two restaurants in Wayland were lucky enough to be on the receiving end of this kindness. During this time as well, many students and faculty made predictions on what they felt the new year would look like.
Roberge advocated that Biden's first days in office displayed an urgent need for climate control.
Prince highlighted history teacher and head coach of the Wayland boys varsity soccer team David Gavron in a spotlight where he discussed the importance of the experience of the players as well as making the program better.
March:
This month, it was revealed that Wayland's drinking water was unsafe to drink, and a rush to drink bottled water soon ensued. With this came the school's decision to provide bottled water to the students.
Medeiros discussed the history of the Wayland-Weston rivalry.
In light of efforts to move towards racial inequality, many of Dr. Seuss's works were topics of debate. In an opinion piece from former Weling, Weling described his own background with the author and his opinion about the cancelation.
The opinion piece "The backlash to Meghan Markle and Prince Harry's Oprah interview was disturbing" took to controversy from WSPN readers as they expressed their own opinions in the form of comments.
The Artist of the Month for March was senior Jett Peter. In this article, Peter explains why he would never give up his passion for art.
Finally, in a spotlight featuring math teacher Hannah Marton, Marton talks about playing in a band and her passion for music.
April:
Following April vacation, WHS returned to school following an in-person model. Students' reactions varied to this transition and the return was covered in a gallery as well as a video showing students reuniting as a whole rather than in cohorts.
Because of the return to fully in-person learning, teachers, students and administration were concerned about mental health. These concerns about mental health were scrutinized in a maestro on WSPN.
The seventeenth episode of Healthy Living featured recent WHS alumnus athlete Kate Balicki and her experience playing lacrosse competitively at Wesleyan University.
At this time, vaccines became available to teachers, but many teachers voiced their struggle in getting an appointment.
In a heated opinion piece that gained a lot of attention, opinion editor Genevieve Morrison voiced her opinion that the Wayland football team should not have agreed to a sponsorship with Chick-fil-A.
The Wayland Public Schools also gained a new superintendent, Omar X. Easy, following the departure of Arthur Unobskey.
WSPN learned that they won the prestigious NSPA Online Pacemaker Award during the virtual JEA/NSPA 2021 Spring Convention.
May:
Despite COVID-19, WHS still partook in the tradition of Spring Week. Many were relieved to see a sense of normalcy returning to WHS after over a year of peculiarity.
Moreover, the month of May also brought a greater sense of normalcy when Massachusetts relaxed the state mask mandate for vaccinated people.
WSPN provided a preview of all spring sports that were to occur and featured players' insights on the season.
This month, senior assassin, a senior tradition at WHS started, but they faced many challenges in keeping the game running as seamlessly as possible.
Roberge wrote about her thoughts on the EU opening travel to vaccinated Americans, stating that it was "a light at the end of a tunnel."
The long-awaited Derek Chauvin trial began, and copy editor Delia Caulfield wrote about her opinion on the trial in an opinion piece where she argued that Chauvin's guilty verdict wasn't the end to the fight for racial justice.
June:
Sports players experienced a sense of normalcy when the MIAA announced that athletes, spectators, coaches, referees, umpires and chaperones would no longer have to wear masks. To that end, Morrison wrote in an opinion piece that the call to ease mask mandates was bringing us closer to normal life.
Boys varsity lacrosse beat Weston 15-5 at home while the girls softball team lost Weston.
The sixth episode of Asians on Air was published featuring junior Keita Williams. In the podcast, Zhang and Chi discussed their experiences in music as Asian-Americans.
This year, despite having no finals, college precalculus classes had a cumulative exam at the end of the year. The decision sparked mixed feelings among students that now had to take the exam.
In an opinion piece Caulfield, Caufield discussed what she thought about the decision to not have finals.
Letter to the reader:
Dear reader,
If you've made it to the end of this Year in Review, we congratulate you. More than that, we want to personally congratulate you on getting through this school year. Challenge after challenge, hardship after hardship, you endured. You persevered through what seemed like the impossible and broke free from the chains of stress, and you should be proud. You've just done what many before you couldn't — you survived a pandemic, an abnormal school year and personal challenges. Congratulations. Let's all enjoy the summer, and bask in the sun.
We wish you all the best,
WSPN Staff