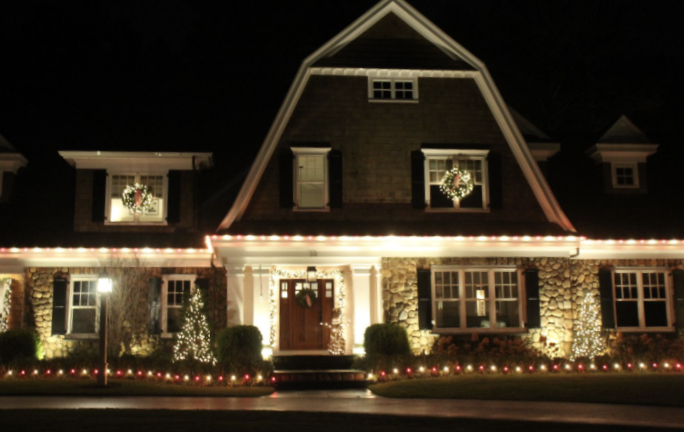 Nadya Chase
Wayland residents are living in a "Winter Wonderland" this holiday season, with festive lights lining the streets. To some, the lights are simply pretty decorations, but to others, they are a bright sign of hope for the upcoming year.
This month, many Wayland residents showed their festive spirit by decorating the trims of their houses with plain or multicolored lights. Some even put up other winter related decorations in addition to the lights, such as wreaths and blow-up decorations.
Throughout the demanding weeks leading up to the holidays, the bright lights are an exciting reminder of the long awaited break from the stressful events of the year.
"I think [holiday lights] bring joy in a time that is especially stressful, and they remind us of simple, little things that bring us happiness," sophomore Julia Shields said.
The lights also evoke memories of other festivities enjoyed during the holiday season.
"I love seeing the little dots of light strung together, it reminds me of warm foods, cold weather and time spent with family," freshman Tristen Chow said.
In addition, the tradition of putting up lights each year provides valued time for families to spend together with exciting and festive activities.
"For us, it's just a fun activity to do together and something we can enjoy coming home to and seeing," Wayland resident Marty Frenzel said. "What's important about [the lights] is what they represent in terms of a family activity."
Not only is decorating with holiday lights an exciting tradition, but several Wayland High School students enjoy driving around and looking at the different decorations families have put up. From simply being fascinating, eye-catching decorations, to creating games based on the lights, many find joy from the hard work Wayland residents have put into their holiday lights and decorations.
"Whenever we are already driving somewhere, we'll count and make a competition of which side of the car has more lights," sophomore Amy McCormack said.
Although not all Wayland residents celebrate Dec. holidays, many are still able to find delight from the festive lights. For those who are not celebrating this holiday season, like sophomore Mariam Gayed, the lights are still a fantastic way to relate to those who partake in the festivities.
"During the holidays, I've never really been able to relate to people when they talked about the things they did to celebrate," Gayed said. "One thing that I have always been fascinated about is the lights that people put up. I think of it as a way for neighbors, friends and families to wish each other happy holidays without actually communicating it. It also sets a certain mood that I find comforting, one that you don't have to celebrate a holiday to be able to understand."
Some feel that the darkness and freezing temperatures of the winter months are miserable and difficult to get through. To contrast these feelings, several Wayland students and residents greatly appreciate the glow and warmth brought by the holiday lights around town.
"[The lights] bring a little brightness in the dark winter months," Frenzel said. "It's dark so early, so it's fun to have something different that you see, or just something pretty that you see coming home or passing other people's houses."