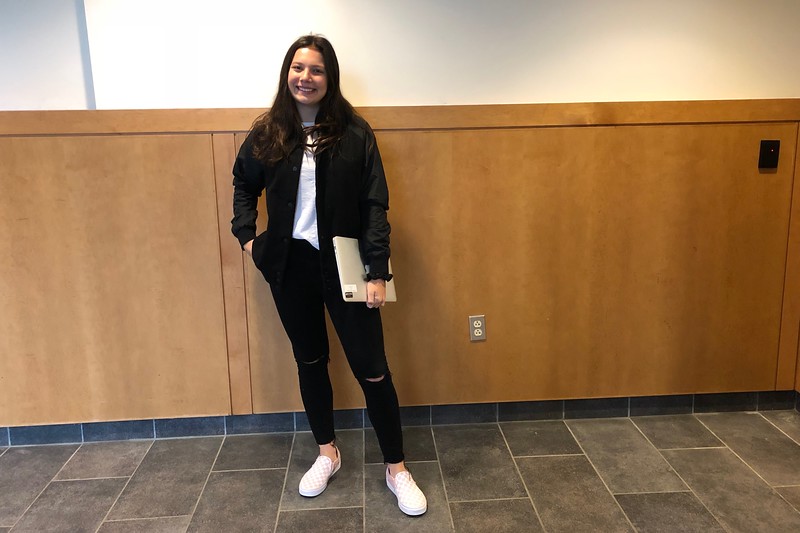 Noelle Flanagan
Name: Noelle Flanagan
Grade: Junior
Outfit:
"My jeans are from J.Crew, my shoes are from Vans, my shirt is Vineyard Vines, and my jacket is from Roots."
Favorite store:
Flanagan's favorite clothing store is Brandy Melville. "[I go shopping] during the school year, probably once a month. In the summer, I work at the mall, so probably every week," Flanagan said. 
Online shopping or in-store?
"Recently I've been doing a lot of online [shopping], but last year I would just go to the mall. [I really like shopping online at] Brandy Melville."
Fashion icon:
"That's tough. Probably Kendall Jenner because she wears really comfy outfits, and makes them look really cool."
Favorite season:
"Probably summer and the beginning of fall. Summer because you get to wear whatever you want, and the beginning of fall [because] you get to wear all [of] your new fall stuff that you didn't get to wear."
Design time: 
Flanagan picks out her outfits the night before.
Favorite Article of Clothing:
"Probably sweatshirts. I like sweatshirts a lot."
Style word:
"Comfy."
 Fashion-challenged advice:
"Be yourself; don't try to be someone you're not."
Donate to Wayland Student Press