Olivia Rubin: Horseback riding will always be a big part of my life
February 8, 2021
Horseback riding is a sport requiring drive, patience and a lot of energy. Although horseback riding isn't offered as a team sport at Wayland High School, some Wayland students participate in it outside of school.  However, for sophomore Olivia Rubin, this sport has been a special part of her life since a young age.
Rubin has been riding horses for 10 years, since the age of six. She first started riding at a camp where she learned about horses and had her first chance to try it. After the camp, Rubin developed a strong passion for the sport and knew instantly that she wanted to train. Although her training site requires a lengthy drive—nearly 45 minutes—she feels that the training is worth the ride.
Currently riding for Holly Hill Farm in Harvard, Massachusetts, Rubin normally rides four to six times a week. Unlike many sports common among young adults, competitive horseback riders often travel globally, giving up weeks at a time. According to Rubin, most of her competitions last one week, and are located along the East coast. Having to travel to Florida, New Jersey, Kentucky and many other states, Rubin is a serious competitor and a champion at many events.
This past summer in New Jersey, Rubin was named Reserve Champion in the 3'3" Junior Hunters, a title qualifying her for the Junior Hunter Finals. Rubin also placed tenth out of 40 professionals in Kentucky and fourth in the Massachusetts Hunter Jumper Finals, consisting of approximately 40 teen riders.
Those training to ride horses often don't have the luxury of riding a different horse each time. Training consistently with the same horse is important as it helps to create a strong connection, which is important for successful competitions, between the rider and the horse. Currently, Rubin owns and rides two horses, Gomeri and Quadras.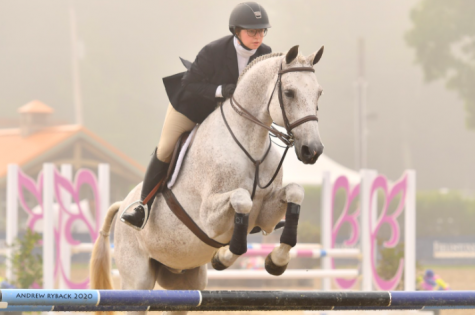 "Your horse is basically your teammate and it is very important to have a good connection with them," Rubin said. "I've had so many different horses in the past that have helped shape my riding career. "
The bonds made between riders and their horses creates an atmosphere for the equestrian to strive and deepen their passion for their beloved sport.
"I have such a strong passion for horseback riding because I love being able to compete with a partner that you have to communicate with in such a unique way, which are my horses," Rubin said. "Each horse has their own personality and way they like to perform."
While Rubin trains for a great number of competitions, the training comes with sacrifices, a lot of passion and a strong work ethic. Oftentimes, she sets goals for motivation not only in horseback riding, but with school as well. Rubin says it's important to maintain a strong balance of both academics and athletics.
"
What motivates me to train competitively is that it allows me to set a lot of goals for myself and see how I have and continue to progress as a better athlete in and out of the barn."
— Olivia Rubin
"Balancing school and sports has always been very difficult and important for me because I train most of the week," Rubin said. "On school days, I go straight from school to the barn which usually saves me enough time to do homework after dinner. The biggest thing for me [is] not [procrastinating] and [managing] my free time well."
Similar to many athletes, Rubin is often faced with the dilemma of missing out on social gatherings in exchange for her sport. Horseback riding has always been a large part of her life, so to take her drive to the next level, sacrifices must be made.
"I have missed a couple social and school events because of my riding," Rubin said. "It is especially hard at the end of the school year and the start of summer when my competitions start again, causing me to travel more frequently."
With the COVID-19 pandemic causing many sports to adapt to new rules, horseback riding has endured changes as well. Riders now have to wear masks, keep distance from their coaches and friends in the barn, and riders can't attend competitions. The virus has also prohibited Rubin from participating in an annual competition in Florida.
Despite everything Rubin has gone through, from training for countless hours to week-long competitions, she won't let the pandemic stop her.
"I plan on always having horses in my life, whether that be as a profession, practice or competing," Rubin said. "Horseback riding is so special to me because it allows me a break from the stress of school and allows me to do something I am extremely passionate about. I have always loved horses and this sport not only allows you to be competitive with others, but also with yourself. There is always something you can work on and many more things to learn."