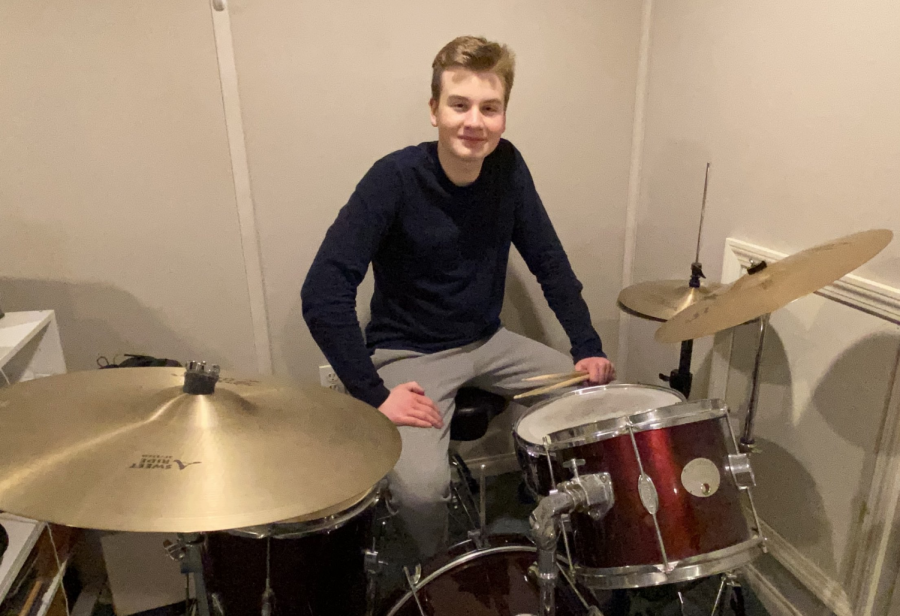 Credit: Courtesy of Japhy Theobald
Japhy Theobald: In the end, drums are about being open and ready for anything
April 5, 2021
Junior Japhy Theobald decided to take up the drums in the third grade after being inspired by the swing, improvisation and freedom of the instrument. He's been playing for eight years and has accomplished a lot with the instrument through being a teacher and performing in clubs. The appeal of jazz and other genres of music—which originally inspired him to pick up the drums—has grown and he now loves the endless possibilities of music.
In third grade, all Wayland students had their first opportunity to pick up an instrument via the elementary school orchestra. Preferring the freestyle and adaptability of the drums, Theobald decided to pick up the drums rather than the other strings instruments offered. In his eight years playing the drums, he has gained experience through performing in art clubs and teaching elementary school students.
"I think drums are the most versatile instrument—you can play every style and every song in existence [that] has a drum part. It's the most central and basic part of music," Theobald said. "The only thing that I don't like is that you're sort of useless on your own [because] you depend on other instruments."
When he transitioned to middle school, Theobald was disappointed to learn that space for his drums was minimal, rendering access to practice time difficult. Theobald worked with what was available to him, which "allowed for the improvisation and the entire drum set that [he] was looking for," according to Theobald.
"
I think drums are the most versatile instrument—you can play every style and every song in existence [that] has a drum part"
— Japhy Theobald
"There was a lot of freestyle involved in jazz, and it really helped me enjoy the instrument more than I already did," Theobald said.
Theobald was introduced to jazz band, so when this new discovery was combined with a pre-existing passion for percussion, Theobald began to take drumming more seriously. He even had opportunities to perform in middle and high school.
"After realizing how much fun drumming was, I got to do a lot of out of school activities relating to the drums," Theobald said. "I taught an elementary school student who also wanted to learn the instrument. Not only that, but I also got to play in clubs and art galleries which really made it a fun experience."
Theobald was first introduced to teaching music when he participated in a group of older students who taught young musicians. Theobald realized that he loved explaining the instrument and how to execute rhythms. He enjoyed sharing his interests with others and was inspired to improve his skills and learn more songs by himself.
After many years of playing drums in the school band, Theobald—like most others— ran into a roadblock at the start of the pandemic. He notes that, without other musicians, playing in the band is "pointless" and the enjoyment "just doesn't feel the same." Theobald finds this dilemma especially prevalent because of the inability to play actual musical notes, as drums don't exactly have a pitch, but rather just a noise. Although he currently no longer plays in the school band, Theobald still plays in his free time and partakes in private lessons.
"In the end, drums are about being open and ready for anything to play in sync with all the other instruments," Theobald said.