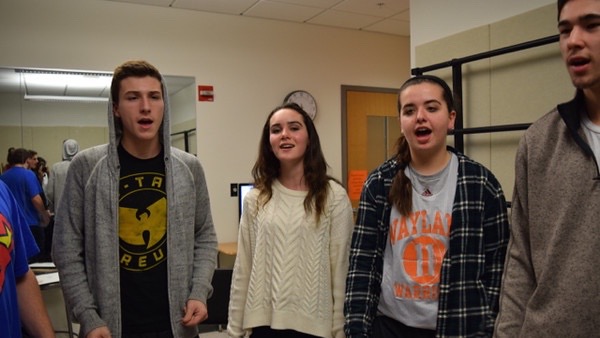 The Madrigals
A cluster of boys and girls huddle backstage in the final moments before their performance begins then burst out under the lights, ready to sing. The audience claps along as the Madrigals ease into their first song, voices blending tightly into one sound.
The WHS Madrigals, also known as the Mads, are one of WHS' three a cappella groups. Unlike the Muses and the Testostertones, both single-gender groups, the Mads are co-ed. Seniors Jimmy Lampert and Evan Hughes are the two directors of the group. Lampert was assistant director last year, and the rest of the group elected Hughes.
"We have to host rehearsals, arrange songs, arrange outside concerts and pretty much act like older brothers to the whole group," Lampert said.
Hughes and Lampert oversee all decisions and suggest songs for the group to perform. Once the Mads choose a song, they arrange it themselves. Hughes and Lampert make sure that the group is in complete agreement about the song they sing, and according to Hughes, they get input from everyone. Still, it's not easy to find songs that please everybody.
"The last thing we need is for us to perform a song where everybody isn't fully into it," Lampert said. "I always find myself second guessing myself, and [I feel] unsure if I picked the right one."
Hughes explains that although the Mads' rehearsal gets in the way of studying for tests on Fridays, it eliminates more stress than it causes.
"Getting together with the group gives you a chance to unwind and hang out with friends, which can be refreshing after a couple hours of crew and homework," Hughes said. "We often bring food to rehearsal and do rap battles and just chill in general…Just being able to pause work and fool around is really awesome."
Lampert adds that despite the time spent to rehearse, it is incredibly rewarding when they finish a song and "kill" a performance.
"[The group has] both boys and girls, which adds an awesome dynamic to our group. It enables us to have a lot more fun with our arrangements because we can cover every voice part, especially this year," Lampert said. "We really lucked out with every single person we have in our group this year."
The directors appreciate the connections within the group in addition to its musical talent. According to Hughes, the Mads have a unique vibe.
"We really are great friends, and I think that we have so much fun while being serious in a way that the other groups may not be," Hughes said. "Not that the Muses and T-Tones aren't fun and serious about their music, but they approach those things in different ways than the Mads."
It is the bond between the members of the group that pulls the Mads together.
"We've always got each other's backs, and we all come from different backgrounds with different interests," Lampert said. "This makes it very easy to do what we do, because we know we can trust each other."
Donate to Wayland Student Press