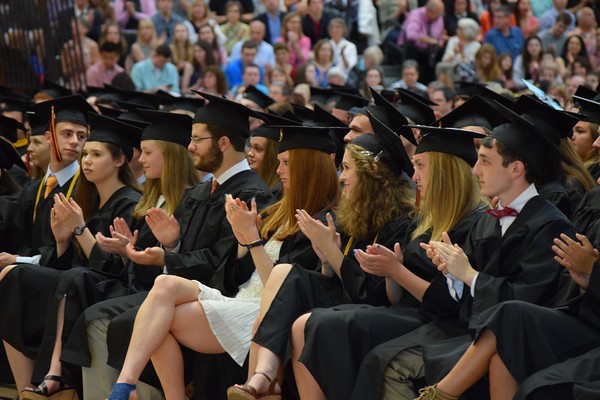 Class of 2016 graduation speeches
On June 5, WHS' class of 2016 gave graduation speeches in the field house. Five members of the class gave the following speeches:
Nick Kamkari – Class Representative
Leaving is a time of mixed emotions. People always refer to times like these as "bittersweet", but my palate still can't exactly pick up on that taste. I am still suspended in disbelief that all of these years and memories are about to be written off away into what we will soon begin to refer to as "the good ol' days". We will soon be catapulted into the real world, but these extraordinary four years will provide us immense strength in the time to come. My parents, who grew up in rural Iran, barely go a day without mentioning how much they wish they could be teenagers again just to grow up in this unparalleled and warm community.
I can still vividly remember that timid 8th grade afternoon of Step Over Day when we walked the halls of the high school for the very first time. It was so easy to get lost in the subtleties of the building like why the one singular space where we eat lunch and socialize was called "the commons", and why the boys' and girls' bathroom signs seemed to alternate every time we looked at them. Everything that once seemed so obscure and unconquerable is quickly becoming nostalgic and sentimental. It's crazy to think that a few years ago, one of our main worries was figuring out the rocket science behind how the lunch schedule works, and soon we will be faced with more profound obstacles… like how to immigrate to Canada when Donald Trump becomes president. That's right folks, in addition to getting my diploma today, I am renewing my Canadian citizenship. But all jokes aside, I genuinely believe there isn't a group of people that I have more faith in to take on the real world than the Class of 2016.
I am just as apprehensive about what's to come after high school as the next person, but it's comforting to think that we have been incubating in 15.9 square miles of lush opportunity that is unlike anywhere else on the planet. Just ask my parents; In Iran, you could be sentenced to 91 lashes and jail time for meeting up for something like K-Pop club. I would probably not recommend blasting "Gangnam Style" if you happen to be in Tehran. We are so incredibly blessed to have grown up in a place where expressing your thoughts and passions is encouraged and not criminal. This is a place fueled by the glowing enthusiasm and drive of the individuals that make it up, with the shared goal of creating a safe haven of imaginative exploration, learning, and growth.
I think one aspect of our grade that makes it so distinct is the level of impact we have had. Whether that be in painting the murals, being the first lab rats for advisory, or taking senior assassin to a level only seen in some sort of World War. I hope that as we begin to disperse from Wayland, we keep in mind the goal of spreading a little bit of what makes this place special to the people and places we encounter. I am truly honored to have lived this experience with each and every one of you all. Everybody here has so much to offer to the world, and although the dispersal of us warriors throughout the globe is strikingly inevitable, I think a part of us will still linger here for many years to come.
Daniel Keating – Class President
Good afternoon, everyone, and welcome to the Class of 2016 graduation. I'd like to take this opportunity to thank all the parents, family, friends and teachers who have supported us graduates throughout our lives. We owe everything to you. Thank you for giving us such an incredible opportunity.
Our families are the reason we've been fortunate enough to grow up in a community as strong as Wayland. Sure, there are expectations on students, and lots of pressure. But, to an extent, expectations and pressure are a good thing. I play on the lacrosse team, and when we hit a rough patch, maybe lose a couple of games, we take a step back and ask ourselves, "What do we need to do to light that fire under our butts?" It's a crude saying, but the meaning is clear: put the pressure on, and people will put the work in and perform well. That statement speaks very well to our student body as a whole. Ben Dickstein, our valedictorian, is the epitome of hard work. He's at the top of our class, but across the board kids are motivated to work hard. It's not just in academics. Raise your hand if you're going D1. Actually, no wait, raise your hand if you're playing a sport in college? Will you look at that? There's… counting … however many. That's bananas. But it's not just athletics and academics, has everyone heard of Calvin Laituri? This guy is an unbelievable painter, photographer, filmmaker. He did senior portraits, all the videos for senior show, even made our slideshow for class night. I actually have an original Laituri with me here. I mean, get yours now, folks. You're going to want to remember this guy's name.
You want musicians, we have them. LeQ, Evan Hughes and Schleppi have their own band, they make all their own original music. I listen to every song when it pops up on my Facebook newsfeed, it's all really good stuff.
We also have an outstanding theater department. The cool thing about these guys is that there are only like eight or nine of them. I mean that's just survival of the fittest. Only the best actors and technicians make the cut.
I've been talking a lot about what we've accomplished in high school. Now, however, we're at a huge turning point in our lives. As I said before, we're all truly blessed to have attended a high school as strong as Wayland. It is now our duty as alumni to go out and make a difference in the world. Now that may sound cliche, but really think about it for a second. We've attended one of the best public high schools in the nation. The United States is one of the strongest countries in the world, so we've really been equipped with some of the best education anyone could ever hope for. There's nothing holding us back from making a difference.
It starts now. Five years down the line, who knows where we'll all be? When we come back together for our five year reunion, maybe Laituri's work really will be on billboards. Maybe Bronwyn will be a pro basketball player. Maybe Luke and Ally will actually get married. We don't know. The point is, the world is whatever we make of it. What a shame it would be not to take advantage of all that we've been given.
I would be remiss if I didn't thank our two wonderful class advisors, Mrs. Manning and Ms. Kooshan. These two wonderful people have been with us from the very beginning. Every Tuesday morning before school they meet with us to help plan our prom, semi, senior week events, and even today. Everyone has been saying how we're the best class of all time; well, it is all thanks to these two.
To the class of 2016, you guys are the reason I stayed in this job all four years. I believe you are all outstanding people, and I know you will all go on to be extremely successful in life. I can't wait to come back for reunions and see what everyone is up to, and I hope we can all stay in touch. Thank you all for trusting me to lead the charge during high school, and thank you to all of you for coming out today.
Luke Xu – Salutatorian
Hello,
So I'm supposed to deliver you all a salutation, which is a fancy way of saying hi. So, hi.
Cool, got that out of the way. Good afternoon, everyone. I'm about to say a lot of thank yous.
Teachers, administrators, staff, and associated adults of Wayland, we thank you all. You've built us such a safe and supportive environment, the best type of school to grow up in. You've taught us everything from space shuttle math to Julius Caesar, from hot-air balloons to Edmund G. Ross, from Jane Eyre to the importance of living. You've granted us opportunities to lead active clubs and victorious sports teams, to play our music within these halls, and to hang our art upon these walls. We have done so much in Wayland, but that's only been possible because Wayland has done so much for us.
Parents and families, thank you too for carrying us all the way from the cradle through elementary and middle school, and now to here. We probably won't say this, at least while we're lucid, but we really do love you.
All of you, to whom we owe today, please accept our greatest gratitude. Nothing we've done and nothing we'll do would've been possible without you.
Now, Class of 2016, I hope you're all feeling proud, or happy, or something like that. You've got the best reason to be, because today, even with the rain, is an incredible day.
Almost four years ago, we entered a new Wayland High School, blooming with possibilities that were ours to first discover.
Now, we're here gathered in this little field house, marking the last time, in a long time, that this Class of 2016 will all be together. This is a great moment, because it's a moment where past is just about ready to collide with future. We're leaving behind the classrooms where we grew as learners and the hallways where we bonded as friends, but we're approaching an infinitely large abundance of futures.
And today is incredible in a large part because the last four years have been equally incredible years. We've found friends and fun and love and good times and happiness. And education. From a spectacular prom to a brilliant senior show, we've found a special sort of harmony to which very few grades can lay claim.
And in between those big moments were the little moments where we breathed and felt life at its truest. You know, the jokes that all your friends laughed at for weeks, the dumb conversations that lasted hours past midnight, the car rides that went absolutely nowhere but you didn't even mind. You know, those little moments that stretched out to the best kind of forever.
Over the past few days, however, I found myself thinking not only about what did happen, but about what might've happened. I think many of you have as well. Because sometimes, life moves just fast enough that we don't get to do all the things we want to do. And sometimes, life moves just slow enough that we over-hesitate our chances away. With this circumstance follows regret, and with regret follows the fear that we'll be too late, or too behind, or too slow, to get another chance.
But I want you to forget this feeling.
All the things we didn't do, and all the chances we had to do them, they might be gone, but that's just the passing of time. Who says we can't try again?
My favorite quote, well my favorite author is F. Scott Fitzgerald. And he once wrote, "Vitality shows in not only the ability to persist, but to start over."
So next fall, when we all start over, I hope you remember this: we are so young. Really. We're so seventeen, so eighteen, so reckless, careful, wrong, right, up, down, so everything. And what this means, Class of 2016, is that we've got all the time in the world to begin again.
Thanks, best wishes, and congratulations to all of you.
Angela Park – Salutatorian
Class of 2016, we're finally here.
I'll start off by reassuring you all that I decided to keep my speech short and sweet. We came here to graduate, not to listen to me go on and on. And to be honest, I'm not much of a public speaker, and it's a miracle I got myself to get up on this stage in the first place.
When brainstorming what to write about for this speech, I scrolled through a long list of possible topics: happiness, determination, family, honesty, and the list goes on. But I ended up writing about the one thing I never imagined I would write about: class pride. Walking out of school on our last day, it was surprisingly bittersweet. I will admit, in high school I was never the one big on school spirit. My friends would pester me about how I rarely wore the class psychs or how I debated taking a nap instead of going to a class event. I would never be the one screaming the loudest in the football bleachers, the one painting my face orange and black, or the one posting every day in the Facebook group about how alm16hty we are. Instead, I was the one silently observing.
As creepy as that sounds, I guess I'm trying to say that I may not have shown it, but I have always been quietly proud of our class. I think it's safe to say that we're one of the greatest classes to graduate from Wayland High School in a long time. We were a class that didn't follow the typical clique system; jocks could be a capella stars, and artists could be dramatic actors; we were friends with whomever we wanted. We were a class that strangely valued education; it wasn't like in the movies where the cool kids were delinquents. It was cool to be smart. But most importantly, we were truly one class. We grew up together. We all knew each other. We spent two thirds of our lives together, laughing, suffering, and bonding along the way. We were and are a sincerely unique class, one that is more like a family if anything. Like how a puzzle requires all its pieces in order to be complete, our class would never have been whole without everybody in it, everybody who added to the dynamic in a subtle or maybe not to subtle way. From when we counted to one hundred to get on the swings to when we traded silly bandz and wrote ZAP on our friends' hands, from when we rocked uggs and sideways ponytails to when we pulled all nighters to cram studying for tests, we were a class. And as a class, today we will graduate. A place is only as good as the people in it, so it's all of you that make me proud of where I come from. Thanks for 13 years, Class of 2016. We made it.
Ben Dickstein – Valedictorian
Good afternoon, everyone. I'd like to start by thanking my friends and family, the staff and faculty here at Wayland High School, the administration, Ms. Mizoguchi, the school committee, and Dr. Stein. Alright, you're probably expecting me to say something profound today. So let me start out by lowering your expectations. Today, I'm going to talk to you about kindergarten and board games and in the middle, the message might sound a lot like High School Musical.
Robert Fulghum is a well-known author who wrote the book "All I Really Need to Know, I Learned in Kindergarten." Fulghum writes about how when you're young – around preschool age or kindergarten age — you believe that you are capable of doing anything. If a five year old is asked, "Can you sing?" The answer is "yes, of course I can sing. I'll sing right now." And if they don't know the words, it does not dissuade them from singing. They just make it up. If a five year old is asked, "Can you dance?" The answer is, "yes I can dance right now. I love to dance." If a five year old is asked, "Can you draw?" He or she will say, "yes I can draw anything. What do you want me to draw?" When you ask the same question of a high school or college student you are likely to get a very different answer. If a high school or college student is asked, "can you sing?" The answer is either no or it's a qualified yes such as, "I can only sing in the shower or in the car with my friends." When a high school or college student is asked can you dance? The answer may be "not well" or something like, "I only dance when no one's watching." And when a high school or college student is asked, "can you draw?" He might say, "I can only draw conclusions." High school or college students believe that they do not have talent or they are embarrassed to show others that they can sing or dance or draw. When asked why the limitations they may respond with, "I am not majoring in the subject or I haven't done these things for a long time."
Robert Fulghum asks what went wrong between kindergarten and college. What happened to "yes, of course I can sing and dance and draw?" There are two possible answers to the question. One is, we were just stupid when we were younger and of course we couldn't really sing and draw and dance well. Now we are older and we know better. Or maybe, as we got older, we got pigeonholed into categories and it made us think we could no longer sing, draw or dance. When we were younger, we all did everything. We played sports, many of us played instruments. We would all dance when we wanted, but then we got older, and many of us stopped dancing, we gave up on singing and we played only one or two sports or we gave up on sports altogether. We came to believe that we only had certain talents. We were either an athlete, an artist, a musician, a singer, or a nerd — like me. But, oh and by the way this is the High School Musical part everyone, you don't have to just be an artist or just an athlete. You can be a basketball jock who sings or bakes, or a skateboarder who plays the cello, or a math geek who likes to hit the quan. As High School Musical teaches us, don't stick to the status quo. The important thing is not to limit yourself or feel like you have to follow an established path and that life has to be a certain way.
Life is not like that Milton Bradley board game, "The Game of Life." That game starts with a choice. You can go to college for 40,000 dollars. Then upon graduation you choose a career. You have three career choices. Or, you can forgo college and immediately start working. Those are the only options. There are no gap years. Then, along the path of life, everyone stops at the same point and gets married. A little while later everyone buys a house and most players have at least one child. And in the end, the person with the most money retires to Millionaire Estates and wins the game of Life.
This game does not necessarily match reality. First of all, most of us will pay substantially more than 40,000 dollars to go to college, and in the end, finding a job with a regular salary will not be as easy as drawing a card from a deck. Not everyone will get married and have children. And some of us may never buy a house and we will just live with our parents so our moms can do our laundry and we can play video games in the basement. Is that okay mom? In reality, winning "life" is not about how much money you make. A winner is someone who follows his or her dreams instead of following a set path.
As we start this next chapter of our lives, lets all try to find that inner kindergartener in us and sing and dance and draw again. If you had asked me before I wrote this speech if I could sing or dance, I would have said no. Let's get back to thinking that we can and should pursue things that we may not be the best at.
The important thing is to not limit yourself, to do things that make you feel happy, and to chart your own course. As Ellen DeGeneres once said, "Follow your passion, stay true to yourself, never follow someone else's path unless you're in the woods and you're lost and you see a path. Then, by all means, you should follow that."
It's been lit, Class of 2016. Good luck in everything that you do in the future.
Donate to Wayland Student Press