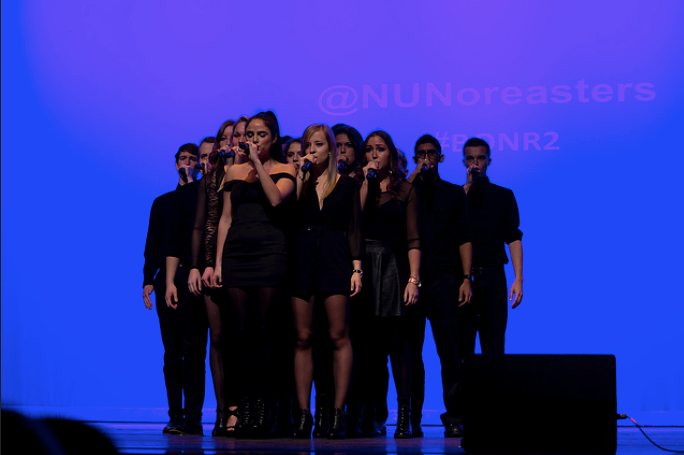 Credit: Flicker user Josh B
Nor'easters perform at Wayland a cappella concert
On Dec. 2, the Nor'easters, an a cappella group from Northeastern University, performed in the WHS auditorium. Under the direction of Elliott von Wendt, the Nor'easters were finalists in the International Championship of Collegiate A Cappella (ICCA), and they returned to Wayland High School for a crowd-pleasing concert alongside Wayland High School's three a cappella groups.
"[My passion] started when a professional a cappella group came to my school," von Wendt said. "I was so blown away with the fact that they could make beautiful music with their faces, that I decided to join my high school's a cappella group, and I fell in love with it."
Toward the end of high school, von Wendt decided he wanted to have a career in music. He graduated from Berklee School of Music in 2015, with a degree in music arrangement. He arranges music for the Nor'easters, as well as for other a cappella groups.
Even though von Wendt takes pleasure in singing surrounded by his comrades, his favorite part of performing is interacting with the audience.
"Seeing [the audience's] reaction is priceless," von Wendt said.
Von Wendt's other favorite part of performing is connecting with other performers onstage, and feeling the music that they've all created.
Balancing life between studies and music is not always easy. However, being a part of a college of music has its advantages.
"I did a cappella in Berklee, so [I had to time-manage]. I had to become good at prioritizing what was short-term and long-term with my priorities."
Being in an a cappella group requires not only an exceptional voice, but hours of practice as well.
"I love the idea of creating art with just your face–just your voice," von Wendt said. "I think that's something really special because with a cappella you can really make things with your voice. I never want to get rid of it. "
For the Nor'easters, a cappella is much more than a pastime or hobby, it is a passion, a life commitment.
"They are all are very dedicated, [and] very committed," said von Wendt.
The Nor'easters practice three times a week, each time for two hours. In addition to that, members of the group must memorize and be able to perform their own parts before coming to rehearsals.
In addition to time commitments to practices, recordings, and shows, other sacrifices must be made to be a part of the group.
"Sometimes when you're sick, or not feeling well, or even having mental health problems, you still have to get out there and sing," von Wendt said. "I've had to lead rehearsals, or lead a show with no voice. There are sacrifices, but I make them, gladly so."
Von Wendt says the sacrifices are worth it, because of his love of music.
"Music has decided my entire career," von Wendt said. "[I was] in a cappella groups throughout high school and college, and now my job is to professionally arrange music for other a cappella groups."
Von Wendt mentioned that singing a cappella is very different than singing with instruments behind you.
"You have to be so in-tune with what everyone else is doing," von Wendt said.
With no instruments, von Wendt expressed that one must be hyper aware of what other singers are doing. For instance, a c-note on a piano will be the same note every time, but the human voice cannot sing the same note.
"When we choose a song, it really has to fit the vibe that the Nor'easters have," von Wendt said. "We really like Sia songs."
Another factor in choosing a song is that the soloist has to shine while singing it. The rule is simple: if the Nor'easters aren't feeling the song, then it's not worth doing.
All of the Nor'easters are very serious about a cappella, and committed to their craft. They came in second place of the ICCA with the song "Encore."
"I love the groups that I work with," von Wendt said. "I love singing, I love the people that I work with, and that's why I continue to do [a cappella]."