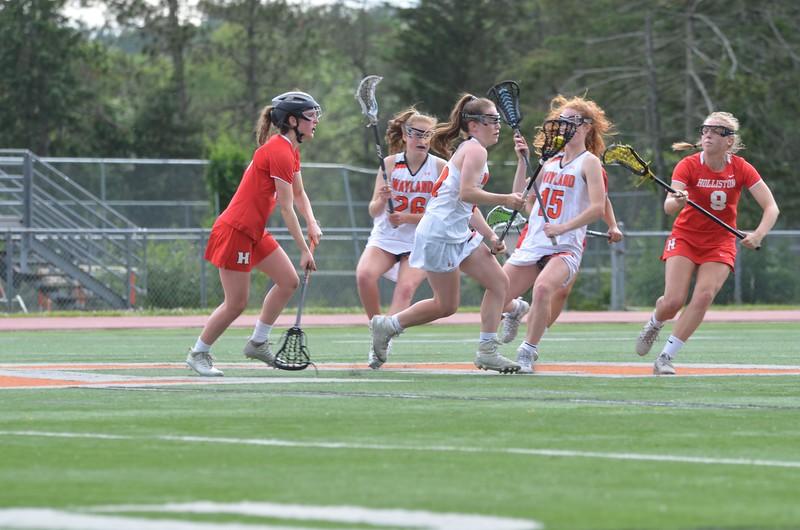 Credit: Caroline Raymond
Girls' lacrosse: becoming the number one seed
As the regular season for spring sports come to a close, the WHS girls' varsity lacrosse team has won the DCL Large, finishing the regular season with a 17-2 record. The girls' team is going into the Division II playoffs as the number one seed. However, their success did not come easily, as they had to work extremely hard to prove their talent.
"We struggled during the regular season with motivation and drive," senior captain Lilly Lin said. "Luckily, we really came together as a team and worked for each other to overcome it. I think moving forward, we really have to keep playing with heart and we'll be able to find success."
The girls' team has developed a strong bond. They are a team both on the field and off it. As a result, every player has developed a strong sense of self-confidence, which, in turn, has served to strengthen the team as a whole.
"I think once we sort of hit our stride and play well together, we gain more confidence as we go," Lin said. "It's been all about support for teammates."
The high-pressure environment the tournament brings has allowed the girls to connect and develop their chemistry. When all eyes are on them, the players know they must perform well. The team has learned to use the pressure to their advantage and channel it into their game.
The girls have performed exceptionally well over the course of the regular season. In addition to beating their DCL Large rival teams Lincoln-Sudbury and Concord-Carlisle, they defeated Needham, last year's Division I champions. As a result, there has been much excitement surrounding the team's success, and expectations are high.
"The most exciting part is the hype that our team has gotten," Lin said. "[The] tournament gives us a chance to showcase individual talents as well as the team as a whole. I'm really excited to be the best we can be."
The team has seen a few standout players who have made tremendous contributions to the team's success as a whole. Key players include juniors Lily Tardif and Kate Balicki, both of whom are pivotal to the team's attack. Senior captain Jackie Stoller has also been very an important offensive player because of her ability to assist her teammates so they can have opportunities to score. On the defensive end, seniors Lindsey Barnard and Brooke LaPierre have been crucial players all season, and Lin has played excellently in goal.
However, the success that the girls' team has had this season cannot be attributed solely to the talents of individual players. According to Lin, the greatest source of the team's success is the selflessness of its players and the strong chemistry they have developed.
"I really can't pinpoint the key players," Lin said. "I think we've talked a lot about how much you have to want your success and want it for your teammates. Everyone has their own talents and additions to the team. That's gotten us to where we are today and where we'll need to be later on in the tournament."
As a result of their seeding, the girls earned a first-round bye in the playoffs. This past Thursday, they defeated Holliston 18-8 in their first playoff game at home. They also defeated Dover Sherborn by a score of 19-3 on Monday, June 11 in the sectional semi-final game.
Follow the girls' team through the Division II bracket here: http://miaa.statebrackets.com/tmenu.cfm?tid=4829