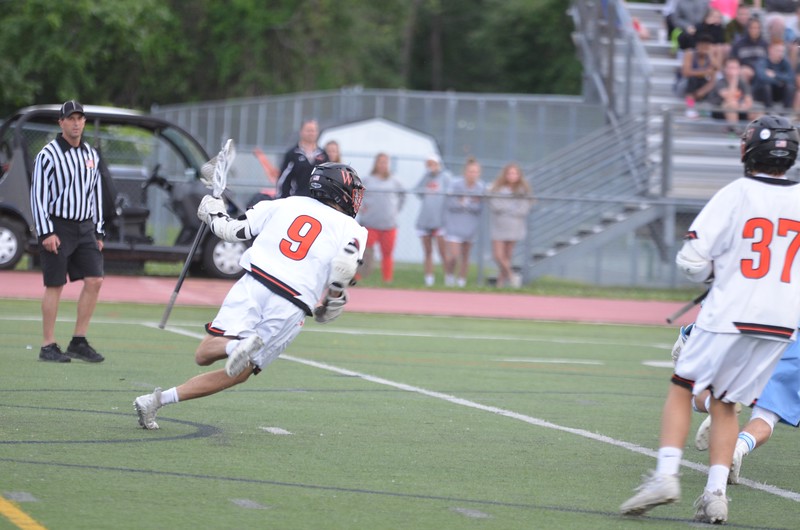 Credit: Caroline Raymond
Boys' lacrosse: becoming the number one seed
The WHS boys' varsity lacrosse team went into the playoffs with momentum. They boasted many regular season accomplishments, including beating Lincoln-Sudbury Regional High School for the first time since 1999 and winning the Dual County League.
"To be [the] number one seed, we had to have the best in league record in Division II Central East, which was a huge challenge because it's considered one of the – if not the most – stacked brackets in the entire MIAA in terms of talent," senior captain Kyle Camphausen said. "So to have a good record in that league was definitely a challenge for us."
Key attack players for the Warriors have been junior Michael Lampert and seniors Ben Travis and Chris Balicki. Junior Jake Tyska also plays a major role on the faceoff. According to Camphausen, fellow defender Kyle Miller plays great lockdown defense and is an asset to the team. With 18 seniors on the team, there is a lot of experience and much of the team's success has come from everyone being dialed in.
"The most exciting part of the tournament is that we finally are the team to beat instead of being the underdogs, so it really does a lot for our confidence," Camphausen said. "Especially so when we have teams traveling to our home turf to play us instead of the other way around."
One of the bigger games this season was when the team played LS. It was a game the boys had not expected to win, but they pulled through and won in overtime. This game allowed the team to gain assurance as well as confidence in their abilities.
"LS was obviously huge because we hadn't beaten them since '99, and that showed us that we had the talent to play with the best of them," Camphausen said.
The team also beat Foxboro 15-6 towards the end of the regular season. Although it was an out-of-league game, it was a huge win because it proved, yet again, the team's talent against another top-level team.
"Foxboro was also a big win because they were the one seed and we were the two seed when we played, and we beat them," Camphausen said.
Since the team earned a first-round bye,  it faced Medfield in their first playoff game at home on Thursday, June 7 at 6:30 p.m. and won in overtime. In their next round, which took place on Tuesday, June 12, the boys lost 10-11 to Concord Carlise.
Follow the team through the Division II bracket here: http://miaa.statebrackets.com/tmenu.cfm?tid=4817