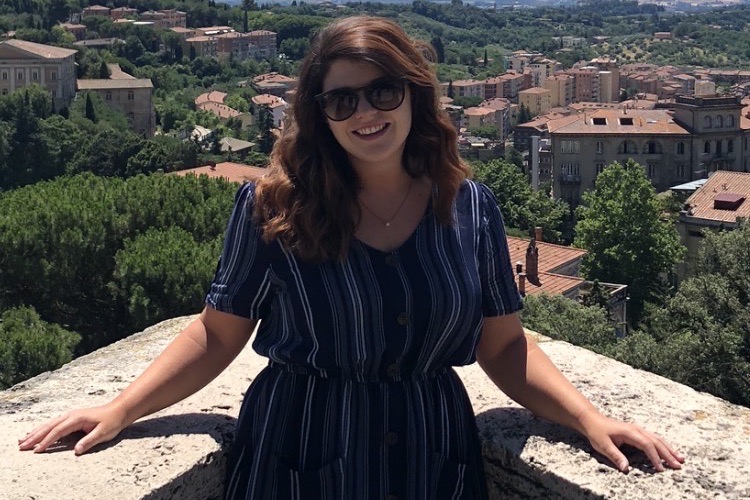 Profile: Sarah Pesaturo
Wayland High School welcomed a number of new teachers in all departments for the 2019-2020 school year. Sarah Pesaturo, a history teacher and Wayland alum, has found the transition back to WHS very smooth.
"I was really excited to come back to the community that raised me," Pesaturo said. "I still feel really connected to Wayland and this community, so it's really cool to take on the teacher role rather than the student."
Pesaturo has been teaching for three years. While working to get her Master's in Education, she taught at Presentation of Mary Academy in Methuen, MA.
"[For] the last two years, I have been working at Medway High School, a community which is very similar to Wayland, [as it's a] small school," Pesaturo said.
Along with teaching history, Pesaturo also helps the WHS cross country team.
"I really like being active in my free time," Pesaturo said. "Right now, I am helping out with the cross country team. [It's] pretty nice to get to go outside every day after school and build a bond with students that I don't always get in the classroom."
Traveling the world and discovering new places is a topic that is new and intriguing to Pesaturo. Because she didn't get a passport until her freshman year of college, she tries to travel whenever she gets the chance.
"I am a world traveler," Pesaturo said. "I would always say I wanted to travel the world and go to new places, and I never had really gone farther than Florida before that time period."
Every year, Pesaturo attempts to do one international trip and one local trip within the United States.
"During April break, I usually like to go to a new state that I've never been to before, and then in the summertime, I like to go to a new country," Pesaturo said.
In the past, Pesaturo normally worked with juniors and seniors, and not underclassmen.
"I am most excited to work with freshmen again," Pesaturo said. "In the school I worked at before, I had a lot of juniors and seniors which has been really fun, but it's nice to get students who are right out of the gate from middle school, [and to] start working with them and get them used to high school."
Donate to Wayland Student Press