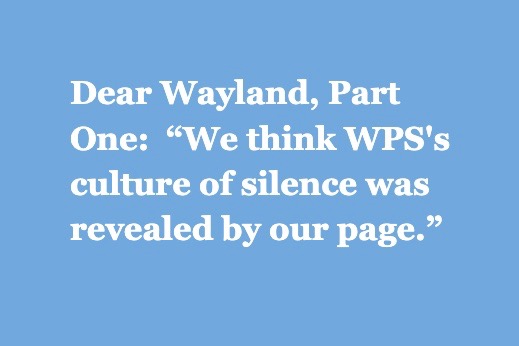 Part One: "We think WPS's culture of silence was revealed by our page."
- Dear Wayland Administrators
"The school doesn't care what happens: they just want to keep a clean record." "None of the teachers did anything." "…speaking up would only bring me hate and ridicule."
In early August, two WHS students began an Instagram page where they posted anonymous stories of sexual assault and harassment submitted by students in Wayland Public Schools with the handle @dearwayland. Above are excerpts from a few of the posts.
The account was one of many confessional pages illuminating toxic culture in the school district appearing in the wake of the Instagram account @bipocwayland, which allowed for WPS students and alumni to share stories of racial intolerance.
"We were hanging out and talking about the @bipocwayland [Instagram] account," Dear Wayland said. "We were so surprised at the amount of racism that was going on in Wayland that we didn't even know about. Then we started thinking about all the sexual harassment and assault in Wayland that hasn't been brought to light. One of us suggested that we make an Instagram account similar to @bipocwayland focused on sexual assault stories and we made it that day."
The page went up on Aug. 5, 2020. So did the first survival story.
"I was harassed and violated by someone in my grade, and unfortunately, this person was never reprimanded for what they did," the post reads. "The school even knew about it."
Among the dozens of posts were at least nine students from elementary to high school who alleged they brought complaints to school officials but were dismissed or met with an unsatisfactory response.
"I don't know how often students feel stymied [by the administration], but clearly they've expressed that at times when they do come forward [they do], and that's something we really want to improve upon," superintendent Arthur Unobskey said.
"It made them feel like their stories didn't matter and that protecting the school's and aggressor's reputation was more important than seeking justice for the victims," Dear Wayland said. "…there was a lack of consequences and investigation for student and staff aggressors. Wayland prides itself on its school system, and we feel that if stories about sexual harassment and assault were made public, it would tarnish their image."
WHS Principal Allyson Mizoguchi explained the difficulty in pinpointing what went wrong for the individuals sharing their stories on the Dear Wayland page.
"I don't call into question the veracity of accounts on the Dear Wayland page," Mizoguchi said. "And they're anonymous, so it's hard to know and reflect on a specific instance and learn from a specific circumstance or a step that we did or didn't take. But, what I do know is that if that is an experience of students, and if they're reporting this, then we need to reflect on that, and ensure that when a student comes forward a consistent, caring process unfolds each and every time."
Dear Wayland believes the page has revealed a culture of silence in WPS.
"I know people have made statements about culture," Unobskey said. "For me, that's not where I go in my head. Where I go is that there are these individual students who have experienced something painful and want support and want help, and sometimes don't feel like they got it. I don't know if that makes me think that there is this culture of something, or it's like labeling the culture in Wayland as a result."
Since launching, Dear Wayland has reverberated across the Wayland community. Parents took to Facebook pages to address their concerns, and students rallied in support of one another in the comments of the Instagram posts.
Largely, the response has been positive. Some, however, took advantage of the anonymous Google form posted in the account meant for submitting stories of assault and harassment and sent in hateful comments. Someone even posted the account's information on 4Chan, an anonymous imageboard website, and encouraged viewers to spam the account with hate mail.
"We were disappointed that people would belittle the courage of the survivors who have come forward," Dear Wayland said. "We honestly don't know why people would do this; it must be from a place of hate because they aren't only targeting the account itself but all of those who have bravely come forward."
On Aug. 26, a few weeks after the account's start, the WPS administration acknowledged it for the first time in an email from Unobskey to parents. The brief message encouraged any individual believing they were a victim of sexual harassment to speak with their school's principal or the District's Title IX coordinator Richard Whitehead.
"The District will take any reports seriously and will adhere to its policies and procedures to address these reports in a prompt manner and remedy any sexual harassment," Unobskey wrote.
Of the initial communication, Dear Wayland said, "We thought it was good that the administrators responded, and we thought that their response was decent, but we take it with a grain of salt. Personally, we didn't think that their response was enough, considering the fact that these instances have been ignored for years. We didn't like the fact that their email was only sent to parents and not students when students would be the ones to benefit from these resources. I didn't even know that the email was sent until a friend's parents told me."
A more in-depth letter went out to parents the next day from District administrators. The following day, Mizoguchi shared the letter with the students of WHS.
"There is a lot of work to do, and we know that we must take many steps to address the urgent concerns that students have recently raised," the letter read in the final paragraph. "We are deeply grateful to all of the students who shared their stories. Their voices, and the voices of their parents and caregivers, will ground and inform our efforts."
Outlined in the letter were six steps the District planned to take:
Assert a culture of trust and confidence
Deepen support of students
Create forums for students and families
Provide access to resources in the community
Re-examine the classroom curriculum
Clarify the formal complaint process
The Dear Wayland administrators expressed more appreciation for the school's letter.
"We hope that the steps proposed by the administration in their email will follow through, and we hope that the environment at Wayland schools encourages survivors to make formal complaints," Dear Wayland said. "While saying it anonymously is a great step, we hope that survivors will feel supported and empowered enough to seek justice."
Donate to Wayland Student Press