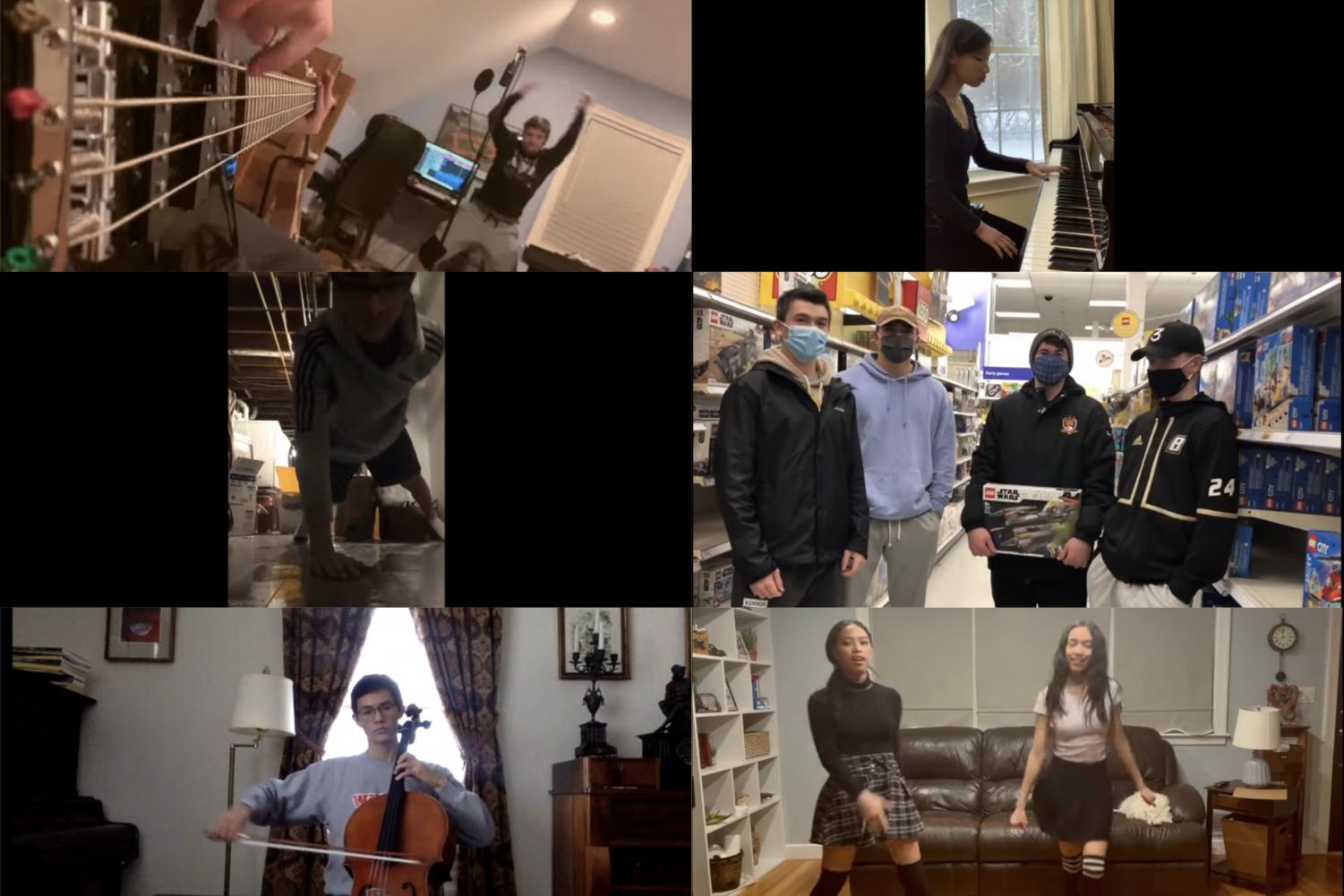 Credit: Sidney O'Rourke
Student performers shine bright in the virtual talent show
February 17, 2021
Every year, Winter Week presents the annual talent show, where students and teachers showcase their extraordinary abilities in front of the entire school. From singing and dancing to peculiar skills, the talent show is often seen as a highlight of Winter Week, bringing the entire school together with amusement and joy.
Traditionally, the talent show is live in the auditorium. Student Council sets up the audio and visual equipment and schedules a dress rehearsal to ensure a successful event. However, due to COVID-19 restrictions, this year's show was pre-recorded and held virtually for the first time in Winter Week history.
After brainstorming different methods of hosting the event in a safe, enjoyable way, Student Council members decided to create a talent show video. The show was a compilation of the performers' video submissions and was published on YouTube for students to watch at home or in-person with their classmates.
"[Initially], we were considering having the performers perform live in the auditorium and then live stream the show through WayCam, but we were unsure about what the streaming quality would be like," Student Council member senior Michael Long said. "We felt that having performers submit their own video would not only produce better, more polished performances, but also make people more willing to sign up to perform."
Regardless of the obstacles, the talent show's continuation was delightful news to junior Isabelle Ma, who has showcased dance routines during every Winter Week since her freshman year. After watching the talent show for the first time as a freshman, Ma was fascinated by the freedom to present a performance of choice for the whole school the event allows.
"I was so entertained that I decided I didn't want to watch from the audience next time but instead be a performer myself," Ma said. "I am generally an introverted person, but performing allows me to show another side of me, the side that likes to have fun, entertain [and] make people smile."
In previous years, Ma has performed with her friend as a duo. However, this year, the pandemic disabled her from practicing with her friends and led her to recruit her younger sister, 8th grader Denedra as her dance partner.
"My sister and I started preparing by making a compilation of songs that we liked and finding dances that people would probably know based on TikTok trends," Ma said. "We practiced together over a week. We spent the most time learning the choreography over the weekend before Winter Week."
Another performer was junior Megan Chau, who played a piano cover of the "Mandalorian Theme." She decided to participate after her friends in Student Council encouraged her to play.
"[My friends] said that the winner would win $20, so I thought, why not," Chau said.
The virtual talent show forced Chau to perform her piece as a recording instead of live. She had been practicing the piece for fun, so she didn't spend much time recording or rehearsing, but she acknowledged that the difference in the type of performance changed her overall act.
"Performing live and recording yourself alone are very different experiences," Chau said. "There's less pressure when you can record as many takes as you want and perform your best."
The show winded down with a performance by Soup Time, a band composed of members of the class of 2020. The band also decorated the finale of last year's show, exciting and bringing the audience together with their music.
"We had a slight lack of people signing up to perform, so we decided to reach out to them to see if [Soup Time] would perform, and they were eager to cook something up," Long said. "Also, we thought it would be a nice way to take everyone back to last year before all this COVID-19 stuff happened to enjoy a brief moment of normalcy."
With the longevity of COVID-19 still in question, next year's talent show setting is unknown. Chau plans to decide later whether she will participate in next year.
"I'm not sure [if I will perform next year]," Chau said. "I think it really depends if I have already prepared something."
Although the coronavirus created an unprecedented format for the talent show, Student Council still managed to pull off an event that allowed for easy viewing and entertainment during Winter Week.
"This year's talent show was different than usual in the sense that it was virtual and that there were fewer acts this year," Ma said. "Otherwise, it was still great. I enjoyed watching the other performances just as much as I did in previous years. I'm really glad that there was a talent show this year at all."