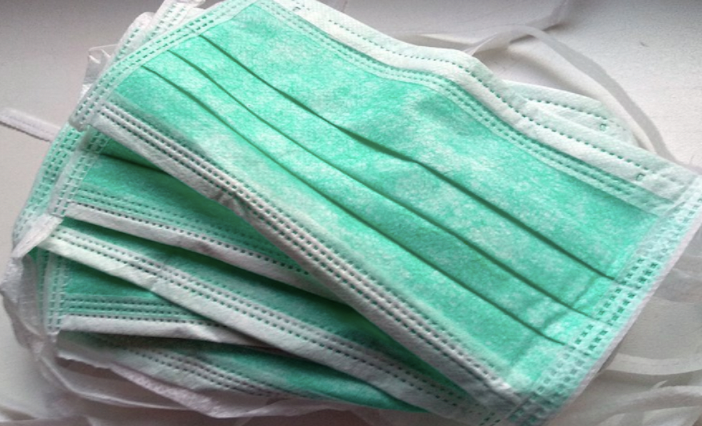 Credit: Creative Commons, Wikimedia
Part 2: Safety
Arguably the biggest concern among students, parents and staff about returning to the all-in, five days a week learning model is: is it safe?
One year ago, Wayland Public Schools' buildings shuttered their doors, and students learned from home from March through mid-October to stop the spread of COVID-19. The Wayland community, the state, the country, and the entire world has fought tooth and nail to get the virus under control.
Although teachers are starting to get vaccinated, it will be a long while before any meaningful portion of the study body is immune to the virus.
In the current hybrid model, students maintain 6 feet of social distancing from others at all times. At the high school, the cafeteria no longer has communal tables, but carefully placed desks facing one direction that students must sign into to maintain that 6 feet distance. There's tape on hallway floors, designating the flow of foot traffic and signs posted at stairway landings to mark whether students may proceed up or down or if they need to find another staircase.
Returning all-in means not 6 feet of social distancing, but half that, at 3 feet.
The School Committee brought Harvard Chan School of Public Health and Healthy Buildings Program Director Joseph Allen to give a presentation on building safety and to field questions from School Committee members.
Here are the fundamental aspects of building safety covered in the presentation and what the School Committee deliberated during public meetings.
Social Distancing
Wayland Public School buildings will not be able to accommodate 6 feet of social distancing when all students return to school. Allen said that 3 feet distancing for student to student interaction is acceptable, while 6 feet distancing for an adult-to-adult and student-to-adult interaction is still recommended.
He underscored the importance of masking and that if both parties are masked, even two people within a foot of each other will still have a low possibility of transmission. The Center of Disease Control (CDC) has continuously given the stance that 6 feet social distancing is necessary, although Allen was adamant that the CDC's own studies and reasoning was "deeply flawed" and that the 6 feet rule is not rooted in aerosol physics. Europe has used one meter distancing, which is comparable to 3 feet.
Masking
Any mask is better than nothing. "Any three-layer mask will get you really good protection," Allen said. "Double masking, a surgical mask on top of a cloth mask, can also be really effective. With universal masking, even if you have a really good three-layer mask that captures 70% of particles, remember that respiratory particles have to go through two filters: your mask and my mask. So with two 70% efficient masks being used, the combined effect is 91%. That's before any distancing—that would be if people are breathing on top of each other—and before ventilation and filtration. So if you follow some of these basics, you can reduce exposure and risk 99% or more from some of these basic procedures."
Allen said cloth masks have about 50% reduction rate and N-95 and K-95 masks have a 95% and 94% reduction rate, respectively.
Ventilation
Allen said the ideal ventilation rate is 4-6 air changes per hour. This can be achieved through a variety of tactics. At Wayland Public Schools, the facilities department fixed all the ventilation systems in all the school buildings and put in MERV 13 filters that provide extra ventilation. They have been maintained and remain fully functional. Teachers and staff are encouraged to keep their windows open to help facilitate ventilation as well. Superintendent Arthur Unobskey said that testing has shown that the air level exchange in the classrooms is at a successful, high rate that exceeds the threshold indicated by Allen. The school purchased about 30 portable HEPA air filters to place in certain rooms and offices as well as energy recovery vents, ERV's, to be placed on building's rooftops on some of the roof tops that will bring in more fresh air onto certain rooms.
Testing Program
Some members of the School Committee expressed disappointment at the participation rate for the testing program at the high school. The testing program is a key piece of COVID-19 spread prevention and allows for the school to keep track of the virus.
The School Committee decided not to mandate participating in the COVID-19 testing process, instead opting to continue to strongly encourage participation. Families have until March 18 to sign up for the testing program.
Unobskey believes the state will no longer provide the same support for the COVID-19 testing program in schools after April 16. He said that in order for the school to continue to offer the program, they'd have to come up with a funding process. There's also a concern about staffing the program as the volunteer corp, school nursing staff and outside hired nursing staff have been nearly exhausted. Unobskey said there were concerns that need to be resolved in order to ensure the program can continue through the year.
Vaccinations
While the student body will not be vaccinated in the near future, many Wayland Public Schools teachers have received either their first dose of a two shot vaccine or a single shot vaccine.
Sanitation
Allen said that shared air is the problem, not shared surfaces. There have been no verified cases of fulminate transmission— transmission through surfaces—around the world. While it's still important to keep up hand hygiene, closing schools for deep cleaning or wiping down groceries, for example, are not necessary.
Variants
Allen said that while "all eyes are on the variants," the physics of how the variants pass from person to person are the same as the virus: it's carried on respiratory aerosols and ventilation, filtration, masking and distancing still work the same.
Donate to Wayland Student Press