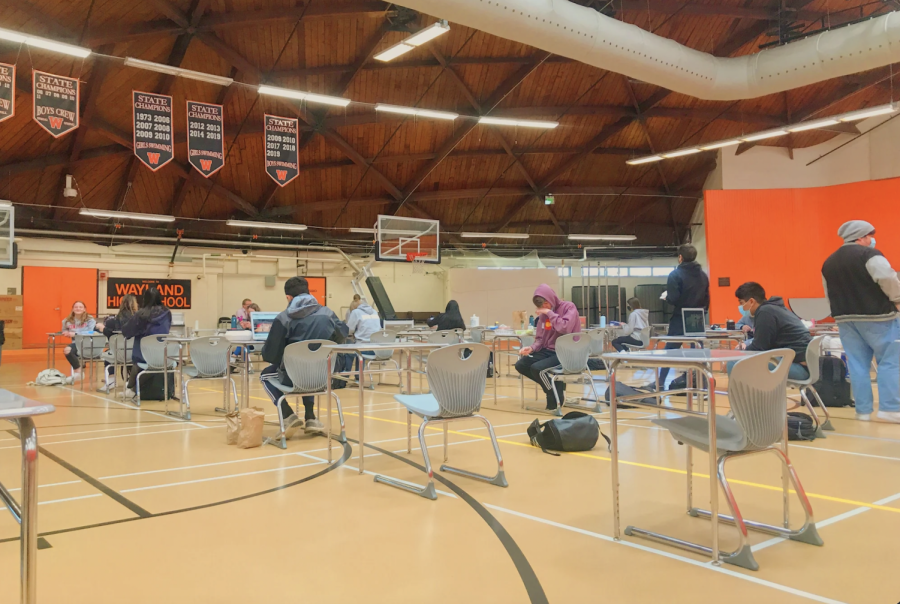 Credit: Sophia Oppenheim
Ninth and tenth grade student concerns about returning to all-in
April 10, 2021
Wayland faculty held a Zoom call on Wednesday, March 17 for WHS students in ninth and tenth grade to share their concerns regarding the planned April 27 return to fully in-person school. To respect the privacy of the students who asked questions on the call, all student responses are anonymous.
Anonymous student question:
"How will the transition be for WRAP students transition to [in- person] school?"
Faculty response:
The faculty is aware that WRAP students may be willing to come back to school five days per week after April break. However, they are also aware that the immediate transition without any easing in can be difficult. "Some WRAP students want to test the waters a little bit," assistant principal Sean Gas said. "So if you're in WRAP and considering coming back in and are nervous about that or have some questions about how that would work or how that would feel, it's a good opportunity to have a welcome WRAP students day. Maybe the Wednesday before the break we could have WRAP students come in on-campus and ask about the experience and talk about teachers or counselors." Despite the hybrid model transitioning to fully in person on April 27, the WRAP program will still be offered for students who feel more comfortable learning remotely.
Anonymous student question:
"How are we going to handle the fact that we are going to be back to full in person after April break? How will we counteract with the potential risk [of families traveling]?"
Faculty Response:
With this change to the fully-in-person model, the school will become less flexible about students learning remotely. The school will only allow students to learn remotely if they are at home quarantining. "We ask that families are really clear with us and our health department about getting cleared to be back in school," Principal Allyson Mizoguchi said. "From an attendance standpoint, it can get a little messy. I do know that Dr.Unobskey, our superintendent, will be messaging out very firmly and clearly what the correct protocols are, not only for April vacation but in general."
Anonymous student question:
"What is the plan for Wednesdays?"
Response:
The administration has not yet finalized a Wednesday schedule but has created a "prototype," according to Mizoguchi, who says staff members will soon give feedback on the possible schedules. "Right now we are looking at different possible schedules for Wednesdays. We have not made any decisions." Mizoguchi said. "We would like to find a way to float some ideas past [students]." She explained one possible schedule, which would function as having four instructional blocks on Wednesday, with interchanging blocks every other week. Like typical years, students will continue to be dismissed at 2:25 p.m. on Wednesdays. Administration and faculty alike have acknowledged the overall approval of the current Wednesday schedule—no formal classes—so they are hoping to have Student Council-partnered events to make the day more relaxing.
Anonymous student question:
"With the transportation aspect for school, will there be more time provided for everyone to get to class, or will transition times be changed because of this?"
Response:
Although the WHS administration "can't change the school start time," they plan on opening the buildings earlier to encourage an earlier drop-off. They also encourage carpooling, biking to school and walking to school, according to Mizoguchi. Administration is, "hoping that students will be patient with the traffic getting to the building," assistant principal Laura Cole said. The administration is still worried that if there is a certain time for respective grades to arrive, students will not follow the allotted arrival times. Faculty is willing and hoping to hear students' ideas on this problem if they reach out.
Anonymous student question:
"In-person learning means two times the people in classes like band, if we are not able to fit within 10 feet of required distance in the band room [currently] how will the band practice with twice as many students?"
Response:
Classes like band and chorus require 10 feet spacing between students, making the band room unsafe for practicing since there will not be enough space. To accommodate all musical groups, new spaces could be the theater, the field house and outdoors. "We will have tents coming back after vacation and we are hoping with the weather getting better we can get our band and chorus students outside," Mizoguchi said. Strings will most likely be moving into the band room since they had previously practiced on the theatre stage.
Anonymous student question:
"What does distancing look like in a regular classroom? Will the rate of transmission go up if we make [the distance] 3 feet instead of six?"
Response:
State guidelines are enforcing a minimum of three feet distance between students. However, WHS administrators are going to keep students at a minimum of five feet apart. "We are going to make sure [all students] are wiping down, washing hands, and distancing each other while masks are off," Cole said. At times like lunch, where students remove their masks, there will always be six feet of distance between students, and desks will remain facing one way. There has not been any in-school transmission of the coronavirus thus far at WHS. This has been achievable by maintaining six feet distance and overall student and faculty corporation. Some students are already getting vaccinated which will lower the spread of COVID-19.
Anonymous student question:
"Will there be an increase in the amount of testing?"
Response:
Pool COVID-19 testing will stop after April 16, when the state funding ends. There has been no announcement of an extension of the funding. "If districts want to continue a testing program beyond that they will have to fund it themselves," Mizoguchi said. The faculty wants to continue testing when returning to in-person learning. However, nothing definite has been reported at this time.
Anonymous student question:
"I overhear teachers repeatedly telling students to wear their masks properly on Zoom because some kids aren't masking up correctly, and I'm concerned about the reduced distance between people in class. Will there be tighter rules on wearing masks in the future to prevent people from wearing them wrong on purpose?"
Response:
"[WHS staff] want to reboot our safety measures and we want to ensure we are enforcing them consistently and make sure students understand that even though we are all in doesn't mean any safety measures are changing," Mizoguchi said. Administrators want to make a new effort that is firm and makes sure that students are following the health guidelines.
Anonymous student question:
"How will transitions look with 800 students since hallways will be more crowded? Will there be [different precautions] put in place to make sure students aren't all in one place at once?"
Response:
Teachers will be assigned to monitor halls during class and transition times while monitoring bathrooms and SLC areas. "We definitely have been thinking about transition times making sure they are as safe as possible, as long as [students] are moving it is safe," Gass said. The goal of administrators is to continue the flow in the halls and not groups of students stopping in small places.
Anonymous student question:
"Since there will be twice the amount of students and the same amount of teachers, how will we go about the ratio change that will take place? Are we going to have more teachers manage mask-wearing?"
Response:
There will be the same amount of teachers on campus, however, twice as many students as teachers are taking precautions to make sure there are teachers constantly in the halls enforcing safety measures. "Mr. Bonfiglio, our new student supervisor, has done an amazing job setting the tone of consistent supervision and supporting the students too with the decisions they make," Mizoguchi said. "He's only one guy though and we are floating around, but we will be scheduling teachers into these spaces who will be at any one point wandering the halls and checking bathrooms."
Anonymous student question:
"What will lunch look like, and will lunches change based on schedules or cohorts?"
Response:
There will be three allotted lunch periods, a system that mirrors that of pre-pandemic years. On Wednesdays, there will be a shorter transition time, but still enough time to ensure that two passing lunches will not have too many students at the same lunch. Once there are confirmed times for each lunch, classes will be distributed into the following three different lunches. There will be roughly 250 students attending each lunch.