Youth 4 Period Equity, because periods don't stop during a pandemic
September 8, 2021
Although the COVID-19 pandemic taught and continues to teach the world about the growing demand and importance of medical equipment, toiletries and more, one area of focus is often faced with negligence: menstrual care products. Wayland High School senior Abra Hwang and Natick High School sophomore Hannah Schwichtenberg noticed the lack of attention regarding menstrual care products and decided to co-found "Youth 4 Period Equity," an organization working to eliminate inequity through advocacy, leadership and education.
Hwang and Schwichtenberg took the initiative to found this organization outside of school, and they work closely with the Massachusetts National Organization for Women. The founders are currently planning a rally to raise awareness about the "I AM bill," a bill which would provide free menstrual care products to many.
"[The 'I AM bill'] is an expansive measure that would ensure free menstrual care to public schools, shelters, prisons and jails across Massachusetts," Schwichtenberg said.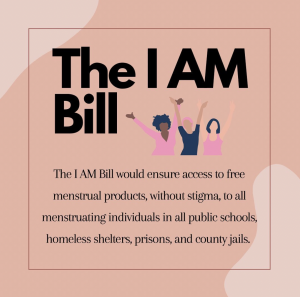 While the bill was proposed years ago, the COVID-19 pandemic took over many's headspace, and the bill's advocacy died down for a year. Hwang and Schwichtenberg hope that the rally, which will take place on Thursday, Sept. 23 from 4-6 p.m. outside the Massachusetts State House, will show the Massachusetts legislature that the youth feel strongly about this issue, and that something needs to change.
"A lot of activist groups are trying to bring [the bill] back to the forefront [of people's minds]," Hwang said. "The major thing now is just trying to raise awareness for the bill as it's waiting to be heard."
The bill will be heard and decided upon this fall, and one component of the voting will depend on the amount of testimonies, both written and live, the bill receives.
"Even if we just get a number of people to submit a sentence or two for written testimony, that'd be perfect," Schwichtenberg said.
The three main sponsors of the bill will be present at the rally along with Massachusetts Senate President Karen E. Spilka along with Senator Becca Rausch.
"Senator Patricia D. Jehlen, Representative Christine P. Barber, and Representative Jay D. Livingstone [are the three main sponsors of the bill]," Schwichtenberg said.
Youth presence is also vital to the success of the event.
"Since this is a youth centered rally, we're also having a lot of youth activists come speak who have struggled with menstrual inequity," Hwang said.
"
A lot of people from our town have no idea that these issues are prevalent."
— Ames Hwang
Period poverty may not seem prominent in a town such as Wayland where the poverty rate is 3%, but Hwang notes that shouldn't be a reason why Wayland youth shouldn't care.
"A lot of people from our town have no idea that these issues are prevalent," Hwang said. "We are trying to amplify the voices of the people who are being so affected by this the most."
To help youth who may live in statistically affluent communities empathize with the importance of the bill, Schwichtenberg offers some data.
"One in five menstruators miss class time because of a lack of menstrual care, and that's something that everybody deals with just because the products aren't provided in many school bathrooms," Schwichtenberg said. "So, just because the household may be affluent, doesn't mean everyone still has access to the products, for example."
Over the course of a menstruator's lifetime, they may spend up to $15,000 on menstrual care, and that's not including clothing replacements, pain medication, heating pads and more.
"The prices of [menstrual] products are rising, and it's insane," Schwichtenberg said. "And [the products] are taxed since they're considered a luxury item in many states."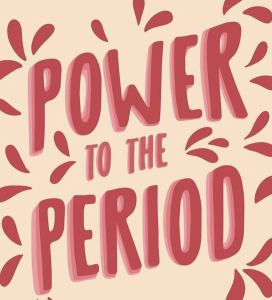 Because of the continuously rising prices, some menstruators are forced to get creative with their menstrual care.
"We looked into the mental health as well as the physical ramifications of having to resort to dish rags and baby diapers because [some menstruators] didn't have access to [menstrual products]," Hwang said. "That just shouldn't have to happen."
Hwang and Schwichtenberg acknowledge that the rates of period poverty are not as distinguished in Massachusetts as they are in other parts of the country, but they see Massachusetts as a stepping stone in the greater process of making period care more equitable nationally.
"If we can be one of the first states to alleviate period poverty as much as possible, I think that other states would follow," Schwichtenberg said.
Anyone interested in attending the rally Sept. 23 is encouraged to wear a shade of red to show their support for the bill, and all are welcome.
"We're trying to have as much youth presence there to show that the youth are engaged since we are the power and the voices of the future," Hwang said.